L.A. Mansion Party Draws Hundreds Not Wearing Masks, Defies Mayor's Large-Gatherings Ban
An estimated crowd of hundreds attended a wedding celebration in Los Angeles Wednesday night. Despite the mayor's promise to enforce social gatherings hours earlier, aerial video footage showed just a few of the party's guests complied with health measures effected amid the city's COVID-19 outbreak.
Los Angeles–based ABC affiliate, KABC, recorded the overhead footage on Wednesday. In the news station's video, guests are seen mingling under a decorated tent assembled in the backyard of a mansion property in Holmby Hills. The guests mingle in close quarters throughout the recording, and only a handful are wearing face masks.
The wedding party took place shortly after Los Angeles Mayor Eric Garcetti announced new consequences for city residents hosting large gatherings at their residences, a violation of public health orders in place to reduce transmission of the coronavirus. Reports of crowded house parties raised concerns among city officials after social media influencers, and others, began posting videos of the private gatherings online.
Garcetti addressed the incidents during a news conference on Wednesday afternoon. He warned that Los Angeles residences identified as sites for large parties will no longer receive service from the Department of Water and Power upon repeat offenses.
"Recently, we've seen the reports of some large parties and gatherings in flagrant violation of health orders," the mayor said. "I am authorizing the city to shut off Los Angeles Department of Water and Power service in the egregious cases in which houses, business and other venues are hosting unpermitted large gatherings."
Garcetti's new enforcement policy goes into effect on Friday.
Health and government officials in Los Angeles have tightened regulations for businesses and public gathering spaces over the course of the summer, as COVID-19 cases spiked across the city and surrounding area.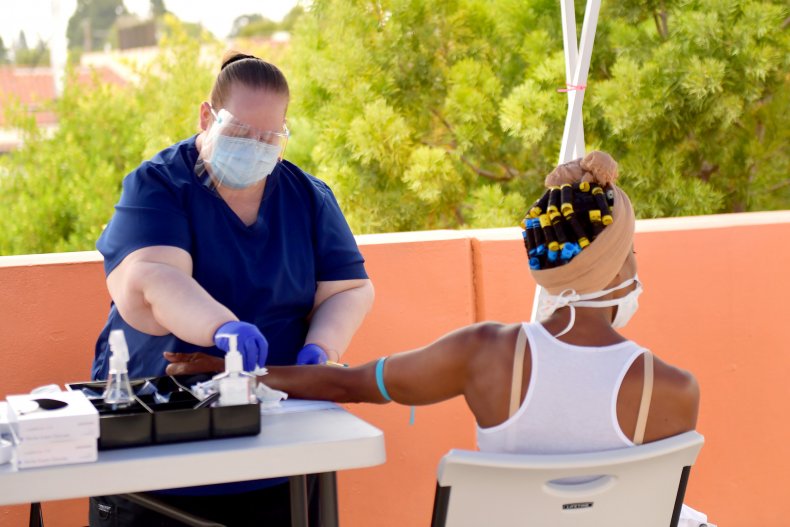 The county's virus diagnoses account for the largest regional outbreak reported in California, one of a few U.S. states where resurgences during June and July were particularly significant. County health officials confirmed a steady increase in test-positivity rates among residents over the past two months, reporting a daily average of 8.3 percent positive during the past seven days.
California's confirmed COVID-19 cases have jumped more than four-fold over the past two months, pushing the state's total to the nation's highest. Florida and Texas, which are also reporting substantial upticks in virus figures, trail California with the second- and third-highest national case counts.
At least 524,700 people had tested positive for the respiratory illness in California as of Wednesday, August 6, according to the Department of Public Health's latest data. A message attached to its virus dashboard notes that current figures underreport COVID-19's true spread "due to issues with the state's electronic laboratory reporting system." Garcetti suggested a similar issue was affecting diagnoses counts for months in Los Angeles, where confirmed cases neared 200,000 on Wednesday.
Newsweek reached out to Garcetti's office for comments regarding the Holmby Hills wedding party but did not receive a reply in time for publication.