Daniil Medvedev celebrated his recent U.S. Open victory in quite an unusual way, explaining that he was mimicking the "L2 + Left" move from the FIFA video games.
The tennis player defeated Novak Djokovic yesterday at the Arthur Ashe Stadium. In doing so, he denied the Serb (in the final match of what would have been a clean sweep of all four of this year's major titles) the so-called "Grand Slam" achievement.
During the lead up to the U.S. Open final, Djokovic had spoken of how he was treating this match as if it was going to be his last. Yet—whether it was the pressure of occasion that was a factor, or just the arduous journey to get there in the first place—he never managed to get a foothold in the match, with his serve being broken early in each set.
Medvedev, on the other hand, played almost error-free and made up for his quick defeat in the Australian Open final at the start of the year – which was also against Djokovic. In the end, the Russian athlete won 6-4, 6-4, 6-4.
Upon winning his first career major, Medvedev fell to the ground, stuck out his tongue and remained motionless for a few seconds. This was an uncharacteristically spirited move for the player, who is normally far more reserved when it comes to celebrating his victories.
What Is 'L2 + Left'?
Accounting for this bizarre display in an on-court interview, Medvedev said: "Only the legends will understand, what I did after the match was an L2 + Left."
Those who play the FIFA video game series will immediately recognize this specific button combination. By holding down the left bumper on a PlayStation controller and then pushing the right analog stick to the left, you can make one of your soccer players perform a "Dead Fish" (or "Brick Fall") celebration. The taunt is often used upon scoring a goal or winning an online match.
A big fan of FIFA, Medvedev decided to pay tribute to the games by replicating this celebration in real life after winning the U.S Open.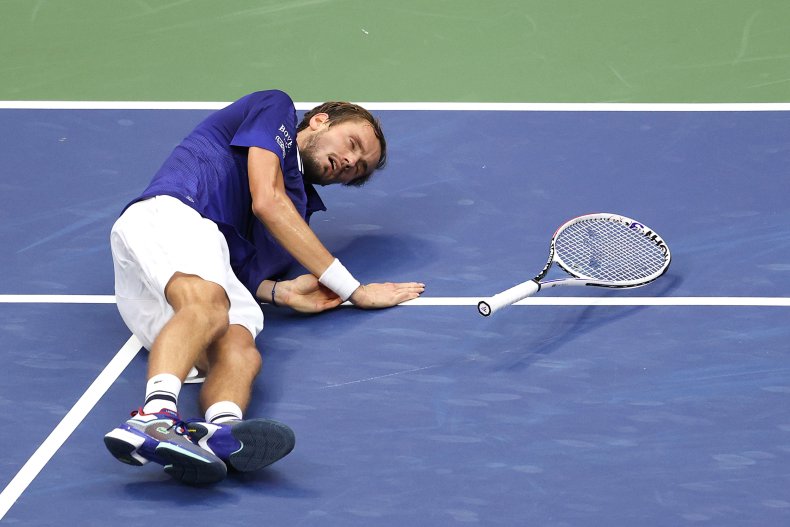 He offered his own explanation in a post-match news conference, recounting how he came up with the idea during a sleepless night at Wimbledon. Medvedev said: "To not celebrate is going to be too boring because I do [that] all the time. So, I need to do something but I want to make it special."
After elaborating that playing FIFA on the PlayStation is one his hobbies, he continued: "It's called a 'Dead Fish' celebration and if you want to annoy your opponent, many times you are going to do this one. Like if you score a goal [or you] are up 5-0, then you will do this one.
"I talked to the guys in the locker because they are young [and] super chill guys. They play FIFA and they were like 'That's legendary'. Everybody who I saw who plays FIFA thinks that's legendary and that's how I wanted to make it [...] I wanted to make it special, for people to laugh and for my friends to laugh."
Medvedev also added that performing the celebration in reality is surprisingly painful. "I got hurt a little bit. It's not easy to make it on a hard court. So I got hurt a little bit but I am happy that I made it legendary for myself"
FIFA 22, the next instalment in the popular sports franchise, will be released later this month.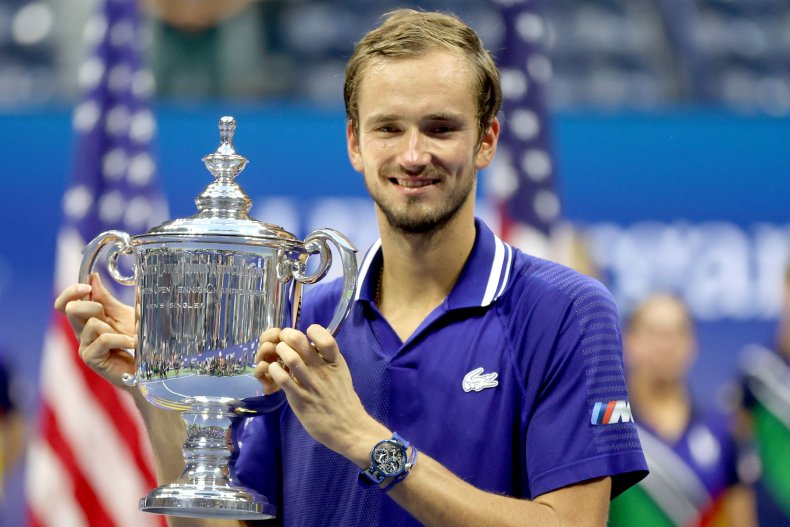 Uncommon Knowledge
Newsweek is committed to challenging conventional wisdom and finding connections in the search for common ground.
Newsweek is committed to challenging conventional wisdom and finding connections in the search for common ground.