L.A. Auto Show 2018 in Pictures: The Latest Cars, SUVs, Pickup Trucks and Concept Vehicles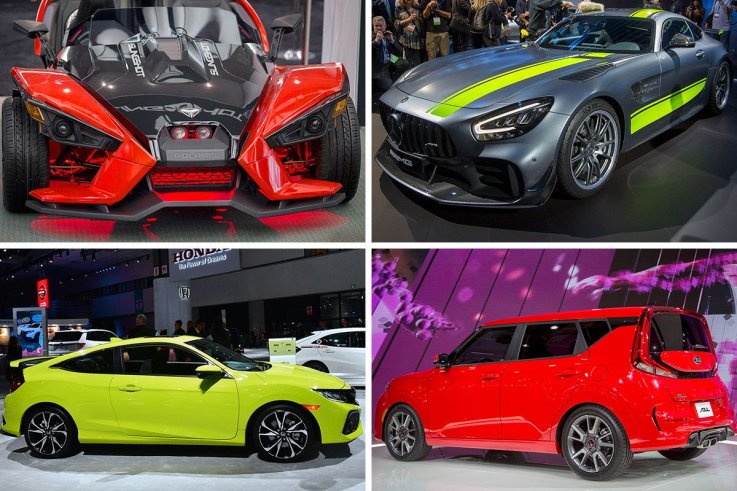 Automakers are unveiling the latest cars, SUVs, pickup trucks and concept vehicles at the 2018 Los Angeles Auto Show. The show is dominated by bulkier models, reflecting the American consumer's move away from sedans toward SUVs and trucks.
But there is still room for exciting supercars, as well as electric cars and futuristic autonomous concept vehicles.
Porsche is showing off the latest version of its 911 sports car. The new version looks pretty much like the previous seven models, but with a slightly wider body and bigger wheel housings. The company said the new 911 Carrera S and 4S put out 23 more horsepower than their predecessors.
The rear-drive 2020 Carrera S has a base price of $113,200, while the 4S all-wheel-drive version starts at $120,600. The Associated Press reports they can be ordered now and will reach dealers in summer 2019.
Audi is showing a high-performance electric concept car. The e-tron GT has separate electric motors fitted to the front and rear axles, and produces 434 kW (590 horsepower), making its performance fit for a sports car. In future, the vehicle should accelerate from 0-60 mph in around 3.5 seconds, with a top speed regulated at 149.1 mph.
AP reports companies who previously specialized in compact SUVs are now making bigger, roomier models. The three-row, eight-passenger Hyundai Palisade has an option alert system that reminds drivers if they have left children or pets in the back of the vehicle.
Lincoln's luxury Aviator UV lowers its frame as the driver approaches to make it easier to climb in. Drivers can start the vehicle using their smartphone, which can also save their customized mirror, seat and starting column positions.
Newsweek looks at some of the most exciting sedans, SUVs, pickup trucks and concept on show in Los Angeles.