LA County Could Run Out of ICU Beds in Less Than a Month Due to Increase in Coronavirus as Hollywood Reopens
Public health officials in California's Los Angeles County said that Hollywood productions could resume on Friday but warned that the county could run out of intensive care hospital beds in two to four weeks due to rising numbers of COVID-19 cases.
Hollywood and the rest of the entertainment industry has largely been shut down since the pandemic took hold in March. California Governor Gavin Newsom outlined a plan June 5 to resume film, television and music productions, subject to safety protocols. During a Wednesday press conference, health officials announced that Hollywood could get back to work on June 12, while also breaking the news that coronavirus infection rates appear to be increasing.
"If transmission has indeed increased as the recent data suggests it has, the model predicts that we will have a continued increase in hospital patient volume over the next two to four weeks," said Los Angeles County Department of Health Services Director Dr. Christina Ghaly. "The number of intensive care unit, or ICU, beds may become inadequate in the next two to four weeks."
Although hospitals could experience difficulties after four weeks, the total number of hospital beds and ventilators was said to be "adequate" for meeting the needs of new patients until then. The model is currently predicting that infections will continue to "increase gradually over time," Ghaly said.
"Dr. Ghaly wants to emphasize that the Department of Health Services is working with public and private hospitals to prepare for this surge, including following recommendations to reduce elective/non-urgent procedures/surgeries," a spokesperson from the Los Angeles County Department of Health Services told Newsweek.
The county reported 1,275 new infections on Wednesday, along with 61 new deaths. There were more than 67,000 total cases, nearly half of California's total, while total deaths of over 2,700 represented more than half the state total.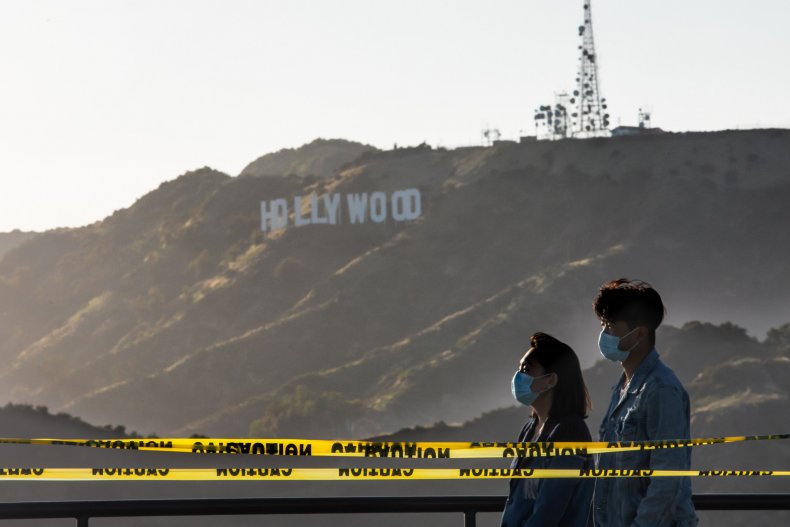 Experts have cautioned that cases appear to be surging in multiple states as the country continues to reopen, but Ghaly stressed that California's model was not making predictions based on the easing of restrictions or residents attending recent widespread protests against racial justice and police brutality.
"The model does not make predictions based in the estimated number of people who are out of their home based on recent relaxation of the health officer orders or related to the recent protests," she said.
In addition to Hollywood productions, gyms, zoos, museums and hotels will also be allowed to resume operations on Friday. Businesses like nail salons, bars and movie theaters are among those that will remain closed. Arenas are allowed to open for sporting events without spectators only.
"We are completely not out of the woods, we're still in in the middle of the woods and we still have a lot of risk," Los Angeles Department of Public Health Director Barbara Ferrer said. "I know how desperate people are to get be able to get back to events but that is not in our health officer order nor is it in the state health officer order."
The graphic below, provided by Statista, illustrates the states with the most cases of COVID-19, as of June 10 at 1:30 a.m. EDT.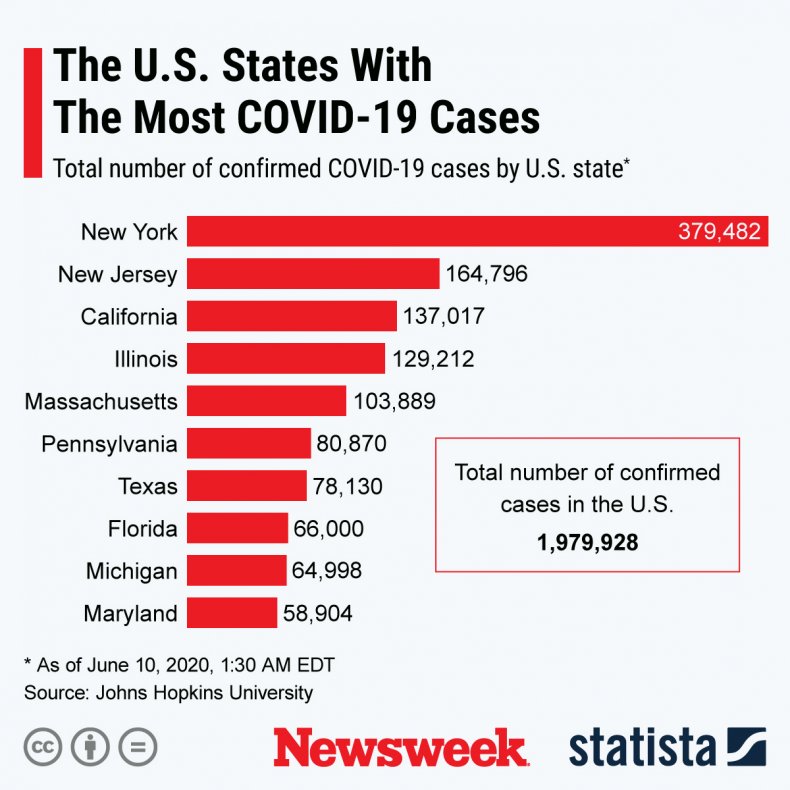 Update 6/11, 4:16 p.m.: This article has been updated to include a statement from the Los Angeles County Department of Health Services.