In late September 2012, Angela Parrish loaded her aging Honda Fit, affectionately known as Tessa, with all her earthly possessions. Embarking from her hometown of Newton, Kansas, with a meager amount of funds and a nebulous dream, the raven-haired jazz pianist and singer set out for Los Angeles.
"I had a bag of bread and a jar of peanut butter, $700 and, I guess, grit," says Parrish, who was 26 at the time. "I knew if I didn't leave home then, I never would."
A little more than four years later, Parrish's voice is the first one you hear in La La Land, the aspirational musical for Hollywood dreamers that swept all seven categories for which it was nominated at Sunday's Golden Globes, including best motion picture, musical or comedy.
While dancer Reshma Gajjar lip-syncs the vocals in "Another Day of Sun," the dazzling six-minute opening number that takes place in freeway gridlock hell, it is Parrish who supplies the vocals. The tune not only establishes the film's theme but also mirrors Parrish's starry-eyed crusade:
Without a nickel to my name
Hopped bus, here I came
Could be brave or just insane
We'll have to see
Parrish has played piano since she was 7, when she asked her parents for one. "I still remember my short father and my even shorter mom—she's about 5 feet 1 inches—lugging this piano up the stairs of our home to put in the living room," she says. "By the time I was 15, I knew that's what I wanted to do with my life."
Parrish majored in jazz piano at Wichita State and then got her master's in the same specialty at the University of Northern Colorado. In 2012, a summer gig at a hotel in China fell through because her work papers hadn't been properly submitted. With the Far East no longer in her sights, she opted to head west. "When I first got to L.A., I showed up at the end of rush-hour traffic. I changed my Facebook status to 'lives in L.A.'—and then I cried."
Related: The magic of 'La La Land' with music director Marius De Vries
Parrish's first six months in Los Angeles were "all about survival." Tessa was both her mode of transportation and her domicile. "Sometimes friends would let me sleep on their couches, but often as not I'd pull into a falafel joint and sleep in the parking lot. I'd occasionally shower at the North Hollywood YMCA. I used Panera for the restrooms and Wi-Fi."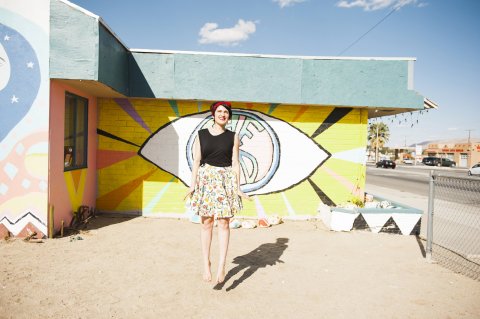 To pay her bills, Parrish taught piano. Like Ryan Gosling's character in the film (Sebastian, a gifted jazz pianist who plays at restaurants to pay the bills), she began to land gigs playing at supper clubs. "I still play at Vitello's [the Studio City trattoria made infamous when Robert Blake's wife was found murdered in the parking lot after the two dined there in 2001] four nights a week," says Parrish. "Unlike Sebastian, I'll play whatever the owner wants."
Over the next couple of years, Parrish wrote and recorded music while chasing a recording contract. "I'd hear 'too dated' a lot," she says. "The number one thing I was told was 'You will never be marketable.' I've been told that at least 50 times."
Between her jazz piano chops—Parrish can play every note of every song that you see Gosling playing in the film—and the relentless rounds of rejection, Parrish was a hybrid of La La Land's leads. Unlike Mia (Emma Stone), however, she never considered hopping into her Honda and heading home. "Sometimes rejection can be hopeful," says Parrish. "I posted a song on YouTube, and someone commented, 'This girl sounds like a bad Fleetwood Mac cover band.' I thought, At least they're comparing me to Fleetwood Mac."
Last winter, Ryan Svendsen, a trumpeter pal of Parrish's who has a side gig at Lionsgate Films, which was producing La La Land, heard about the search for a vocalist and encouraged Parrish to audition. "The dream was to have a girl who could both sing and dance on camera," says La La Land's music supervisor, Steven Gizicki. "But no one felt right, and we had already found our dancer. There was also a time element pressing up on us."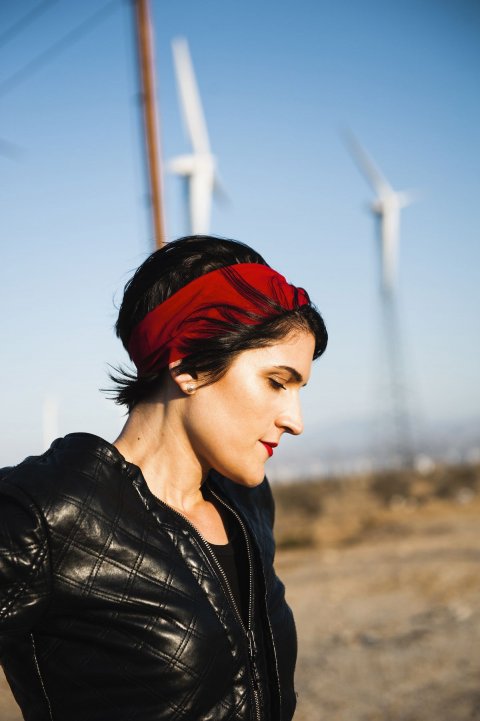 The musical number, which the producers had dubbed "Traffic," had been shot on the 110 and 105 freeway interchange on the last weekend of September 2015. The film was already in postproduction when Parrish arrived last March as one of more than 50 hopefuls vying for the gig. "It needed to feel like a real girl, like a girl just off the bus," says Gizicki. "We wanted that struggling quality. Angela came in, and as a person, she's just so charming and fantastic. We loved her because there is something so authentic about her."
Parrish was given the music and lyrics before the audition. She spent approximately 25 hours preparing for her moment in front of Gizicki and Justin Hurwitz, who composed all of the film's music. "I memorized the lyrics, experimented with tone and played it on the piano," she says. "I wanted it to be so familiar that I didn't have to think about it."
"On the first take, Angela was great," says Gizicki. "There's something about her that's very meticulous, and I can tell you, as a music producer, that's very appreciated."
After the audition, Parrish went home and wrote thank-you notes to Gizicki, Hurwitz, Damien Chazelle (the film's writer and director) and a few others. "I did that because I was so grateful and because I'm not cool," she says. "I'm dorky and I'm nerdy and I'm 30, and I'm probably not going to change."
Two weeks later, Parrish learned she'd landed the gig, but she remained skeptical that she'd hear her own voice in the opening number, until she attended a La La Land screening in Hollywood on December 4. "Another Day of Sun" is six minutes plus of pure bliss and old-school "How'd they do that?" Hollywood (it's shot in one unedited cut), a number that belongs in the company of such iconic movie musical moments as "Singin' in the Rain" or "That's Entertainment" from The Band Wagon.
"It was such a relief to hear my own voice as the movie started," says Parrish. "Then I could relax and enjoy the rest of the film."
A few weeks later, she returned to Kansas—flying, this time—and took her parents to see La La Land. "It was a very gratifying moment," says Parrish, who has yet to meet Gosling or Stone, much less the male vocalist who also has a verse or two in her song. "Seeing that moment and hearing my own voice, I thought of the feeling of regret I would have had if I'd never taken that risk. That's why I love the movie: Anyone with a dream can absolutely relate to it."
And what about Tessa, the Honda that carried Parrish from her tiny hometown to her city of dreams? "It died the night before the film opened," she says.