A Cappella Groups Enjoy a 'La La Passover' While Hanging With Their 'Seder Crew'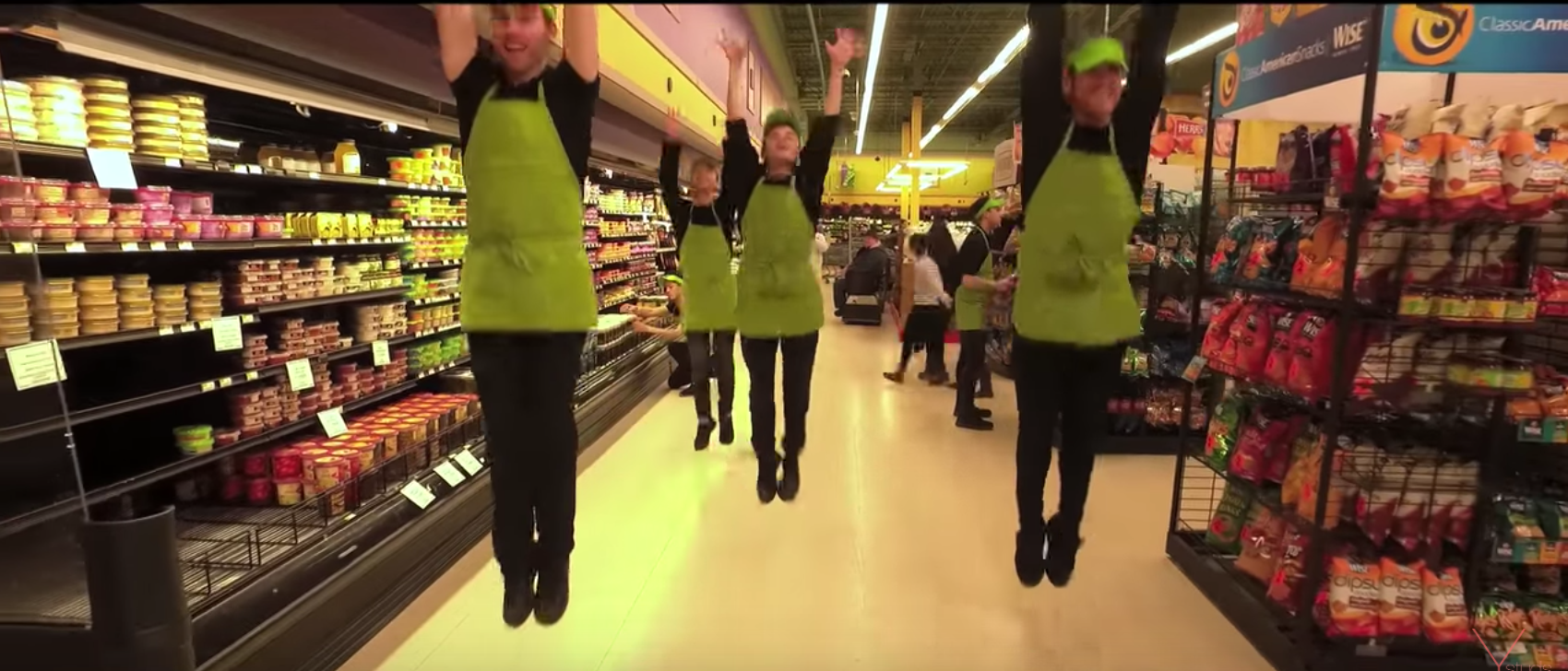 The movie musical that swept Oscar nominations this past year, La La Land, begins with an iconic Los Angeles traffic jam that turns into an epic song and dance number. Now a Jewish a cappella group has reworked "Another Day of Sun" to turn a pre-Passover ritual—preparing for the seder and stocking up on kosher-for-Passover foods—into their very own musical showstopper. The Y-Studs most recent holiday video is "La La Passover," an impressive take on the movie's opener and an original contribution to the burgeoning genre of Passover and Hanukkah music videos.
"We liked the energy and the theater and thought we could make a really engaging and fun video, whether or not you watched the opening scene of La La Land," says Gedalia Penner, musical director for the Y-Studs and a senior at Yeshiva University, where the Y-Studs first formed as a student group (they're now independent of the school). "We pride ourselves on creativity, coming up with something new every time."
There's a slew of rituals and traditions associated with Passover, a Jewish holiday that commemorates the emancipation of the Israelites from slavery in ancient Egypt. Families gather around a table for what's called a seder, reading the story of their ancestors' exodus to freedom from a book called the haggadah, eating matzah to remember that the Israelites didn't have time to let their bread rise and following other symbolic practices. But perhaps the newest Passover tradition, which Penner alludes to, is the release of music videos by Jewish a cappella groups that rework popular songs, rearrange classic ones or mash up several together.
By now, when Passover (and Hanukkah) roll around every year, there's an expectation that groups like the Y-Studs, Six13 and the Maccabeats will release something new. "It wouldn't be right if we didn't put something out," says Eitan Rubin, the president of the Y-Studs. And they're not complacent about what that something is. "We're constantly trying to find ways to innovate in this very niche industry."
The "very niche industry" Rubin describes is led by the three all-male a cappella groups, whose holiday videos over the last several years have racked up tens of millions of views collectively. Some, like the Maccabeats "Candlelight," based on Taio Cruz's "Dynamite," and Six13's "Chanukah: Shake It Off," a reworking of Taylor Swift's hit song, have gone viral.
"We try to have as much fun as possible," says Mordy Weinstein, a member of Six13 who also founded the Y-Studs back when he was in college. "We take the music seriously," he adds. But "we really really try not to take ourselves too seriously."
This year, in addition to helping the Y-Studs with the studio recording for "La La Passover," he worked on Six13's "Seder Crew," based on "Shape Of You," originally recorded by Ed Sheeran. "We wanted to talk about the seder crew, the people you spend your holiday with and the joy that brings."
The holiday wouldn't be complete without a new video from the Maccabeats, whose massively popular "Candlelight" video from 2010 might be credited with jumpstarting the current phenomenon. They, too, tried something a little different this year, inspired in part by Gracie Hart's pageant talent act playing music on partially-filled wine glasses in the movie Miss Congeniality.
"Growing up, we were musical guys. We would always tap on glasses and make noise in different ways," says Julian Horowitz, music director for the Maccabeats who arranged this year's Passover song for the group. "That's kind of what a cappella is, making the music of a full orchestra or a full band with your mouth." This time, though, they also used other objects found on the traditional seder table. They played the rims of glasses of wine, which Horowitz imagined as the "orchestra's" flute or violin section, and broke matzahs in half in lieu of standard percussion.
Instead of reworking a pop song this time around, the group turned to "Mah Nishtanah," a song usually sung by the youngest person at the seder table that asks what's different about that night compared with any other night.
Horowitz tells Newsweek that if he were to play the B roll of "how many takes we screwed up by laughing and having a good time, you would think, 'How do these guys get anything done?'" He calculated that since they had to break four matzohs per take and went through six full boxes containing 12-14 matzahs each, they filmed roughly 20 times before ending up with the perfect one-shot take (and a whole lot of broken matzah).
But they had a blast doing it, and that's the point both for the singers and their audiences, which all the groups see as including Jews of every sect as well as non-Jewish viewers of all backgrounds who come to learn about a major holiday in another religion or just to appreciate the music.
"If people are really really enjoying it," says Weinstein, "it's our duty to be making more of it."