LA Mayor Says Undercounting of COVID Cases Has Been Going On For Months
California health officials may have been miscounting the number of new positive coronavirus cases for longer than previously stated, according to Los Angeles Mayor Eric Garcetti.
On Monday, California Governor Gavin Newsom revealed that California's reported decline in new cases of the virus may have been caused by a technical issue. That statement was confirmed by California Health and Human Services Dr. Mark Ghaly on Tuesday. During a press call, Ghaly said that discrepancies had been discovered within the state's reporting system "over the past few days."
Garcetti intimated Wednesday that the problem had been going on for a greater period of time.
"We don't believe that it's something that just happened in the last two or three weeks," Garcetti said during a briefing. "The state has told us that these reporting problems may have been throughout."
"This is something that they've uncovered that has probably been with us since months ago," Garcetti added.
In a statement sent to Newsweek on Wednesday, the California Department of Public Health (CDPH) said that the discrepancies in case counts were "due to technology issues with the electronic laboratory reporting system which reports into the state's disease registry system." Both state and local cases would likely be subject to underreporting.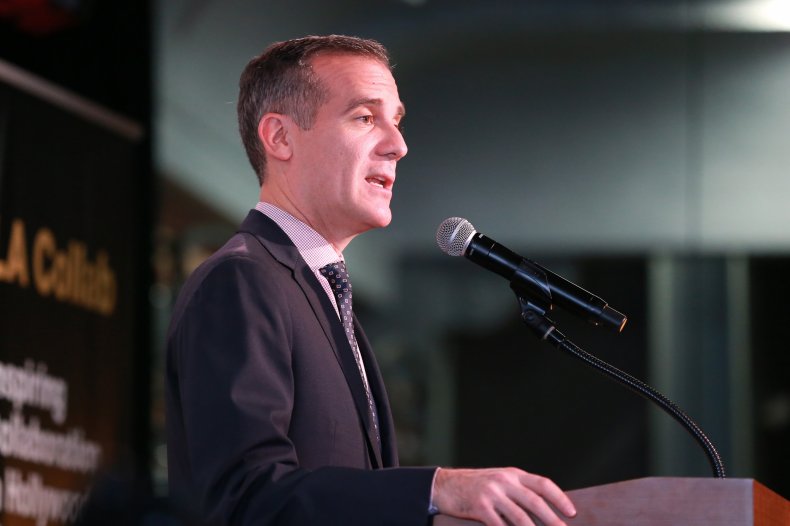 In response to the technical difficulties, the CDPH ordered California labs to manually report positive test results to their local health departments. While members of the state's Department of Technology are working on the system, no target date for completion of the repair has been published. Newsweek reached out to the CDPH for comment.
On Monday, Newsom said Californians should remain vigilant although the numbers appeared to show a marked decline in positive cases. On Tuesday, the state reported 5,023 new cases of the virus. That represents a hefty drop from the number of cases reported on July 29 when 11,088 new cases were reported.
"One week does not make the kind of trend that gives us confidence to generate headlines," Newsom said. "We are looking forward to that and need to see another few weeks of this kind of data to come in to feel more confident about where we are as a state."
California is not the only state that has dealt with problems in coronavirus case reporting systems. In July, the Oklahoma State Department of Health (OSDH) said a decline in positive cases did not "reflect real-time data."
In a statement, the OSDH said the issues centered on outdated systems that revolved around using older technology, such as submitting test results for tallying via fax machines.
"We have needed a technical solution since well before the pandemic," Oklahoma Deputy Commissioner of Prevention and Preparedness Travis Kirkpatrick said in July. "The backlog we've experienced as the state has increased its testing capability has given us the opportunity to incorporate immediate fixes while moving towards developing a permanent solution."