LA Mayoral Candidate Escorted Away From Press Conference After Staffer Fights Protester
Joe Buscaino, a candidate in the race to be mayor of Los Angeles, followed as his press manager was lead away from a press conference by police after clashing with a protestor.
Video posted to Twitter and The Los Angeles Times on Monday showed dozens of demonstrators from Street Watch Los Angeles, an organization focused on serving the local community regarding tenants' rights, chanting "homes not zones" and holding protest signs during Buscaino's speech, making Buscaino's words mostly inaudible.
At one point, Buscaino's press manager, Branimir Kvartuc, appears to grab a sign out of a protestor's hands.
The exact nature of the tussle is unclear from the video, but there is a physical engagement of some kind between Kvartuc and at least one protestor from Street Watch Los Angeles.
Buscaino then turns to Kvartuc and repeats his name several times, saying "Branimir, Branimir, Branimir, calm down! Back up!"
Kvartuc then seems to push a female protestor's arm away from him, and she can be heard shouting, "get your f**king hands off me," in response.
Los Angeles Police Department (LAPD) officers then appear to lead Kvartuc down the street, away from the crowd, holding him by the arm.
Buscaino then walks with police escort away from the initial crowds but does not appear to be in any way detained by the police.
Newsweek reached out to LAPD for comment, but they did not yet have full information to release at press time.
The event, held in Hollywood, was intended to address developments in a city ordinance around zoning for the city's many houseless citizen encampments, which Buscaino, a current L.A. City Councilmember in L.A.'s 15th district, has been wielding as a way to push houseless Los Angelenos out of certain areas of his district.
Buscaino, who has said he supports the ordinance, wants to use it to make areas around schools official "no camping" zones. "We must still pass a law that says you cannot camp on the sidewalk if you have been offered housing," he said in a statement.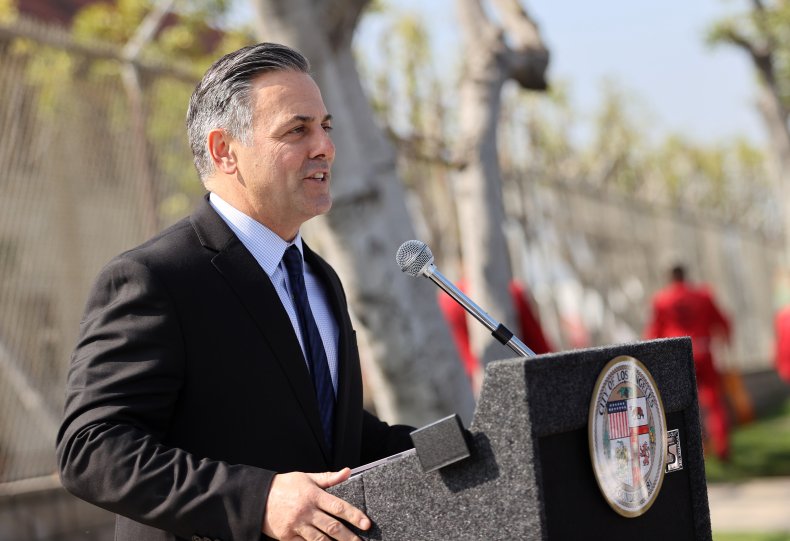 Newsweek also reached out to Buscaino's campaign and Street Watch Los Angeles for their comments but did not immediately hear back.
The ordinance being protested by Street Watch Los Angeles is L.A.M.C. line 41.18(d) stating that "No person shall sit, lie or sleep in or upon any street, sidewalk or other public way." It makes it difficult people for houseless people to exist in the city, and some opponents of the law are saying it unfairly criminalizes homelessness.