LA Sheriff Refuses to Enforce New Mask Mandate: 'Not Backed by Science'
Alex Villanueva, the Los Angeles County Sheriff who has been called "the Donald Trump of L.A. County," has said that his office will not enforce the county's recently re-instated mask mandate. Villanueva says the mandate is "not backed by science."
The county's indoor mask mandate went back into effect on Saturday by order of the Los Angeles County Department of Public Health (DPH). The DPH cited rising COVID-19 case numbers as the reason for reinstating the mandate. The mandate requires all people to wear masks indoors, regardless of vaccination status.
However, in a Friday statement, Villanueva bashed the order as unscientific.
"Forcing the vaccinated and those who already contracted COVID-19 to wear masks indoors is not backed by science and contradicts the U.S. Centers for Disease Control and Prevention (CDC) guidelines," he claimed.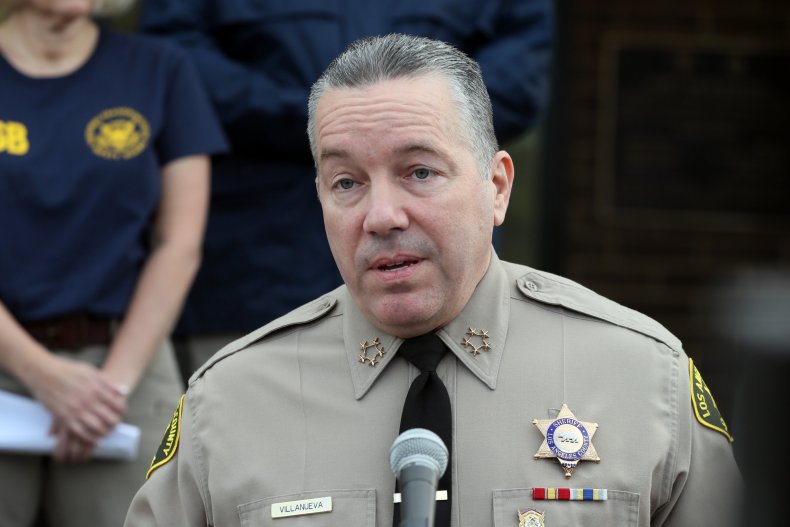 "The underfunded/defunded Los Angeles County Sheriff's Department will not expend our limited resources and instead ask for voluntary compliance," his statement continued.
He said that the DPH has the authority to independently enforce its mandate. He also encouraged the DPH to work collaboratively with the city's Board of Supervisors and law enforcement to "establish mandates that are both achievable and supported by science."
While Villanueva is correct that the CDC says that vaccinated people "can resume activities without wearing a mask or physically distancing," its recommendation adds, "except where required by federal, state, local, tribal, or territorial laws, rules and regulations."
National infectious disease expert Dr. Anthony Fauci has also suggested that vaccinated people continue wearing masks. Fauci and the CDC have said that people who have previously contracted COVID-19 or have been vaccinated can possibly become re-infected with COVID-19 and spread it to other individuals.
DPH leader Dr. Muntu Davis has said that requiring everyone to wear masks is "much easier" than trying to figure out who has been vaccinated and who hasn't.
During his 2018 campaign, Villanueva proudly proclaimed that he would be the county's first Democratic sheriff in 138 years. In February 2020, he criticized Trump's plan to send border patrol agents into "sanctuary cities." Trump threatened to send agents to cities that refused to help federal agents enforce U.S. immigration law. Villanueva called Trump's plan "unnecessary, needless and overkill."
In his 2018 campaign, Villanueva pledged to expand social services to undocumented immigrants. He also said he wanted to see an and to the state's cash bail system because it keeps poor defendants in jail, The Los Angeles Times reported. He also vowed to run a transparent department.
However, Villanueva has seemingly moved rightward since being elected. He has resisted subpoenas from the Sheriff Civilian Oversight Commission, as well as the inspector general, leading to court disputes.
When Black Lives Matter activists protested the August 31, 2020 killing of a Black man named Dijon Kizzee by Villanueva's officers, the sheriff hosted a counter-protest with conservative figures who bashed BLM. Villanueva dismissed BLM protesters as "out-of-town instigators," the Times wrote.
Villanueva has started regularly appearing on conservative media, including Laura Ingraham's national Fox News show, as well as the Fox and Friends morning show. In his appearances, he has slammed the city's Democratic leaders for being too lenient against homeless people, claiming that they "don't want to offend anybody."
In mid-July, one of Villanueva's opponents in his 2022 reelection campaign, Cecil Rhambo, the police chief of Los Angeles International Airport, called Villanueva "the Donald Trump of L.A. County." In June, 90 percent of the voting members in the L.A. County Democratic Party voted to demand Villanueva's resignation.
Villanueva has also been angered by a reduction in the city's police budget. In early June, Los Angeles Mayor Eric Garcetti pledged to remove $150 million from the city police's budget. Garcetti's decision came after days of protest and pressure from "defund the police" activists, labor unions and community groups that held a large demonstration outside of his home.
The city voted on July 2 to cut the Los Angeles Police Department (LAPD) budget by $150 million. The LAPD's proposed operating budget before the cut was about $1.86 billion, according to KABC-TV.
Newsweek contacted Villanueva's office for comment.