L.A. Sheriff Villanueva Faces Calls to Resign Over 'Brazen Attack' on Press
Los Angeles County Sheriff Alex Villanueva is facing calls to resign after he said the Los Angeles Times journalist who reported on allegations he was involved in covering up the case of an abused inmate was under criminal investigation.
Alene Tchekmedyian, who regularly covers the sheriff's department, published an article on Monday detailing a legal claim filed by a sheriff's commander that accused Villanueva of obstructing justice and retaliating against whistleblowers.
The report included surveillance footage of the March 2021 incident, and said the deputy had knelt on a handcuffed inmate's head for more than three minutes.
At a news conference on Tuesday, Villanueva said the video was "stolen property that was removed illegally." He displayed large photos of Tchekmedyian, LA County Inspector General Max Huntsman and former Sheriff's Commander Eli Vera under the heading: "WHAT DID THEY KNOW AND WHEN DID THEY KNOW IT?"
Asked by reporters if he was investigating Tchekmedyian specifically, Villanueva said that "all parties to the act are subjects of the investigation."
The sheriff's comments prompted immediate criticism from the newspaper's leadership and First Amendment advocates.
"Sheriff Alex Villanueva's attack on Alene Tchekmedyian's First Amendment rights for doing newsworthy reporting on a video that showed a deputy kneeling on a handcuffed inmate's head is outrageous," the paper's executive editor Kevin Merida said in a statement.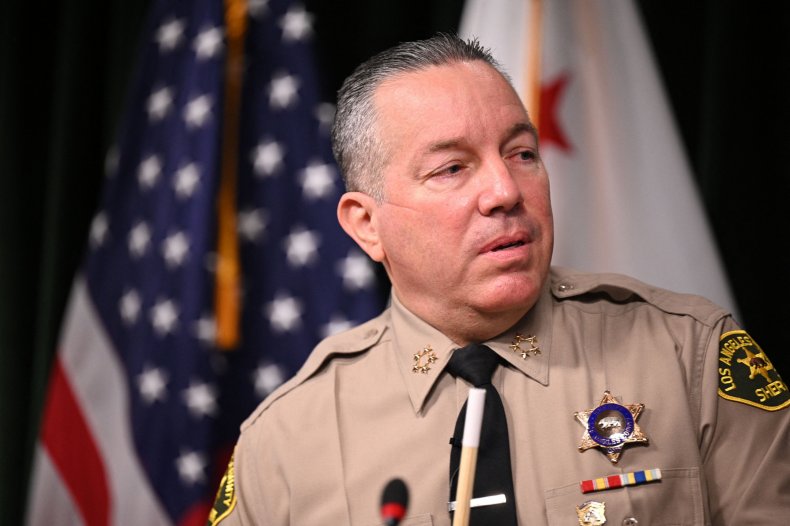 "His attempt to criminalize news reporting goes against well-established constitutional law. We will vigorously defend Tchekmedyian's and the Los Angeles Times' rights in any proceeding or investigation brought by authorities."
Hours later, Villanueva—who is up for reelection—clarified his remarks in response to what he called an "incredible frenzy of misinformation being circulated."
He wrote in a tweet: "I must clarify at no time today did I state an LA Times reporter was a suspect in a criminal investigation. We have no interest in pursuing, nor are we pursuing, criminal charges against any reporters."
But critics of Villanueva's actions are calling for him to resign or be removed.
Author and investigative reporter Thomas Peele tweeted: "This is an incredibly brazen attack on the free press. All journalists must stand behind @AleneTchek and the right to report on government abuse. @LACoSheriff Villanueva is unfit for public office. He must resign or supervisors must push him out."
"Villanueva has proved himself again and again to be an anti-democracy militarist politician posing as a peace officer," commentator Keith Olbermann tweeted.
"He needs to be removed immediately, and criminally prosecuted. The @LASDHQ has been totally corrupted by this one rogue cop. He has to go."
Art Acevedo, the former police chief of Miami, tweeted that Villanueva's actions were "something right out of an authoritarian strongman playbook. Angelinos deserve better."
L.A. County Supervisor Hilda Solis pledged to ask California Attorney General Rob Bonta to investigate Villanueva's "pattern of unconscionable and dangerous actions."
"Sadly, Sheriff Villanueva has a habit of attacking, maligning, and threatening those who oversee or report on his misconduct," Solis said.
Villanueva has been contacted for comment.