LA Times Reporter Under Investigation After Deputy Kneeling on Inmate Story
An LA Times reporter is allegedly under police investigation after writing a report about a claim filed by a Los Angeles County sheriff's commander accusing the sheriff of obstructing justice.
The reporter, Alene Tchekmedyian, wrote an article on Monday that detailed the events of an incident in March 2021 involving a deputy kneeling on the head of a handcuffed inmate.
It was reported that the incident was kept under wraps for several months, and a legal claim was filed on April 25 by deputy Allen Castellano, accusing the Los Angeles County Sheriff Alex Villanueva of taking part in the cover-up.
On Tuesday, Sheriff Villanueva announced in a news conference that he was investigating Tchekmedyian "in connection with a leak of information," according to NPR reporter Frank Stoltze on Twitter.
A photo by Stoltze posted on Twitter showed Villanueva referencing a picture of the LA Times reporter during the conference under the heading "WHAT DID THEY KNOW AND WHEN DID THEY KNOW IT?", which Stoltze wrote, "is an extraordinary escalation in the sheriff's attack not only on the paper but also on the First Amendment."
It was reported that Villanueva is allegedly under investigation by the county's inspector general to determine if he had, in fact, lied about the time frame in which he became aware of the incident.
TIMELINE
According to reports, the altercation occurred on March 10, 2021, at the San Fernando Courthouse. Two inmates were not complying during a routine search, and Los Angeles County Deputy Douglas Johnson ordered one inmate, Enzo Escalante, to face the wall, the LA Times reported. Security video obtained by the LA Times showed Escalante turning and punching Johnson in the face multiple times.
Johnson and several other deputies pushed Escalante to the ground facedown. The Times reported that Johnson kept his knee on Escalante's head for three minutes after he was handcuffed.
The claim then alleged that Villanueva, another lieutenant, Undersheriff Tim Murakami and Assistant Sheriff Robin Limon all viewed the video of the incident just five days after it occurred.
Tchekmedyian's article stated that in an internal report from July 2021, Castellano said that, at the time, officials allegedly had concerns about the bad publicity that would come from the news of the incident, "given its nature and its similarities to widely publicized George Floyd use of force."
The incident occurred around the same time as the trial against former police officer Derek Chauvin for Floyd's murder.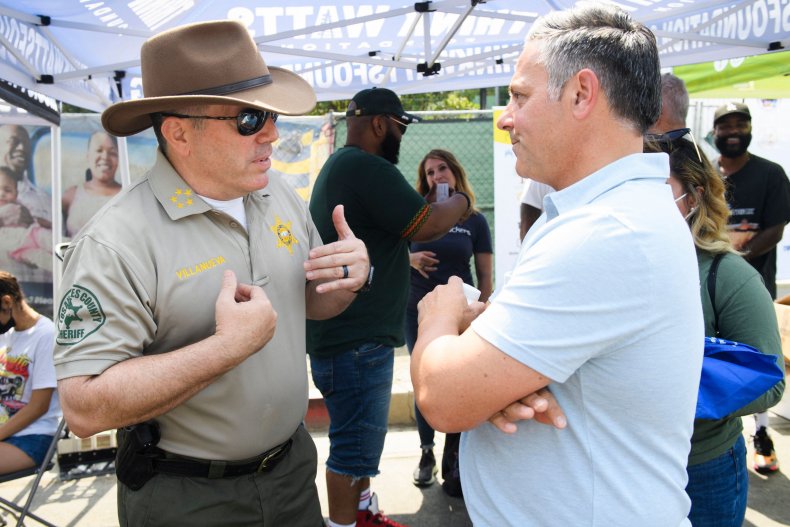 However, Villanueva claimed that he did not see the video until November 2021 when he ordered a criminal investigation into Deputy Johnson.
According to Fox 11, Villanueva admitted that mistakes were made in the investigation of Johnson but stood by the claim that the altercation took place in November, around the same time that he claims he was made aware of it.
"There was a use of force investigation, an administrative investigation," Villanueva said. "It was initiated roughly in the time frame it should have been initiated. However, along the way early on, something did not happen, which was a vetting of this case for a possible criminal investigation...That did not happen when it was supposed to happen."
Los Angeles County Sheriff's Department told Newsweek they "cannot comment at this time."