Labor Day Cocktail Recipes: Drinks and Spirits to Celebrate Working Americans
Labor Day marks a time to honor the impact old-fashioned hard work has had on society. It's a moment to celebrate the labor movement and American workers' many great achievements, which have not only set the foundation of this country but have also helped shape the nation's social and economic place in the world.
Simply put, Labor Day is a tribute to all the grueling work people put in day in and day out here in the U.S. So it's only right to celebrate the holiday by doing the one thing every worker always needs but never quite gets enough of — relaxing.
Since most businesses and government services are closed in observance of Labor Day, most people will be able to enjoy the holiday without having to go to work. Many will likely flock to beaches and pools to soak up the last of the summer sun before Fall arrives, while others may opt to spend the day hanging with family and friends and gorging on barbecue. Some folks may even decide to spend the day doing nothing more than catching up on rest and binge-watching all the Netflix shows their busy work schedules have previously prevented.
No matter how people plan to spend the national holiday, doing hard labor should be the one thing that's not on the agenda, unless, of course, it's the hard labor of creating a really good cocktail. We've compiled a list of seven delectable and refreshing cocktails that will bring the best out of your Labor Day, whether you're enjoying the holiday poolside or couch surfing. It's also worth noting that these cocktails taste even better for those of us who still had to put in some work today, too.
See the recipes of a few cocktails to make on Labor Day below.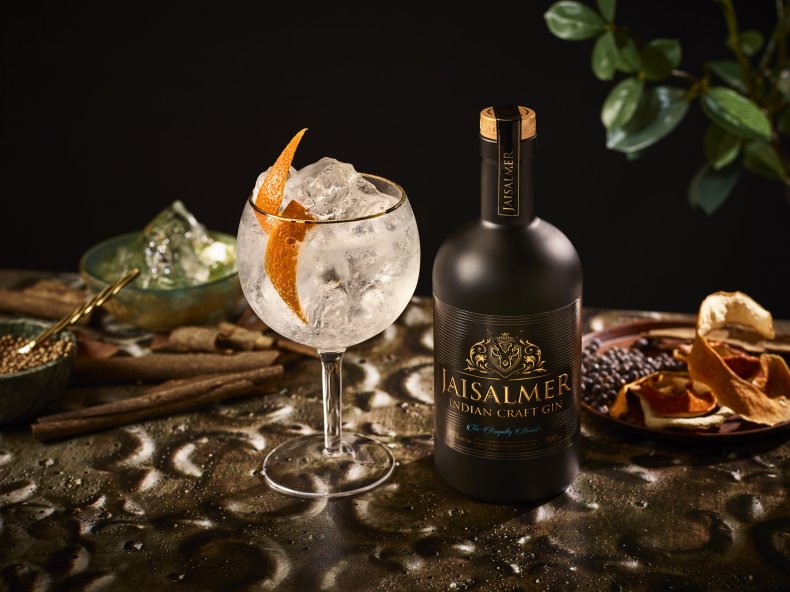 The Jaisalmer Indian Gin & Tonic
If your Labor Day consists of nothing but ease, then consider the simplicity that is a gin and tonic. The Jaisalmer Indian Gin used in this cocktail tastes like that last-minute vacation your work schedule prevented you from booking. Only adding to its greatness, it's a quick and painless drink to make. All you need is a bottle of Jaisalmer, Fever-Tree Indian Tonic Water, an orange peel and ice.
Directions: Fill a Copa glass with ice. Add Jaisalmer Gin and top up with Fever-Tree Indian Tonic Water. Add an orange peel twist.
The Royal Treatment
As much as workers serve their communities and the country, it would be nice for them to be served for a change. Well, this sparkling cocktail that's ready to wait on you hand and foot. Ingredients call for 1 1/2 ounces of Empress Gin 1908, 3 ounces of white cranberry juice and a splash of Cono Sur Sparkling Brut.
Directions: Build in a stemless wine glass. Garnish with kiwi slices (skin removed), berries, and a mint leaf.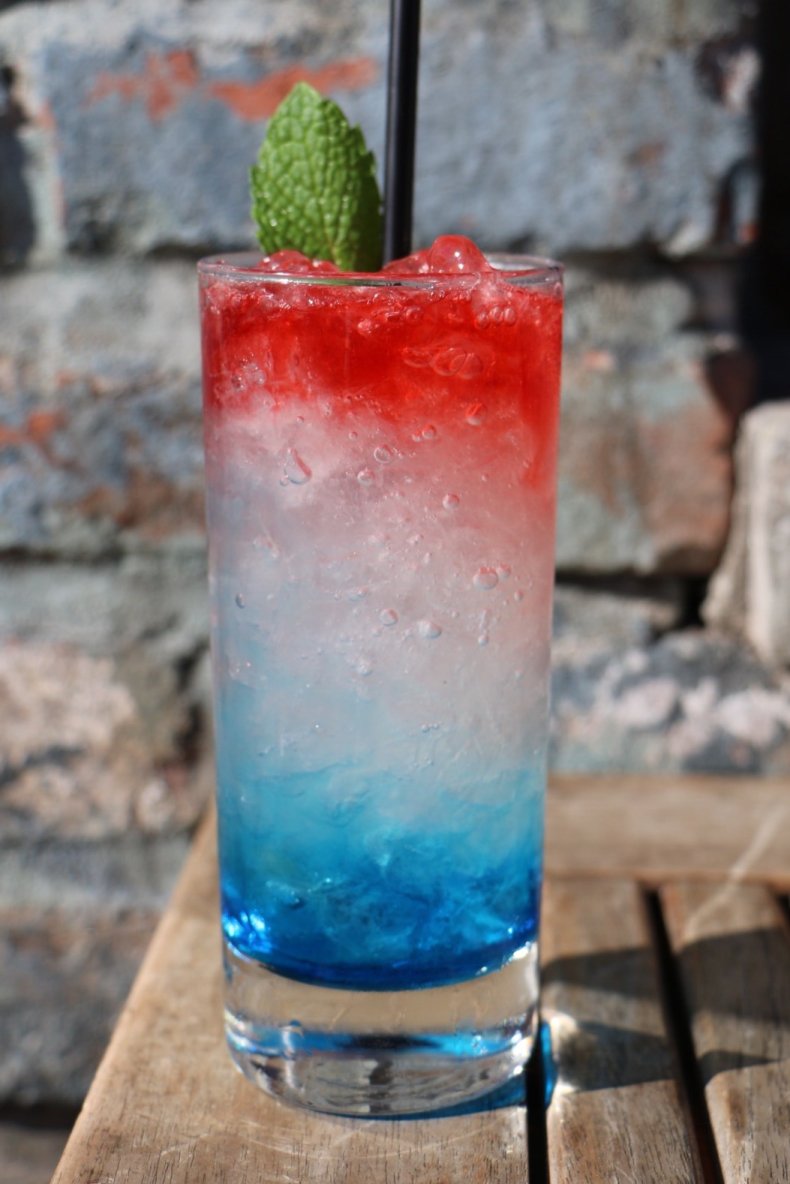 Born in the LES
Whether you were born in Manhattan's Lower East Side — like this Boulton & Watt creation — or anywhere else in America, this is a cocktail that will fill you with red, white and blue pride. You'll need 2 1/4 ounces of Ten to One Rum, 3/4 ounces of mint simple syrup, 1/4 ounce of Blue Curaçao and 1 ounce of lime juice.
Directions: Add Blue Curaçao to an empty glass. Fill glass with crushed ice. Shake remaining ingredients, and pour slowly over crushed ice. Dash of Angostura and Peychauds Bitters liberally over the top. Garnish with mint leaves.
Summer Old Fashioned
An American classic with an end of the season twist — The Summer Old Fashioned, compliments of the Refinery Rooftop Hotel, calls for 2 ounces of Woodford Reserve Bourbon, 1/2 ounce of Marie Brizard Peach and three dashes of Fee Brothers Peach Bitters.
Directions: Build in a glass. Stir down and garnish with an orange peel.
Jalapeño Palomarita
This spicy thirst quencher will keep you cool amid the Labor Day heat. Ingredients include 2 ounces of Tanteo Jalapeño Tequila, 1 ounce of fresh lime juice, 2 ounces of grapefruit juice, 1/2 ounce of agave nectar.
Directions: Combine ingredients in a shaker with ice. Shake well and strain into an ice-filled rocks glass. Garnish with a lime slice or a jalapeño slice.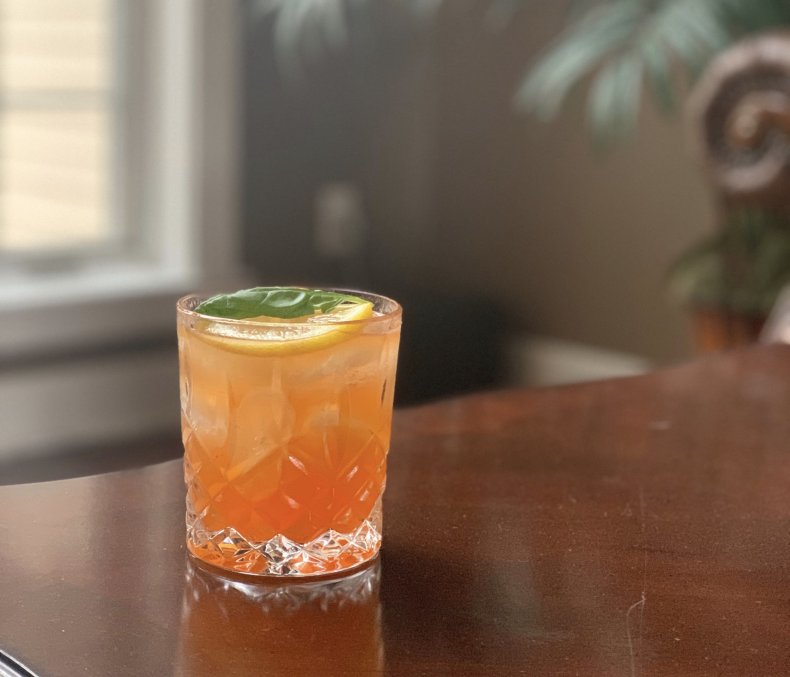 It's Just Peachy Punch
Created by Distilled NYC bartender Katie Auth, the cocktail is exactly as its name states: Punch that is peachy. Added bonus: One batch is enough for eight people, making it the perfect addition to your Labor Day party. The punch calls for 12 ounces of Proper No. Twelve Irish Whiskey, 4 ounces of Aperol, 8 lunches of grilled peach basil syrup, 4 ounces of fresh lemon juice and a splash of Prosecco.
Directions: Combine ingredients in a bowl or pitcher with ice, fresh basil leaves, lemon wheels, and grilled peach slices. Top with a dry Prosecco and a splash of club soda.
Reverse Manhattan Poptail
There's nothing that says summer quite like a popsicle. Now that the season is nearly over, adults may be looking to add a little something stronger to their flavored ice to help gear them up for the busy fall ahead. This poptail gets the job done. Ingredients include 3/4 ounces of Antica Formula, 1/4 ounce of Templeton Rye Whiskey, 1/2 ounce of cherry juice, 1 ounce of water and a handful of chopped cherries.
Directions: Combine all ingredients in large glass or bowl. Stir then pour over in ice tray. Let sit in the freezer for two hours or until frozen. Stab with a toothpick and serve.