Labor Day Parable: One Man's Mission to Find Work and Purpose for Millions | Opinion
He was born in 1940 in Duvall, Washington, a small farming community of under three hundred people. That he would end up finding work for more than seven million Americans as the founder of one of America's largest employment agencies would have seemed surreal when he was young. His life story is worth telling as the nation celebrates Labor Day, the lives of American workers and work itself.
Bob Funk experienced hard times early on. "My mother had a nervous breakdown when I was two years and my sister took care of me until my mom got well," Funk recalled. What he didn't know until his mother passed away was the cause of her nervous breakdown. "I looked at the family farm checkbook and we were going broke," he said. It would take nearly five years before his mom was back to her old self. Indeed, it was a job—and the meaning and purpose it would give her—that helped her find her footing.
"She went to work at a grocery store, free of charge, for our groceries," Funk explained. "I had four shirts all the way through high school and three pair of Levis. That's all I had."
Hard work was something Funk knew from the earliest age. Working for wages began when he was 14 at his cousin Adolf's farm. "I worked from six in the morning til 10 at night, every day of the week"
God demanded that his people work six days a week; Adolf, it turned out, required seven. But it was from his cousin—and his mother and father, too—that Funk developed his strong work ethic.
Funk got his first taste of responsibility at his cousin's farm. "Adolf hadn't had a day off in 17 years until the day I became 17 years old," Funk said. "He had confidence that I could milk his cows and take care of things, so he took four days off and went and saw some relatives in Nebraska."
Hard work was expected in his German family. And the work needed to be done well, too. "It never occurred to me that it was a bother," Funk recalled. "It was always a privilege to work."
When he was 11, Funk had an encounter with a relatively unknown traveling evangelist that would change his life. "I didn't know Billy Graham from Adam, and the pastor we had at that time encouraged all of us to go to his crusade in Seattle," Funk explained. It was only the third crusade Graham had ever performed.
"His style was to invite people to make a commitment spiritually in their lives. And so, I thought, 'If I don't make a commitment, chances are our bus is going to turn over and I'm going to die tonight anyway, so I'd better make the commitment tonight,'" Funk said. "It changed a lot of lives." Funk went off to college, completed his masters, and tried his hand in the pulpit. "I was a terrible preacher," he confessed.
Then came the career he didn't plan for. "I was fortunate to get with a Christian company that was in the staffing business," Funk said. "When I first got into the business, I was trying to help people spiritually as well and, consequently, I couldn't interview as many people as some of the others. After a year, my boss, who was a fine Christian man, came to me and said, 'Bob, I understand you're trying to help them spiritually, but we do have to make a profit in this business," Funk recalled, laughing as he told the story. Funk got the message. "So, I would bring them in after hours and counsel them if they were looking for spiritual help."
Though Funk failed at his first attempt at ministry, the staffing business he built over four decades, Express Employment Professionals, would turn into a bigger ministry than he could have dreamed, with nearly 800 franchises around the world.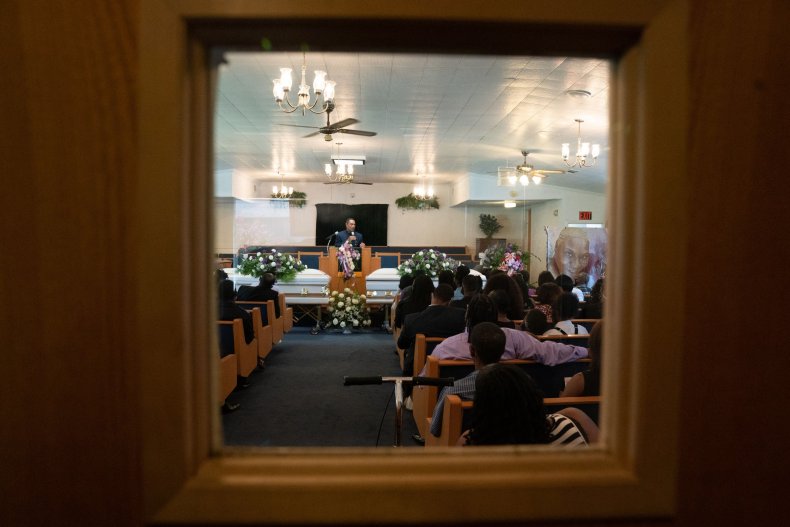 Was it luck or providence that Funk failed in the pulpit? "Well, had I stayed in the pulpit, I probably would not have had the opportunity to minister to so many people, and we're in the seven million range now that we've helped find jobs and help them spiritually, too, if they needed it," Funk said.
"President Reagan once said that the best social program is a job, and that's true because it gives people pride, it gives them encouragement, it gives them a purpose. It gives them opportunity and self-esteem when they have a job, no matter what level the job happens to be."
Funk's faith played a central role in his success. "Every person that comes in looking for a job is insecure, they don't know where the next position might be," Funk said, choking up. "They need encouragement, hope and compassion. And that's what ministry is about."
Funk understood from his own experience that doing what you love isn't as important as loving what you do. "Maybe the jobs aren't perfect—but to find people a job they can grow in, and a spot in life that they didn't think they were able to have and, a lot of times, it's a job they never thought they'd ever want to do and then they get out there and they do a good job...a lot of it goes back to work ethic," Funk explained. "We had one fella that went out to California and because he showed up a half-hour early for the job, he was promoted three times."
Ministering to people's needs, and really caring, was a busines advantage for Funk. "As Zig Ziglar once said, 'The more people you help, the more money comes running at your door," Funk said. "We're trying to help as many people as possible because it helps grow our company."
Funk has also been an active philanthropist in his home state of Oklahoma. "The rewards of giving are much more meaningful than making money," Funk noted. "Money has never been my motivator and when I do interview people, I ask them what their motivator is. Is it their work environment? Prestige? Ego? Or money? Usually, people who are motivated by money will rip your organization apart because of jealousy, and not caring about the other person."
Funk attributes his happiness and success in life to one thing—one at the center of his faith. "Life is about other people, not ourselves, and that's an old biblical principal."
The Bible is filled with passages about work, this one among them from Colossians 3:23: "Whatever you do, work at it with all your heart, as working for the Lord, not for human masters."
On this Labor Day, Bob Funk's life is worth telling. And the lessons he learned from a family that believed in hard work, and the importance and value of hard work. Along with caring for others—and living your faith in and out of the workplace.
Lee Habeeb is vice president of content for Salem Radio Network and host of Our American Stories. He lives in Oxford, Mississippi, with his wife, Valerie, and his daughter, Reagan.
The views expressed in this article are the writer's own.