Labor Leader Urges Clinton to Reject Pacific Trade Agreement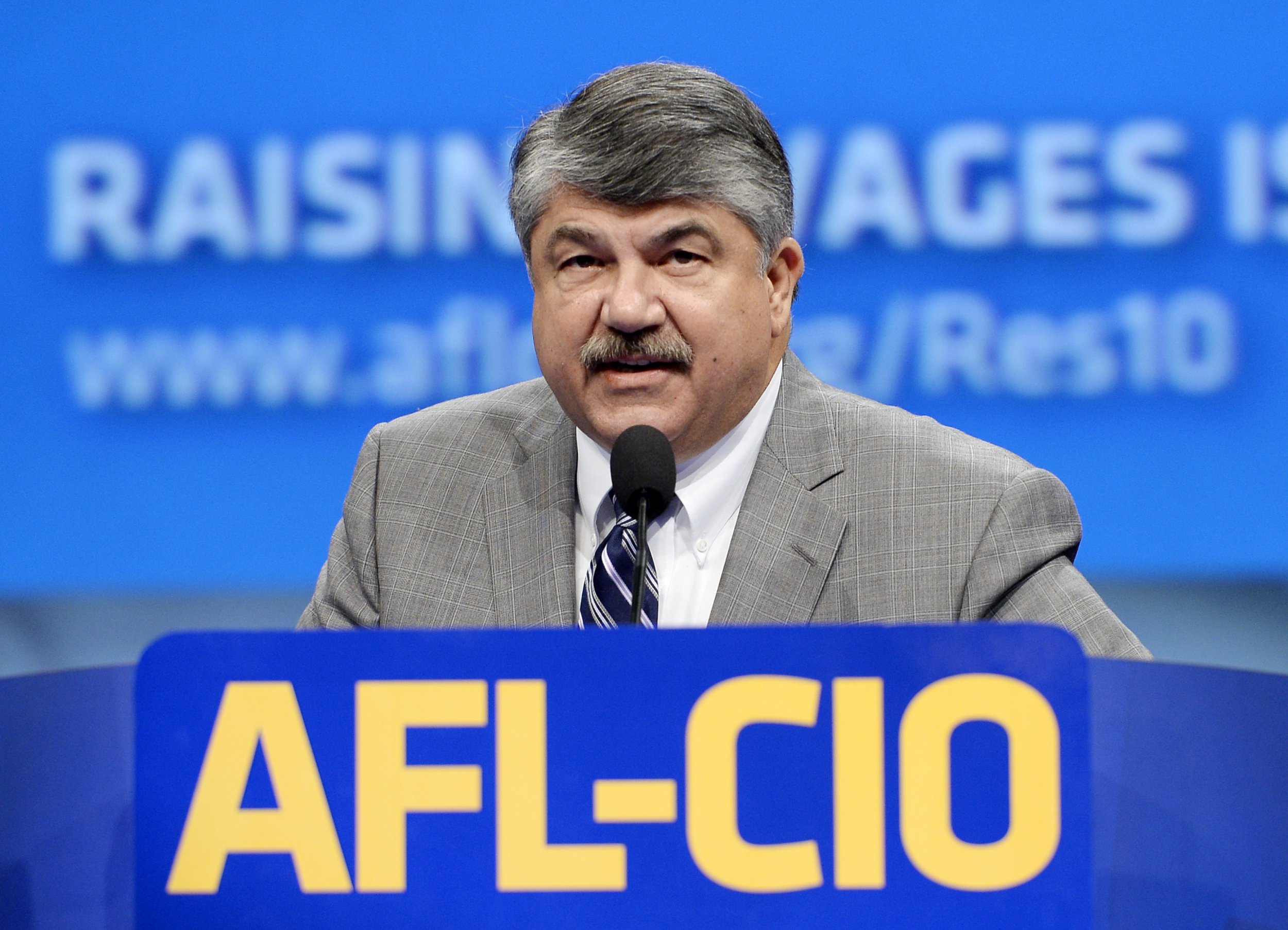 Labor leader Richard Trumka has an idea for Hillary Clinton to energize her presidential campaign after a listless summer: take a position on the Trans-Pacific Partnership (TPP). Specifically, the head of the AFL-CIO suggested that coming out against the 12-country trade deal would help generate excitement for the Democratic front-runner, who is facing a growing threat from liberal hero Bernie Sanders.
"I think she has to really figure out a way to energize voters, and that's come up with a narrative that one, she believes in and two, she's willing to fight for. That's the litmus test that workers look at," Trumka told reporters at a breakfast in Washington, D.C., hosted by The Christian Science Monitor. "Her narrative right now, when you say, I don't know whether TPP is good or bad and then you don't articulate what a good one would be, I think that lessens the energy."
The AFL-CIO, the largest labor federation in the country, with almost 13 million members, has lobbied heavily against the trade deal taking shape among nations across the Asia-Pacific region. Its pressure on members of Congress to vote against trade promotion authority, a measure giving the president the authority to complete the negotiations and granting Congress only an up-or-down vote afterward, had even some Democrats complaining of heavy-handed tactics. The Republican-controlled Congress narrowly passed the TPA legislation in June after a protracted battle, but a majority of Democrats opposed it.
Clinton backed the early efforts to negotiate the TPP when she was Barack Obama's secretary of state, but on the campaign trail she's hedged her bets. In June, she argued that the agreement could and should be strengthened but didn't come out for or against it. Likewise, she's not taken a stand on the Keystone XL pipeline, nor gone as far as calling for a $15 minimum wage, both of which Trumka supports.
Negotiations have since stalled on the TPP, snagged on market access disagreements among the U.S., Japan and Canada over American efforts to strengthen intellectual property protections for pharmaceutical companies. If the agreement is revived, it will be a renewed headache for Clinton. Her rivals for the Democratic nomination, Vermont Senator Sanders and former Maryland Governor Martin O'Malley, have come out against the TPP and slammed her for her equivocations. Most of the Republican presidential candidates support the pact, but a handful have a taken a more populist position by opposing it, including Donald Trump.
Trumka insisted Tuesday that the AFL-CIO is not trying to kill the deal but working to improve it. He promised an intense campaign if the TPP comes back before Congress for final approval. Given the way things have been going, he added, "I suspect it will be a campaign to defeat it."
Clinton's stance on the TPP will go a long way toward determining whether she can win the support of the AFL-CIO and other parts of organized labor in what has become a much tighter Democratic primary race than many expected. Sanders has enjoyed a summer surge in the polls, bolstered by populist anger at the political status quo, while Clinton has struggled to contain the fallout from a concerted Republican campaign to raise questions about her email practices at the State Department. Her use of a private server has led to an FBI inquiry into the administration's mishandling of classified material.
Trumka was in the headlines last week for meeting with Vice President Joe Biden as the former Delaware senator ponders a late entry into the presidential race. He told reporters he genuinely does not know what Biden will do.
"Joe Biden is a good friend, he's been a champion of working people. He's got to decide whether he's going to run," Trumka said. "He's got a lot on his shoulders."
He said he considers the Democratic race "wide open" at this point, but noted that both Clinton and Biden would make good presidents. He also credited Sanders for energizing working people with his message.
Trumka had few kind words for the Republican field. "I think what Donald Trump has started with immigration is dangerous. I think it's un-American, and I think it is racist." And he is worried about how others in the GOP race are now following the lead of the real estate tycoon and surprise Republican front-runner. "Six months from now," he predicted, "the country will suffer the scars."
Trumka also dismissed Ohio Governor John Kasich, who talks up his working-class roots as the son of a mailman. "Kasich, when he was in Congress, might have been the son...of a worker, but he helped pass more laws that hurt workers than almost anybody else." After leaving Congress in 2000, Kasich had a choice, Trumka said: "Go towards Wall Street or he could go towards workers. He chose Wall Street." Kasich spent several years working for Lehman Brothers, the now defunct investment firm whose collapse helped trigger the 2008 financial crisis.
Asked about Trump's pledge to help the middle class, Trumka replied, "I'd love to see his policies.... I'd love to hear Republicans and Democrats talking about policies that would help the middle class. That would be democracy at its finest."