Labor Union Launches $150M Campaign to Beat Trump: 'Federal Workers' Rights Have Been Totally Eviscerated Under His Watch'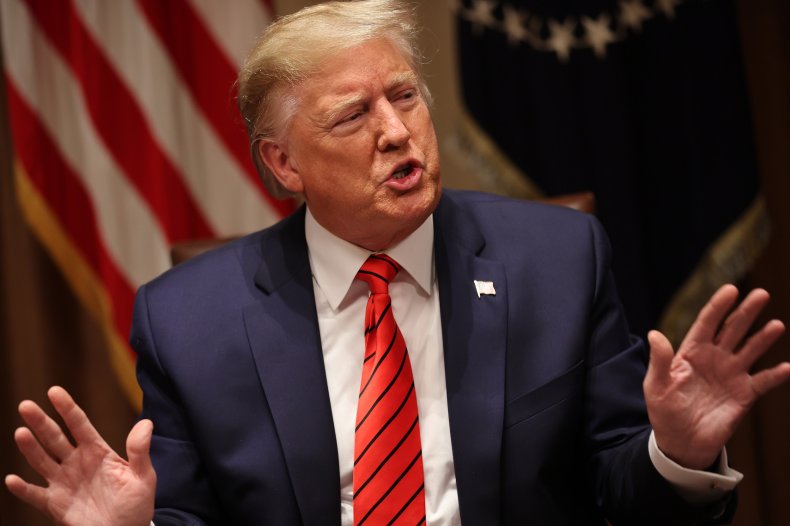 The Service Employees International Union (SEIU) has recently launched a $150 million campaign in an effort to defeat President Donald Trump this November, citing the ways federal workers have been treated under his administration.
"He's systematically unwinding and attacking unions. Federal workers' rights have been totally eviscerated under his [Trump's] watch," SEIU President Mary Kay Henry said in an interview. "We are on fire about the rules being rigged against us and needing to elect people that are going to stand with workers."
The investment by the SEIU, which has nearly 2 million members, marks the largest voter engagement and turnout operation by the union.
In an email to Newsweek, SEIU said its worker-led electoral program "will span over forty states, with a focus on eight key battleground states." The particular eight states include Colorado, Florida, Michigan, Minnesota, Nevada, Pennsylvania, Virginia and Wisconsin.
"SEIU plans to connect with over six million individual voters – a majority of whom are infrequent voters from Black and brown communities," according to the union's statement. "SEIU will also team up with partner organization both nationally and in key states to drive this work."
SEIU's political director, Maria Peralta, spoke with The Associated Press on how Trump's campaign has increased its efforts to win over minority voters, particularly men, who have traditionally voted Democratic.
"He's going after our communities in ways that are pervasive," Peralta said. "We're deeply aware of that."
SEIU also detailed the different ways the new campaign will engage with its members to encourage them to vote in the upcoming election.
"SEIU will have a robust program to engage our members to inspire them to vote, contacting each member approximately five times," the union said. "We're not taking our members for granted in this important election. We will have a program to reach our conservative members, who are about 20 percent of our membership, to give them information about where the candidates stand on the issues they care about, such as supporting working people and our unions. Members will fuel our electoral program, on the doors, at work sites and driving a peer-to-peer texting program that has already reached two million people and will reach more than 15 million by Election Day."
The campaign will also make an extended effort to reach out to "voters in communities of color, particularly in the Midwest," which it has found as a key aspect to winning "back power for working people."
Prior to the announcement of the SEIU initiative, the Trump campaign unveiled a plan to open 15 "Black Voices for Trump Community Centers," in a number of different states, including Michigan and Wisconsin, similar to the union's campaign.
While the campaign created by SEIU cites Trump's attack on federal workers and unions, Peralta told the AP: "We don't want to get too caught up in the Trump bashing. Data shows people care about wages, and they care about health care across the board."