Labour Leadership Hustings: What Corbyn And Smith Said And What It Meant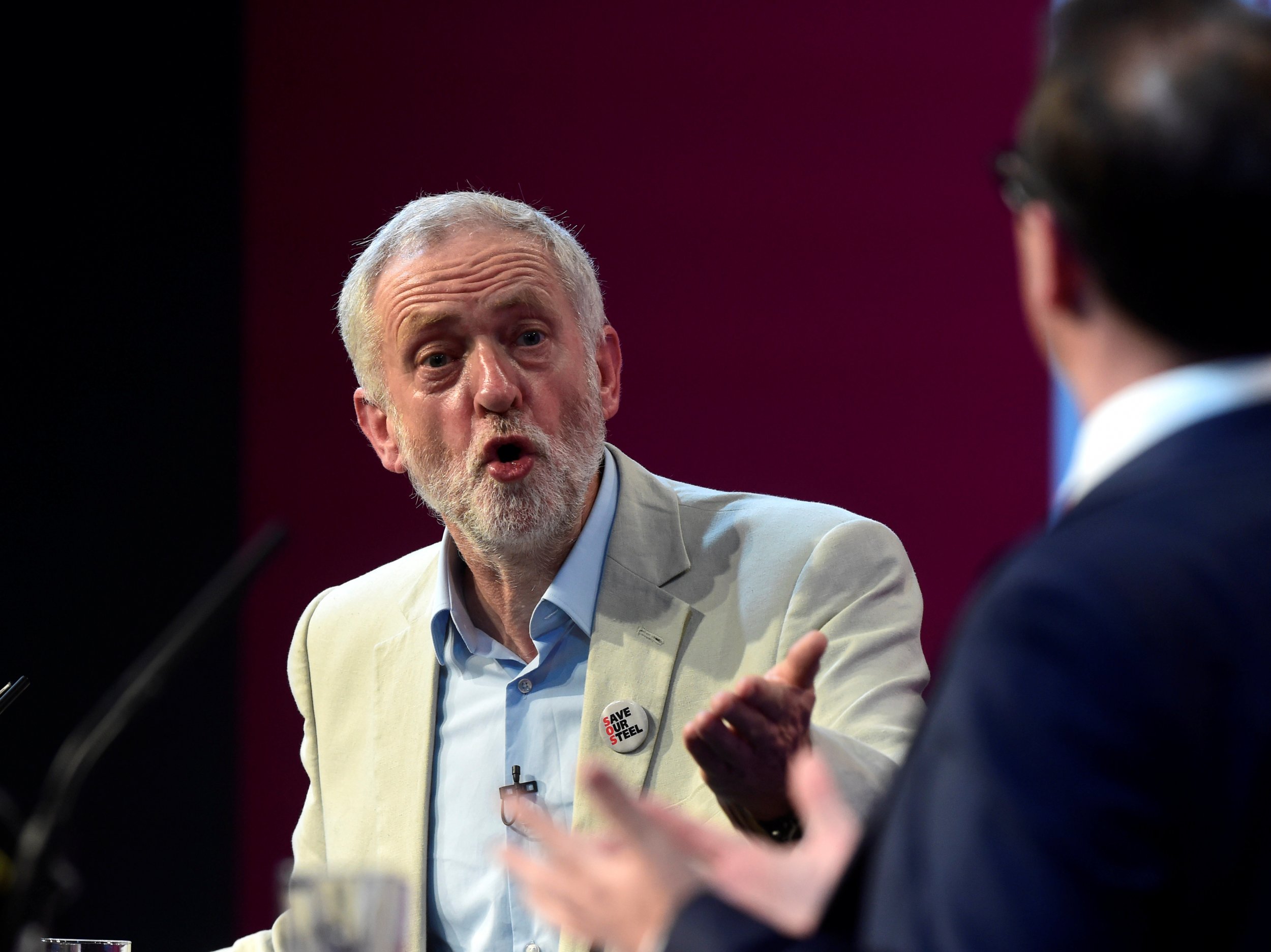 British left-wing opposition leader Jeremy Corbyn and his more moderate challenger Owen Smith clashed on Thursday night in the first formal hustings of a long and bitter leadership campaign.
The battle is the result of a bitter revolt by the party's MPs, who quit Corbyn's shadow cabinet in droves following the result of the EU referendum. Smith hopes to show party members that he can do a better job than Corbyn at uniting the party and running an election campaign. But Corbyn earned a huge mandate from the membership last summer, and the signs are that most are sticking by him.
Here are five key quotes from the clash, and what they mean for the race.
The need to "smash" the Conservatives
What they said
Smith: "Two million Labour voters would vote for Theresa May over Jeremy. That's got to be a wake up call."
What it means
Smith is referring to a poll that found 29 percent of Labour voters thought May would make a better prime minister than Corbyn (so Smith isn't strictly accurate; they didn't confirm they would vote for her). It's a crucial stat for his campaign because it lasers in on the issue of leadership; there are millions of voters who appear to like Labour's policies and values, but don't think Corbyn is the man to deliver them.
How to unite the Labour Party
What they said
Smith: "Jeremy, I'm not having that because you know … that I wasn't part of any coup in the Labour party."
Corbyn: "Why did you resign then?"
What it means
It is important for Corbyn to portray rebellious MPs as motivated by petty rivalries or personal self-interest. Smith's main selling point is "unity;" aside from a hard-left faction loyal to Corbyn, MPs from across the spectrum say they would back his leadership. Corbyn is trying to paint Smith and others who resigned as hypocrites, who themselves are sowing disunity.
Should nuclear weapons stay or go?
What they said
Corbyn: "If we spend all this money on the Trident system, what's the message we're sending to the rest of the world. Are any security issues going to be solved by nuclear weapons or by political actions?"
What it means
The issue of renewing Britain's nuclear deterrent, Trident, is a fairly peripheral one for most voters, but it is central to this race. Corbyn's lifelong, committed opposition to nuclear weapons represents his politics; unwavering, utopian, and catnip to the Labour grassroots. Smith's more nuanced, multilateralist views withered a little under the harsh glare of the hustings spotlights.
The power of pragmatism
What they said
Smith: "It doesn't mean trading our principles, it means winning to put them into practice — that's what we have got to do. We are a Labour government in waiting, not a protest movement".
What it means
Alongside unity, the related issue of electability is, Smith hopes, central to his appeal. It's also at the heart of the split in the party; whether making concessions in order to get into power is a sacrifice the party needs to make. The problem for Smith is that, while he is more of a conventional politician than Corbyn, many in the membership do not see him as a cast-iron election winner, and faced with two possible leaders who might both lose the 2020 election, some are inclined to just pick the one they feel closer to; Corbyn.
Post-truth politics
What they said
Corbyn: "We can win a general election and we've been winning all this year. We lost because we were not offering a clear enough alternative to British people. We've got to offer something different."
What it means
Despite lacklustre electoral and polling performances, Corbyn knows that if he repeatedly asserts that the party is doing well his supporters, mistrustful of the media, will believe him. But the latter part of this quote is more important: Corbyn's original appeal last year was based on the notion that simply being a "Tory-lite" center left party will lead to oblivion for Labour. His promise of an (as-yet underdelivered) truly original vision for the party is a large part of what ensures Corbyn's continued popularity.