Labour Leadership: How Could Owen Smith Beat Jeremy Corbyn?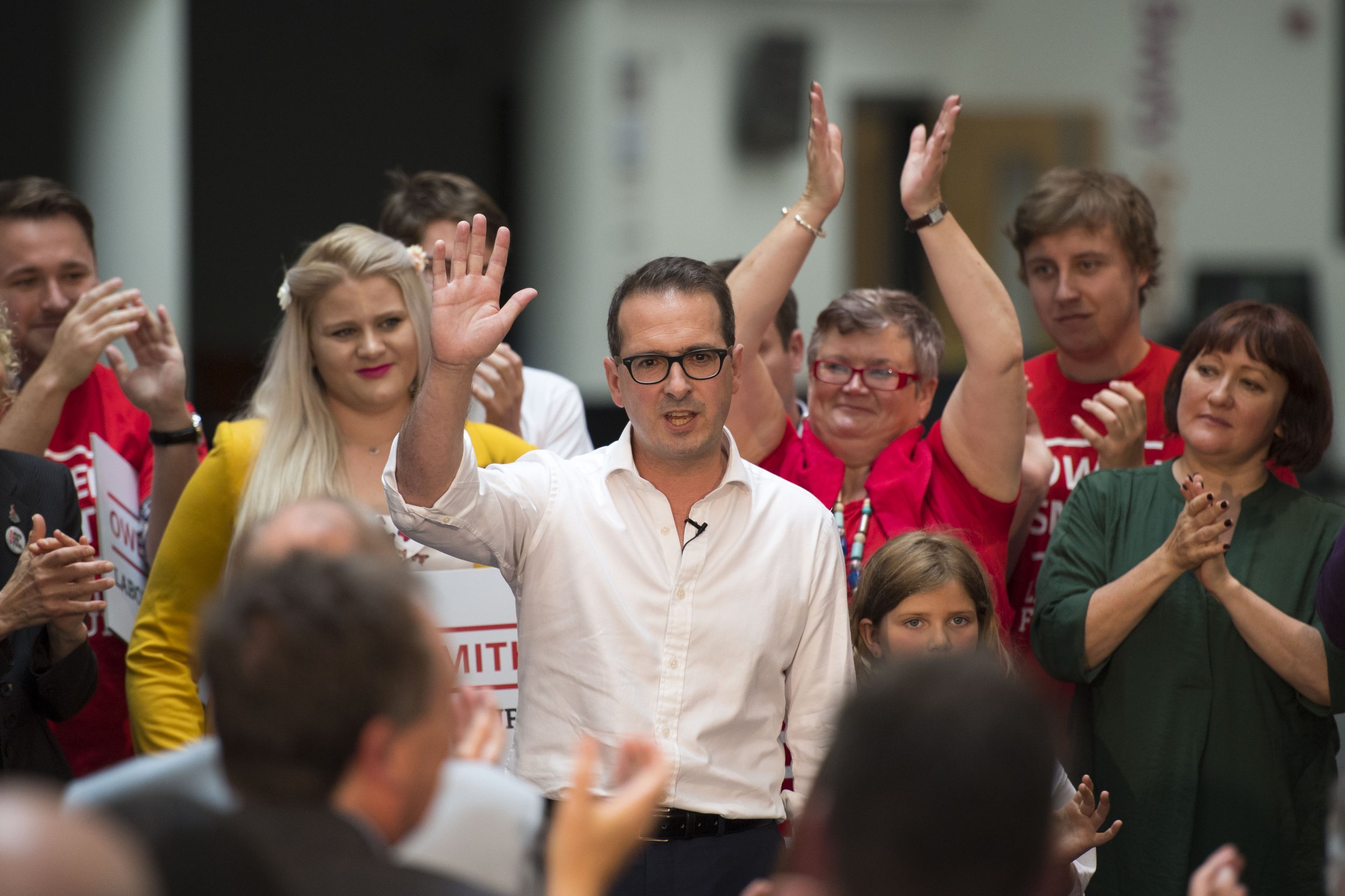 Updated | As launch interviews for political campaigns go, it was an unconventional moment. Owen Smith, the champion of the moderates in Britain's Labour party, was asked on ITV's Good Morning Britain whether he had ever tried Viagra. "No I haven't, actually," he responded, with a fixed grin.
Welcome to the bitter world of the U.K. Labour Party's latest leadership contest. Smith was asked about the chemical gentleman's aid because of his past job working as a lobbyist for Pfizer, the pharmaceutical company that produces it. That a fairly nondescript public affairs job is a central issue exposes the dividing line at the heart of this election: it asks Labour members and supporters whether they want to return to being an elections-focused opposition party run by more conventionally minded politicians like Smith, or the party-cum-campaign group envisioned by Corbyn and his supporters.
Faced with a membership that last year overwhelmingly plumped for the latter option and backed Corbyn, the question is whether suited, smart and professional Smith has a chance when he takes on the idealistic, unscripted left-winger. To do so, he must swiftly introduce himself to a skeptical voter base and build a consistent and compelling alternative to what Corbyn is selling, all by September 21, when voting closes.
The polls don't make pleasant reading for Smith's supporters. YouGov, which correctly called the 2015 leadership election, published a survey on Tuesday that showed, in a hypothetical head-to-head between Smith and Corbyn the current leader would beat his challenger by 22 points, with 56 percent to Smith's 34 percent.
But, says Joe Twyman of YouGov, the key word is "hypothetical:" Corbyn's performance against Smith may partly reflect the fact that, having only been elected to parliament in 2010, Smith is relatively unknown. "If I were advising [Smith] I would say…his first priority is to get name recognition, to get his platform across," Twyman says.
Part of that is making sure he comes out for strong showings on broadcast news, says Twyman. Broadcasters are likely to be covering this race heavily—with the Conservative leadership race already sewn up and parliament going into recess, it is set to be the big political story of the summer. Thankfully for Smith, his other outings on Wednesday morning, including BBC Radio 4's Today program and the BBC's Victoria Derbyshire , were strong and did not involve extended discussions of Viagra.
But this is 2016, and this is left-wing politics , and so social media is important too. Smith fares less well on that front. Smith's Facebook page has far fewer likes than Corbyn's. Such a difference is perhaps to be expected; Smith comes from a standing start. But Corbyn, backed by the often youthful activists of Momentum, also has more savvy behind him. As the journalist Stephen Bush pointed out this week , one small but telling difference is that Corbyn's team are putting subtitles on their Facebook videos, while Smith's are not. That is basic stuff: most people watch such videos on the go, or at their desk while pretending to work. They don't use sound.
Enough about the medium: what about the message itself? Most observers think that Smith needs to establish electability and the ability to unify the party as a dividing line between him and Corbyn. While some of Corbyn's supporters are starry-eyed activists who just want a party that looks good on a demo, many others dearly want to win the next election. Smith's ability to grasp message discipline may endear him to some, and that's particularly true of the all-important core membership, rather than registered supporters or those signed up via trades unions. But there are downsides to this; Angela Eagle, the other proposed moderate candidate who dropped out of the race Tuesday, launched her campaign primarily on an electability and competence ticket. When she fumbled some answers to questions at her launch, Corbynistas were swift to crow that she perhaps wasn't so "electable" after all.
And electability alone won't be enough. As Peter Mandelson, an architect of the New Labour project that Tony Blair and Gordon Brown used to drag the party toward the political center ground in early 1990s, puts it to Newsweek : "Owen Smith will win if he succeeds in giving an alternative to Corbynism that is original, credible and inspiring." It is no good, he says, trying to "triangulate his way to victory" by saying what he is not: "That goes nowhere. It just re-creates the void into which Corbyn stepped in the first place."
This is the toughest part, and Smith is already making a stab at it. During his interviews on Wednesday morning, he said that Corbyn was good at identifying policy "questions" but not "answers." Already, we have clarity on a fair chunk of Smith's politics: he would authorize a nuclear strike where Corbyn would not, but re-affirmed his left-wing credentials on the NHS in the face of criticism based on his Pfizer role, saying he thought the last Labour government "made a mistake" in giving the Conservatives who replaced them too much freedom to introduce privatization. He has established his pro-EU chops, saying he wants to give the British people a chance to "sign off" the government's Brexit deal once it is agreed, where Corbyn was criticized for a lackluster referendum campaign.
And importantly, Smith is offering a fair amount on the issue of party democracy; he said on Wednesday that if appointed leader he would create a position of party president and offer it to Corbyn. That could appeal to members who like Corbyn's thoughts on party structure but don't trust him to deliver in parliament. Smith also pledged to establish a panel of party members to advise him in the leader's role.
But it would be senseless to pretend Smith isn't facing a serious challenge. If he pays too much lip service to issues like party democracy, nationalization of utilities or social policy, he'll look like Corbyn-lite. If he tacks anywhere near the right of the party he'll be smeared as a "Blairite," the modern Labour party's most searing slur. And ranged against him, too, is Labour members' strong sense of fair play. Corbynite campaigners have painted the rebellion that led to this contest as a "corridor coup" conducted in shady circumstances in parliament. Some members may feel Corbyn has not yet been given a proper throw of the dice.
It's a long summer ahead. If Smith is to have a shot, he needs to sustain Wednesday's momentum with a barrage of ideas and an iron discipline. Stranger things have happened, especially in contemporary British politics, but Smith's battle is a long way from being won.
This article has been updated to clarify that Ben Soffa, originally named as a Corbyn supporter, is impartial in the Labour leadership contest.