Labrador Showcases Baking Skills by Making Birthday Cake in Hilarious Video
A Labrador named Bella has gone viral for making her own birthday cake with her owner, tasting it all the way through "like a true kiddo," as one of the users described her in the comments.
A video shared by Bella's owner earlier in June, on TikTok, with the username courtz_mxo, shows the dog making a cake with her mom, tasting every single ingredient she'd drop into the mix before it even reached the bowl.
The clip, which has been viewed over 406,300 times, and has received over 24,800 likes, comes with a caption that reads: "Bella's 2nd birthday, so we decided to celebrate by making a cake."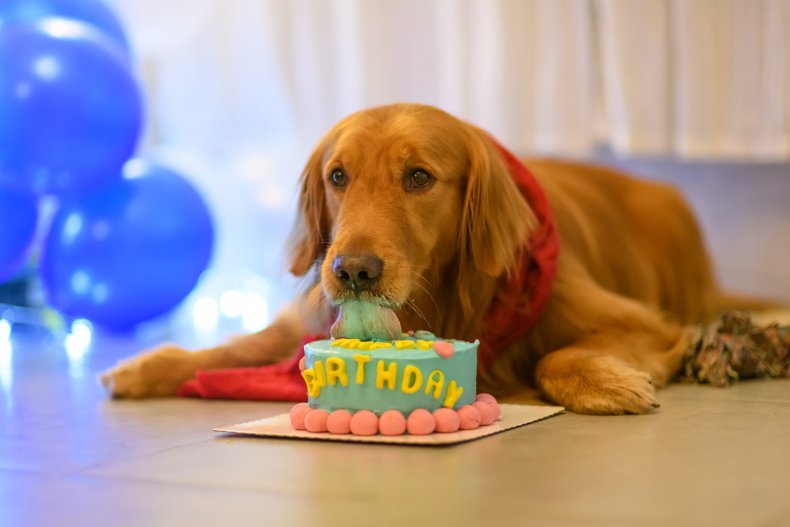 To make the cake, the owner uses carrots, eggs, flour, baking soda, olive oil, honey, apple sauce, and pumpkin, but it doesn't use any sugar or chocolate.
Dogs in fact shouldn't eat any candy high in sugar, because it can cause pancreatitis, vomiting, and diarrhea, especially in high doses. According to ASPCA (American Society for the Prevention of Cruelty to Animals), when a dog ingests a large amount of sugar, an accumulation of water can follow.
When this overwhelms the dog's ability to drink enough water, or if he is vomiting, it can lead to abnormal electrolytes, particularly sodium, which can lead to weakness, diarrhea, muscle tremors and seizures.
Towards the end of the video, Bella gets to finally taste a cupcake, which she devoured in one bite, and even posed for a picture with the cake.
Among the 330 comments under the post, some, like Yamila Fuder, worried if the frosting on top of the cupcake had chocolate, but Bella's owner reassured users that no chocolate was used to make the cake.
One user, Stephen Riceman said: "She loves it! eating all the ingredients before [it's] in the bowl." And Danna joked: "must gib tastey tests first,"
Another user, Dorjee, said: "This video makes my heart melt." Rebecca pointed out: "Such a classic labrador, trying to inhale everything."
Paula commented: "I absolutely loved watching this, labs do make me laugh so greedy but so friggin cute!!" And Euan wrote: "Imagine she didn't like one as you poured it in and gave you a look to say take it out."
Sonnyleex said: "Like a true kiddie has to taste it the whole way through haha so damn cute! Happy bday." And elgalyanz added: "What a good little helper, so cute!"
Newsweek was not able to verify the details of the case.
Do you have funny and adorable videos or pictures of your pet you want to share? We want to see the best ones! Send them in to life@newsweek.com and they could appear on our site.