How a Laced Drink Nearly Ruined One Couple's Wedding: 'So Scary'
A couple went viral after sharing their scary experience of the groom's reaction to having his drink spiked at the wedding.
The video, shared by Brandy Wiseman and Billy Engle on their popular TikTok account @brandy_billy, received over 9.5 million views and 10,400 comments with many mentioning how serious drink spiking can be. The video can be viewed here.
Drink Spiking
One survey conducted by the American Addiction Centers found that 44 percent of men and 56 percent of women have had their drink spiked at least once.
Often times drinks are spiked with date rape drugs, commonly consisting of Rohypnol, GHB, and ketamine because of the sedative effects.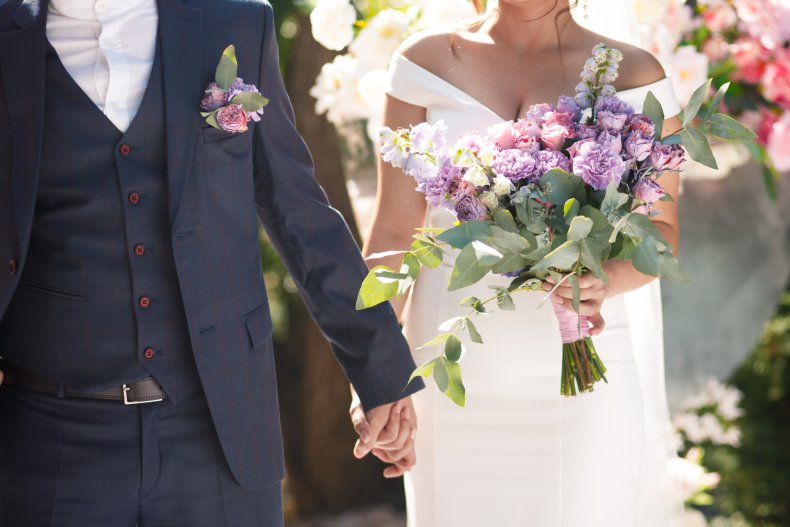 When any of these date rape drugs enter the bloodstream, victims often experience:
Slurred speech
Drowsiness
Loss of motor coordination
Weakness
Slowed breathing
Gaps in memory
However other drugs can be used to spike drinks, including Adderall, which people sometimes mix with alcohol to feel the drug's stimulating effects.
'Heart Was Racing'
"Sharing this video could help prevent this from happening to your daughter, mother, son, or friend!" the caption of the viral TikTok read.
The couple stood next to each other, Wiseman in a wedding dress and Engle in a tuxedo, yet both seemed distressed.
While standing next to his bride, Engle tried to catch his breath as he cried.
"At this point I was worried he was gonna faint and fall down the mountain!" the on-screen text read.
The couple explained that someone spiked Engles' drink with crushed-up Adderall.
"His heart was racing, his brain was moving faster than he could form words," the on-screen text read. "He tried saying his vows to me but was unable to think. His emotions were heightened!"
Wiseman said Engle was checked out by a nurse and he was drug tested after the wedding when it was discovered there was Adderall in his system.
"Many people intentionally combined alcohol & Adderall in order to party harder and longer," the couple explained. "So they spike others' drinks thinking they will be hype all night with them!"
The couple added that they now know who was responsible for spiking Billy's drink and that "it has been dealt with."
Wiseman also posted about the incident on the couple's shared Instagram account, @brandy__billy, on May 23, saying they were both devastated this occurred.
"This man didn't deserve to have the evening of his big day ruined!" the post read. "Billy is not emotionally ready to talk to anyone yet. Please give him time to process."
Wiseman added in the comments that Billy has no recollection after she walked down the aisle and that their children are "traumatized" by the incident.
Viewer Reactions
More than 10,400 users commented on the post, many angry that the incident nearly ruined their wedding.
"I think this is the scariest thing I have ever seen," one user commented. "Brandy to keep your composure and just stable for him was amazing. You were the calm he needed."
"Who would do such a thing! I'm so sorry! Whoever did it needs to pay for a do over," another user commented.
"That 'friend' would be arrested and gone from my life," another commented.
"This was so scary to watch you can tell immediately that he is in serious distress! Shame on whoever did this! Glad it didn't ruin y'all's special day," another wrote.
According to the TikToker @brandy_billy, Billy experienced the following symptoms after his drink was spiked:
Sweating
super red
heart racing
dry mouth
couldn't form words
emotional ups and downs
confused at times
anger
doesn't remember these moments
Newsweek reached out to @brandy_billy for comment.
The video ended with the couple saying that a company called Nightcap sent them two drink-covering scrunchies designed to prevent drink spiking.
In another viral TikTok, a woman demonstrated how easy it is for rapists to roofie a stranger's drink.
In an attempt to combat the problem, a junior at George Washington University came up with an idea for a napkin that can test for dozens of common date rape drugs.
Other products include nail polish that can detect the presence of date rape drugs.