Lack of Information Leaves Passengers Livid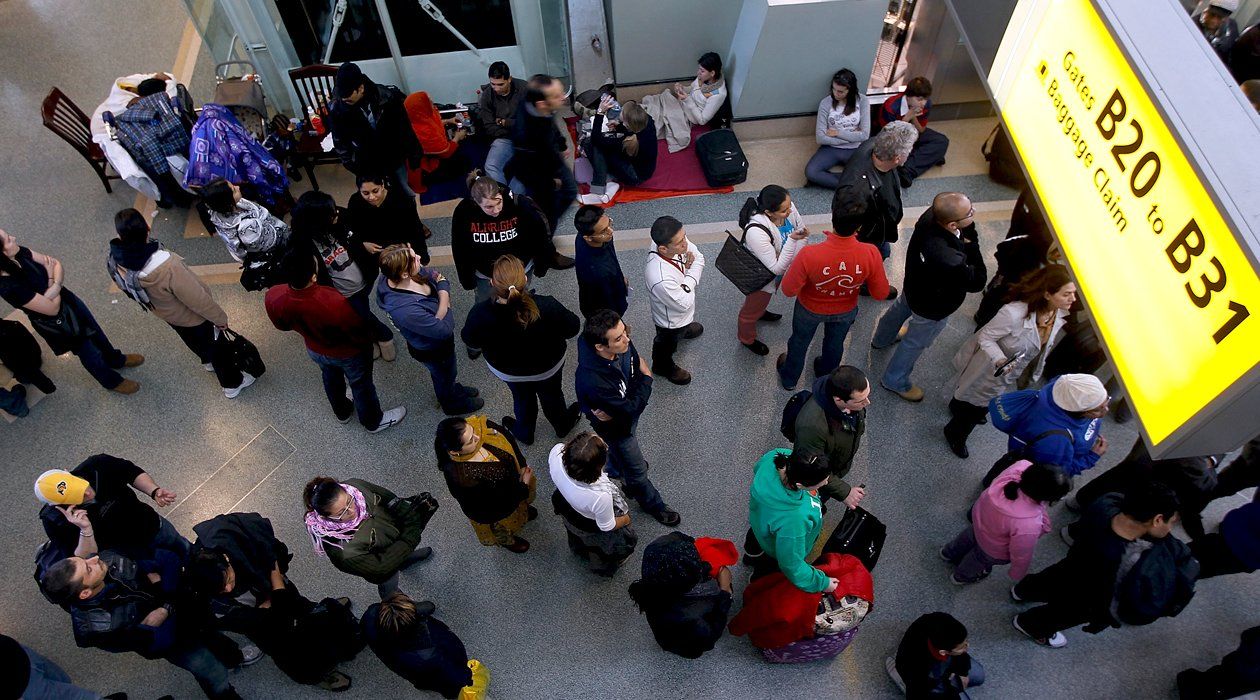 The email from the airline arrived at 3:23 a.m. and advised that "a cancellation has affected the following flights," and then specified my Chicago O'Hare-to-LaGuardia flight, scheduled to depart a little less than five hours later. Irritation aside, my reaction was largely bafflement – how exactly had a cancellation "affected" my flight? And how dare a cancellation do that, anyway? Didn't it realize I had to get back to Manhattan for work – not to mention a battery of New Year's Eve soirees?
The notification from United Airlines was a doozy in the tradition of the "mistakes were made" rhetorical dodge. In this era of obfuscation, passive aggression, and euphemistic responsibility-shirking – politicians "misspeak;" they never lie – it is no big surprise that an airline would seek to distance itself from the transportation havoc caused by the Christmas-weekend storm that dumped up to two feet of snow on New York and other East Coast communities, led to the cancellation of thousands of flights and stranded throngs of passengers all over the nation. But it says a good deal about why many customers have been livid over this storm and have vented their anger in the direction of the airlines' customer-service apparatus.
Airline passengers are accustomed to cutting the carriers some slack during weather emergencies. Thunderstorms, hurricanes, tornadoes, and yes, blizzards, are seen as "acts of God" that no one can control. And even now, customers understand that there's not much anyone could have done about the storm itself. What has drawn their ire is the airlines' reaction after the blizzard. For many, the problem was an inability to get clear answers from the carriers – or more precisely, to get to a live person representing the carriers. "For people, the point is, let's just have some clarity; let me know where I stand," says Michael Boyd, president of Boyd Group International, an aviation consulting firm. "The airlines want to say this happened, and we have nothing to do with it. It's like, 'a tornado came by and a cancellation came by right after."
The blizzard threw into disarray the travel plans of more than 1 million customers and led to cancellation of more than 8,000 flights. Passengers who phoned the airlines were kept on hold for lengthy periods, in some cases more than two hours. Many were told to call back later. Others were directed to web sites, where no useful information was available – callers mostly needed to know what their options were given that their flights had been canceled, and wanted to rebook on the next available flight. For that, they mostly needed to speak to an agent.
But at many airlines, such agents are in short supply. Air carriers have been moving inexorably toward automation. Indeed, in normal times people are penalized, through fees and charges, for booking flights with agents on the phone or at a ticket counter. "Airlines have become more automated," says Boyd. "There are no ticket counters because there are no tickets. That has to be understood." He noted that Continental Airlines has gotten rid of 600 call-center jobs in the past year, almost a quarter of its reservations personnel. It is estimated that American Airlines cut 500 jobs when it closed a call center in New England, and that United Airlines has gradually shrunk its systemwide customer-service and reservations staff to about 10,000 from some 15,000, since the early 2000s. United spokesman Rahsaan Johnson says the carrier's reservations staff has been "flat" for the last two years. Some analysts, however, predict more cuts when the integration of United and Continental, which merged this year, is completed in 2011.
The airlines insist that customer service will not be a victim of automation. Johnson acknowledges that United is "trying to get to a point where we can do things electronically.'" He said people are not yet used to electronic flying the way they are accustomed to electronic banking, but that the airline is offering them more "online tools." Regardless, he said, "There are always going to be agents available for a customer who needs person-to-person aid." He added that United is now "for the most part" flying a normal schedule, has been using wide-body aircraft on some flights to accommodate more passengers, and adding some routes that are not normally on its schedule, such as O'Hare to JFK airport.
But such moves are scant comfort for many displaced and stranded passengers trying to get somewhere for New Year's – or heading back to their lives. Calling a carrier's customer-service number right now often is an exercise in exasperation – if not futility. It appears that the airlines put up an array of obstacles to prevent a caller from reaching an actual human (hint: no matter what the recorded voice asks you, just keep saying "agent"). Boyd, the aviation consultant, says the relationship between airline and customer remains too adversarial. "Even in these conditions, there's that feeling on the other side of the counter that I'm not going to let you get away with anything," he tells NEWSWEEK. "It really is obstructionism. The airlines put too many people in that situation, and then it's a gotcha game. The airlines don't train their people to handle situations like this."
The U.S. Department of Transportation is said to be looking into the post-blizzard shambles in New York City and elsewhere. The worst appears to be over, and more people are boarding more flights. But there still are passengers stranded from New York to Fresno. Some of us will do New Year's Eve wherever the night finds us. And even those who manage to get on a plane can't necessarily breathe easy. There's no telling when a delay might suddenly swoop in and "affect" their flights.