Lady Gaga and Ariana Grande Open up About 'Healing and Beautiful' Friendship With Release of 'Rain on Me'
It's a big day for Little Monsters and Arianators as Lady Gaga and Ariana Grande's highly anticipated collaboration finally drops.
"Rain on Me" is here and the second song from Gaga's upcoming album Chromatica has well and truly broken the internet—with fans of both stars expressing their joy online.
The single's release has come amid revelations from both stars about how they came to collaborate and form a meaningful friendship in the process. Gaga, real name Stefani Germanotta, admitting she was initially "too ashamed" to get to know Grande for fear she would be a bad influence on the 26-year-old pop star.
In an interview with Zane Lowe of Apple Beats 1, the singer, 34, explained: "She was so persistent. She would try over and over again to be friends with me. And I was too ashamed to hang out with her, because I didn't want to project all of this negativity onto something that was healing and so beautiful."
The "Bad Romance" singer added that Grande "eventually she called me on my sh**."
"She was like, 'You're hiding.' And I was like, 'I am hiding. I'm totally hiding.' And I was. And then this friendship blossomed."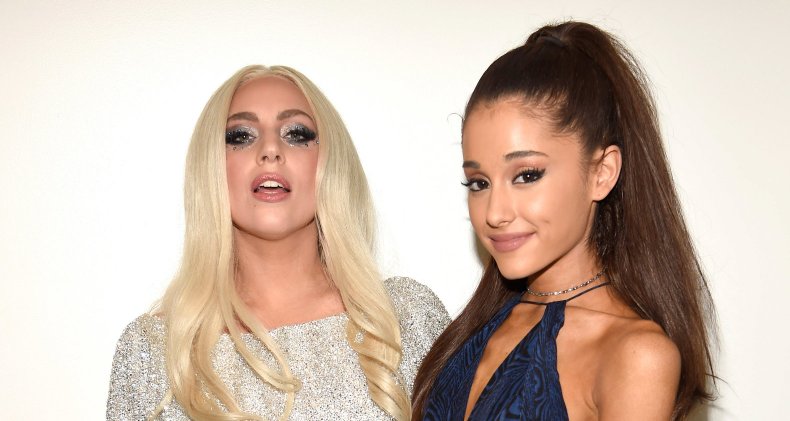 The first single off Chromatica, "Stupid Love," debuted earlier this year on March 2. Guests on the upcoming album include Elton John, Grande, and BLACKPINK. The album was originally scheduled for an April 10 release, but it was rescheduled for May 29 due to the coronavirus pandemic. Chromatica is the follow-up 2016's Joanne.
The pairs' bonding experience led to "Rain on Me" being written that very night, Gaga revealed.
Celebrating the single's release, Grande shared some moments from her experience with Gaga with fans, hailing the artist as as "incredible, unstoppable woman."
She also tweeted: "one time ..... i met a woman who knew pain the same way i did... who cried as much as i did, drank as much wine as i did, ate as much pasta as i did and who's heart was bigger than her whole body. she immediately felt like a sister to me."
Grande added: "she then held my hand and invited me into the beautiful world of chromatica and together, we got to express how beautiful and healing it feels to mothaf**kinnnn cry ! i hope this makes u all feel as uplifted as it does for us both. i love u @ladygaga, u stunning superwoman !"
The video for "Rain On Me" will be released on Lady Gaga's YouTube channel at 10 a.m. PT on May 23.
Lady Gaga's Chromatica is set for release on May 29.