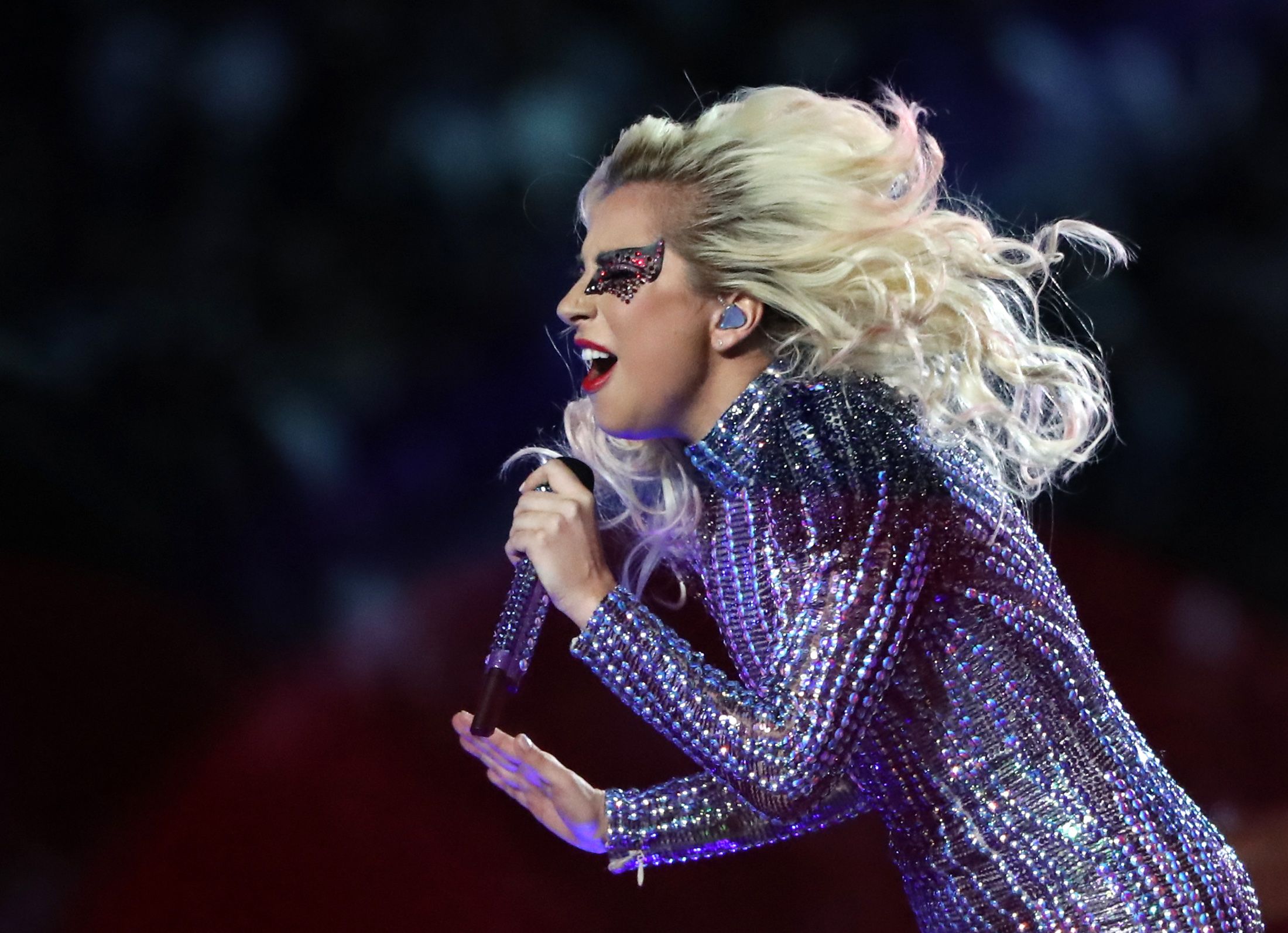 As New England Patriots fans celebrated and Atlanta Falcons fans recovered following Sunday night's Super Bowl, a debate on social media, in newspapers, and on blogs began to stir on the most controversial question of the evening: was Lady Gaga's stunning and entertaining halftime performance political?
Almost immediately the Washington Post posted a headline, " Lady Gaga avoids politics at Super Bowl halftime show, flies off roof of stadium." While we later learned Gaga didn't fly off of the roof live—which would have been challenging given that the Lady decided to sing live, instead of opting to lip sync—the piece defiantly proclaims that since the same person who endorsed Hillary Clinton and protested in front of Trump Tower when Donald Trump was elected U.S. president did not explicitly invoke politics, she didn't "do something political."
These takes miss so much buried in Gaga's performance. Clear and blunt protest is a necessary part of any political movement, but it is not the only way to act politically and to make a point. What those who reject the political nature of her act fail to see is that some of the best political art is often subtle in nature.
Gaga performed many of her greatest hits, from "Bad Romance" to "Born This Way", but she also made choices that were undeniably political, particularly given swirling current events. Standing on top of NRG Stadium in Houston, Texas, Gaga opened by singing "God Bless America" before transitioning to "This Is Your Land", a move that actually traced the history of the folksy Woody Guthrie song, which he wrote as a progressive, inclusive alternative to "God Bless America" during the height of War World II.
We're just weeks into a Trump presidency that is rooted in a campaign that demonized immigrants and Muslims and got its start in Washington with a ban on immigrants and refugees from Muslim-majority countries. It's difficult to claim that the choice of a song that highlights an America that welcomes everyone—and that protesters across this country have been singing over the president's first two weeks—is purely a coincidence.
In singing her hits, Gaga only included portions of each song, requiring her to make decisions on which parts to cut and which to include. While it is no surprise that Gaga performed her hit "Born This Way," which has become an anthem of sorts for the lesbian, gay, bisexual, transgender and queer (LGBTQ) community, the portions of the song she chose to sing were telling.
Skipping over lyrics, she ended with the chorus that celebrates diversity, including LGBTQ people. Performing at the halftime of a game attended by one of the nation's most notorious anti-equality politicians, Vice President Mike Pence, Gaga belted:
No matter gay, straight, or bi
Lesbian, transgender life
I'm on the right track baby
I was born to survive
No matter black, white or beige
Chola or orient made
I'm on the right track baby
I was born to be brave.
Like the cast of Hamilton 's statement to Pence after the election, the intentional and respectful inclusion of this message by Gaga in front of the same man who signed Indiana's Religious Freedom Restoration Act bill in 2015 and who once diverted money for HIV and AIDS research to fund so-called "conversion therapy," is a clear and necessary rebuke, however subtle.
For those of whose identities have been politicized by hateful politicians peddling discrimination and division, the positive expression of our diversity becomes an inherently political act. Singing about "transgender life" in Texas, whose state legislature is currently considering North Carolina-style anti-trans discrimination in Senate Bill 6, sends a powerful message to the young trans boy in Denton, Texas that he is loved and that he matters. That the word "transgender" was uttered in that context during the most-watched television event of the year helps spread that statement to the dozens of other states considering anti-LGBTQ bills this year.
As a transgender person and activist, the parallels to the first—and only—time I saw Gaga perform in person were undeniable. In that instance, the politics were more explicit, as she opened the final rally of Clinton's 2016 presidential campaign. That night, Gaga performed on top of a piano instead of a stadium. And that evening as she introduced "Born This Way," she spoke out against North Carolina's infamous and anti-trans HB2 bathroom bill, that requires people to use public toilets based on the gender assigned on their birth certificate.
We talk a lot about communicating and conversing outside of our bubbles. There is probably no better avenue than the Super Bowl to do so. In seizing that opportunity, Gaga was arguably strategic in her execution, but make no mistake, her choices were political.
Perhaps they shouldn't be. It shouldn't be disputed that America is "your land" as much as it is "my land." It shouldn't be controversial to celebrate LGBTQ lives or racial diversity. But in the age of Trump, Pence, anti-transgender bills and "Muslim bans," what Gaga did was a political act of love, inclusion, and resistance. And we need more it.
Sarah McBride is the National Press Secretary at the Human Rights Campaign, the nation's largest LGBTQ civil rights organization.