Lady Gaga's Dad Complains 'Filthy' NYC Smells Like Weed
Lady Gaga's father and New York City restaurant owner, Joe Germanotta, recently complained that the city "seems filthy" and often smells like weed.
While appearing on Fox Business Network's Mornings with Maria, hosted by Maria Bartiromo, Germanotta, the owner of Joanne Trattoria in New York City, was asked about the current state of the city and how he feels crime and inflation have impacted his business.
"I think the city is a mess. It looks horrible. People coming from Connecticut and Long Island...maybe going to Lincoln Center for a show, and then they're walking around, it smells like weed everywhere," Germanotta said. "The city looks terrible, from just probably four years ago...it's dirtier, there's a lot more people out on the street...it seems filthy."
The comment by Germanotta come shortly after newly released data showed that crime in New York City has slightly increased over the past year. Crime data from the New York Police Department (NYPD) shows that from January 30 to February 5, there were 2,140 crime complaints, which include five murders, 20 rapes, 283 robberies, 404 felony assaults, 255 burglary incidents, 912 grand larceny complaints and 261 grand larceny auto complaints.
As of February 5, the NYPD data showed that crime has increased 2.56 percent from the previous year.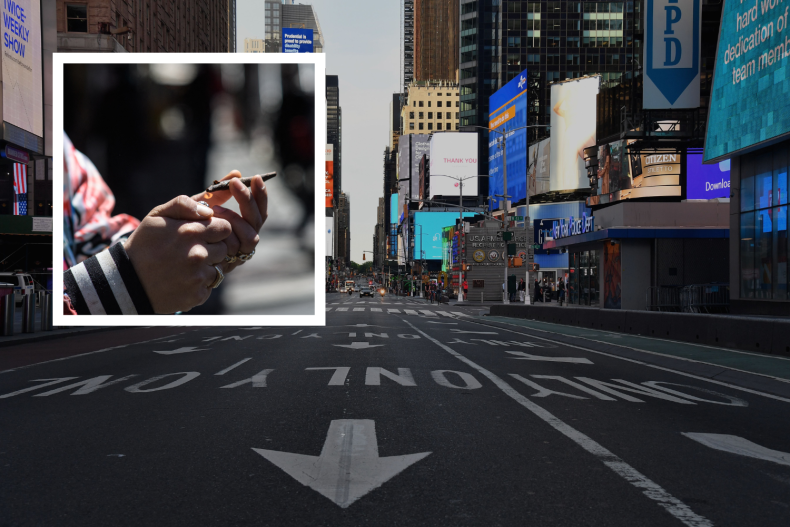 A recent poll conducted by Quinnipiac University found that 66 percent of New York City residents said that crime is a "very serious problem." According to the poll, the 66 percent is down from 74 percent who said the same in February 2022, but it is "still one of the highest levels seen since the Quinnipiac University Poll first asked this question in 1999."
The poll also found that 39 percent of residents said they feel less safe in New York City than they did a year ago.
"Crime (41 percent) outranks all other issues as the most urgent issue facing New York City today, followed by affordable housing (17 percent) and homelessness (12 percent)," the poll said.
While Germanotta mentioned that the streets often smell like weed, the city recently legalized cannabis for recreational use and the first legal recreational marijuana dispensary opened in December.
In October, New York City Mayor Eric Adams held a press conference in New York City and mentioned that he smelled weed in the streets.
"One law that was passed is clearly being practiced right now, because I smell some weed," Adams said during the press conference.
Adams made similar comments in July when he said, "The No. 1 thing I smell right now is pot. It's like everybody's smoking a joint now."
Adams' press secretary Fabien Levy told Newsweek on Thursday that "From day one of this administration, we have been focused on cleaning up our city and that's why we've invested in cross-agency initiatives that will result in cleaner streets, more jobs, fewer rodents, and improved quality of life for our city's 8.8 million residents."
"We're building a cleaner, more welcoming city across all five boroughs and targeting over areas that have long been neglected. New Yorkers are tired of seeing overflowing litter baskets and trash, so our administration intends to deliver a more functional and more well-kept city for all," Levy told Newsweek.
Update: 2/9/23, 12:45 p.m. EST. This story has been updated to change Fox Business News to Fox Business Network.
Update: 2/9/23, 3:43 p.m. EST. This story has been updated to include a comment from Adams' press secretary.