Lady Gaga Urges Congress to Impeach Trump: 'He Incited Domestic Terror'
Lady Gaga has urged Congress to impeach Donald Trump immediately to prevent him from running for president again, accusing him of "inciting domestic terror."
The Chromatica singer—whose real name is Stefani Germanotta—has urged that invoking the 25th Amendment to remove the president from office does not prevent him from running for a future term.
"I hope we focus to impeach Trump so Congress has the constitutional authority to possibly disqualify him from future election—the #25thAmendment doesn't disqualify him," Gaga tweeted Friday. "He incited domestic terror—how much more violence needs to happen? This is terrorism."
The tweet has gone viral with almost 100,000 likes at the time of publishing.
Calls are mounting for vice president Mike Pence to invoke the 25th Amendment following violent scenes in Washington D.C. on Wednesday as supporters of the president rioted and stormed the Capitol building in scenes that have horrified the world.
What is the 25th Amendment? Per the U.S. constitution, the 25th Amendment lays out the stipulations for situations in which the president is no longer able to fulfill his duties and who is to then carry them out in his place. It doesn't prevent the person from running for the office again.
However, if a president is impeached, they are banned from holding public office ever again.
Gaga pointed this fact out amid the mounting calls from lawmakers to remove Trump in the final days of his presidency.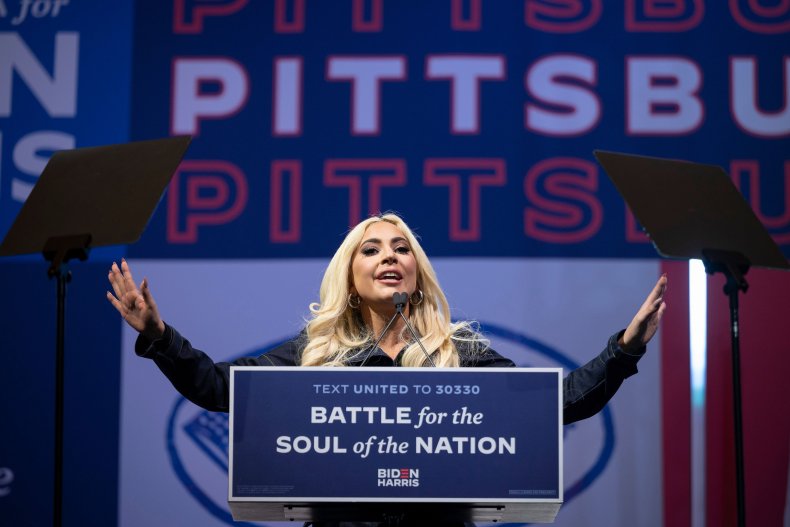 Congresswoman Ilhan Omar is spearheading a fresh movement to impeach Trump and has accused the president of orchestrating an attempted coup.
The Minnesota Democrat has drawn up articles of impeachment to submit to the House of Representatives.
"We must impeach and remove him from office immediately so he cannot threaten our democracy and the world any longer and hold public office ever again," Omar told MPR News on Thursday.
"Congress should reconvene immediately to carry out this constitutional duty."
The list of GOP voices also calling for Trump's removal has also been growing following the violence in the nation's capital.
However, not all are convinced that impeachment proceedings can be completed in between now and Inauguration Day on January 20 when Joe Biden will be sworn in as president of the United States.
"I do not believe that an impeachment can happen in 13 days," Ohio Congressman Steve Stivers told Spectrum News on Thursday.
Trump tweeted on Friday, following his suspension on the social media site, to further spur on his supporters in an emotive declaration.
"The 75,000,000 great American Patriots who voted for me, AMERICA FIRST, and MAKE AMERICA GREAT AGAIN, will have a GIANT VOICE long into the future," Trump posted. "They will not be disrespected or treated unfairly in any way, shape or form!!!"