Lady Gaga's Harley Quinn Casting in 'Joker 2' Sparks Wave of Memes, Jokes
Lady Gaga being cast as Harley Quinn in a musical Joker sequel is dividing opinions online, with social media users either loving, loathing or making jokes about the reported casting.
The latest rumors suggest the pop star and Oscar winner is joining Joaquin Phoenix in Joker: Folie à Deux, which was recently announced by returning writer and director Todd Phillips. The Hollywood Reporter broke the news and their sources also suggested that Joker 2 will be a musical.
The combined rumor of Gaga joining the sequel and it being a musical movie is causing a huge reaction online, which ranges from delight to disgust.
"Sign me up all the way," said movie journalist Erik Davis on Twitter. According to him, DC has been trying to land Gaga "for a while." Sharing what he's most looking forward to, Davis said: "I just want to hear Gaga belt out a moody song about Gotham."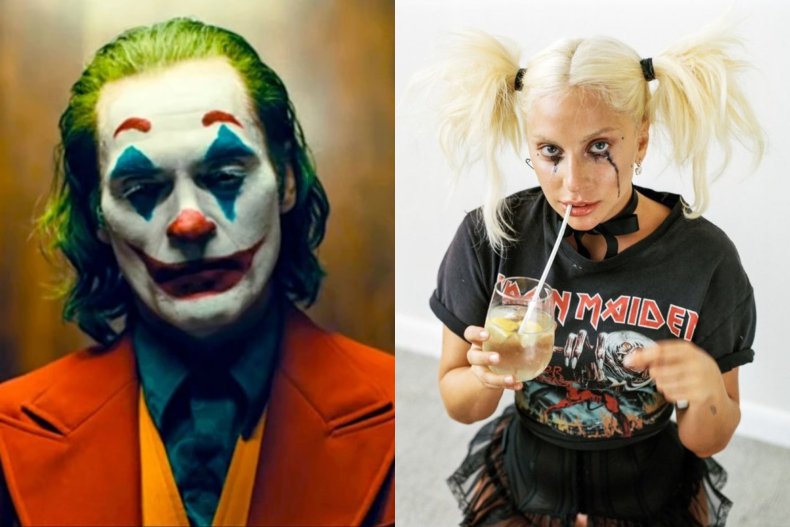 Social media personality Keyon Elkins is excited by the idea of Gaga writing the soundtrack, adding "like, let's hear them out a bit." Writer David Sims joked that Gaga's performance "might just be a bit too subtle" but also added that the idea sounds "[pretty] good."
A fan account of the singer and actress, @GagaDaily, used a short clip of Gaga performing the monologue on The Late Late Show with James Corden when she asks the audience to refer to her as "Lady Haha." The caption reads: "Lady Gaga on the first day on the set of Joker 2."
Musical artist BossLogic resurfaced one of his own concept artwork pieces which shows Phoenix's Joker and an unidentified Harley Quinn in the place of Ryan Gosling and Emma Stone in La La Land, or as it's known here, "Ha Ha Land."
Going against the grain, others were unimpressed. "A sequel is just unnecessary. Sorry but that's where I stand," wrote @BlackMajikMan90 who also thought the Oscar-winning original was "derivative and unremarkable."
Another user who loved the first movie, but dreading a second responded with worry. "Joker 2 is a musical? I'm out. The first one is flawless. Won't let them ruin it," they wrote.
"Joker 2 being a musical already makes it top 10 worst movies of all time," @rebelmooned wrote. "Like it's going to be so bad, down there with Fantastic Four (2015) and josstice league and all."
Sharing a preview of what Gaga could look like as Harley Quinn, a role more recently made famous by Margot Robbie, @sourbenji found a picture online of the singer with exaggerated clown makeup.
The Reddit reaction is also mixed but swaying slightly in favor of the casting choice.
"Please don't tell me Gaga is playing Harley," @winsing asked through dread. Another user, @Westy3of7, was also not hopeful for another Joker movie: "Joker is one of my top ten films of all time. It don't need a sequel. Leave it alone. Let it be good."
Overall, the number of fans sharing their excitement outnumbered the naysayers.
"A musical Joker sequel that interested Joaquin enough to come back, pump it straight into my veins," said DC fan @DarthTaz_99. "This sounds awesome, seriously," @TrollDad_IRL wrote.
Many people online had the same comments that Phoenix has his own musical abilities to help him keep up with Grammy Award-winning popstar Lady Gaga. Phoenix was nominated for an Oscar for his performance as Johnny Cash in the 2005 biopic Walk the Line.
Many also found amusement in suggesting that the casting of Lady Gaga in a musical version of Joker would unite two usually separate groups of people.
"When a filmbro incel and annoyingly quirky musical theater girl lock eyes at the Joker 2 premiere and fall in love, what then?" joked @Lunwi88 on Twitter, before realizing: "Wait, this is literally the plot of Joker 2."
While everyone online is talking as if it is a done deal, Lady Gaga is still only reportedly in the early stages of talks to be in the sequel Joker: Folie à Deux.
Newsweek has reached out to Gaga and her team for further comment.