Lady Gaga's 'I Switched Baristas' Is the Internet's Favorite New Meme
Lady Gaga attended Elton John's annual Oscar viewing party prior to the start of Sunday's Academy Awards, and a brief exchange between her and Caitlyn Jenner has quickly inspired countless memes.
"Are you spending time around Malibu anymore?" Jenner, 72, asked Gaga during the interaction, which was filmed by an onlooker.
When the actress/singer replied in the affirmative, Jenner said she hadn't seen her at the local Starbucks lately.
"I've switched baristas," Gaga, 36, said, before the brief—and seemingly awkward—conversation ended.
Journalist Bahman Kalbasi captured the moment, and it has since been shared all over social media, where it has become the subject of a multitude of memes.
Kalbasi's original Instagram post can be seen below.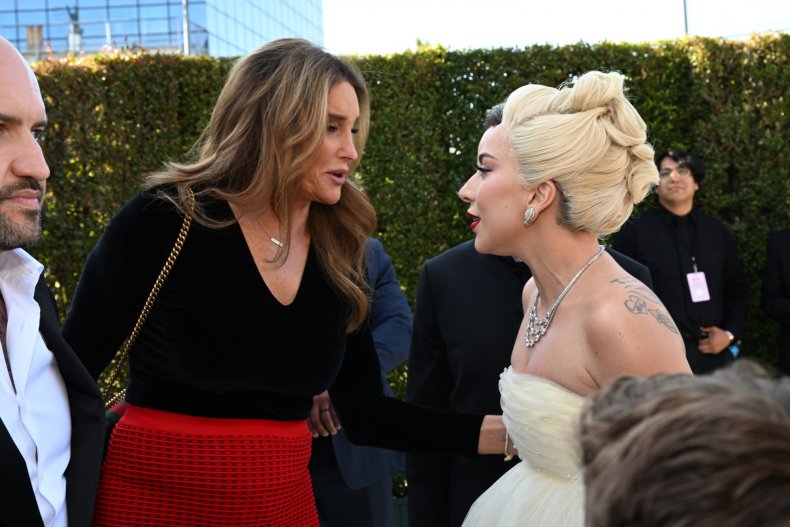 Some of the memes claimed Gaga was not interested in talking with the former Olympian. This Twitter user captured still pictures of Gaga's face from the moment as evidence.
"'I've switched baristas.' I am SO stealing this line. A masterclass in extracting yourself from a conversation," journalist Shinan Govani wrote in a post that included a video of Gaga and Jenner as well as another example of an uncomfortable talk.
Other people gave examples of how they would incorporate the line about baristas in their daily lives, such as an excuse for not keeping up with dentist appointments.
Other social media users noted "the shade" Gaga threw in Jenner's direction.
Not only has the "I've switched baristas" phrase caught on, but the entire talk between Gaga and Jenner has led to some imaginative memes.
A few different writers suggested Gaga switched her preferred coffee shop in order to avoid bumping into Jenner.
Many filmgoers felt Gaga was unjustly overlooked by the Academy when she was not nominated for her role in Ridley Scott's House of Gucci. Wanda Sykes, one of the three hosts for this year's Oscars, joked about the omission during the telecast.
"There were a lot of snubs this year: Rachel Zegler for West Side Story, Jennifer Hudson for Respect, and Lady Gaga and Jared Leto for House of Random Accents," Sykes said, playfully referencing the accent Gaga adopted to play an Italian socialite.
Gaga was also part of one of the most talked-about moments from the show when she appeared onstage with a frail Liza Minelli to present the best picture award.
When Minnelli struggled with reading the teleprompter, Gaga helped her finish her line. She then leaned in whispered, "I got you."
"I know," Minnelli replied. "Thank you."
Update 03/29/22 2:10 p.m. ET: This story has been updated to include more social media posts and background information.