Trump Says Lady Gaga Campaigning for Biden Is 'More Proof' VP Would Ban Fracking
Vice President Joe Biden has maintained that he would't ban fracking if elected president, but just one day before the 2020 election takes place, his Republican rival President Donald Trump is insinuating otherwise. Trump claims that Biden does intend to ban fracking—and the fact that Biden pegged Lady Gaga to perform at his upcoming campaign rally in Pennsylvania on Monday only further proves it.
"Just learned that Sleepy Joe Biden is campaigning in Pennsylvania with Lady Gaga, a proud member of 'Artists Against Fracking.' This is more proof that he would ban Fracking and skyrocket your energy prices..." Trump wrote in the wee hours of the morning on Monday.
The president added: "...As I said at the debate – 'Will you remember that Texas?Pennsylvania? Ohio? New Mexico?' I will always protect American Energy and American Jobs! Get out and VOTE #MAGA!"
Biden has said that he would prohibit fracking on federal land, as opposed to enacting an outright ban on the practice. While he previously claimed in a 2019 interview that he would "make sure it's eliminated" when responding to a question about the coal and fracking industry, in his written campaign plan addressing climate change and environment protections, there are no proposals on completely ending any new or current fracking, but rather "banning new oil and gas permitting on public lands and waters."
Trump's tweet is just the latest swipe his campaign has taken at Gaga, who was deemed an anti-fracking activist by Trump's re-election communications manager, Tim Murtaugh, on Sunday.
"Nothing exposes Biden's disdain for the forgotten working men & women of PA like campaigning with anti-fracking activist Lady Gaga. This desperate effort to drum up enthusiasm is actually a sharp stick in the eye for 600,000 Pennsylvanians who work in the fracking industry," Murtaugh wrote on Twitter.
Gaga responded: "HEY TIM HEY @realDonaldTrump SO HAPPY IM GLAD TO BE LIVING RENT FREE in your HEAD. #BidenHarris."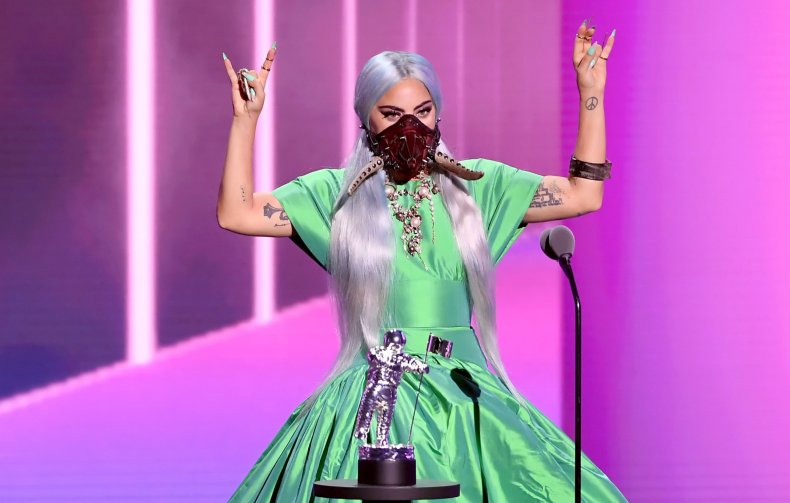 Gaga is a member of the organization Artists Against Fracking, which was launched by Yoko Ono and Sean Lennon-Ono in 2012. The coalition was formed as an effort to stop New York Governor Andrew Cuomo from allowing fracking—the shortened named for hydraulic fracturing—in the state of New York. Nearly 200 more artists, musicians and filmmakers are members of the initiative, including Mark Ruffalo, Alec Baldwin and Paul McCartney, to name just a few.
Fracking is a process in which natural gas is extracted from the Earth's crust by drilling thousands of feet into the ground and releasing a cocktail of water and chemicals. The solution breaks up horizontal layers of shale rock, allowing oil and gas to escape.