Lady Gaga's Thoughtful Gestures Show the Sweet Side of Showbiz
While Hollywood still reels from Will Smith's slap, one celebrity has proven to be a beacon of kindness and goodwill amid the drama of the 2022 awards season.
Millions of viewers all over the world witnessed Smith walk up onto the Academy Awards stage and slap Chris Rock over a joke he made about his wife Jada Pinkett Smith.
The incident has provoked endless hot takes and think pieces and left a sour taste for many on what should have been a special post-pandemic celebration of talent.
But amid the cruel jokes, the slaps, and the backlashes, there have of course been more lighthearted moments of conviviality.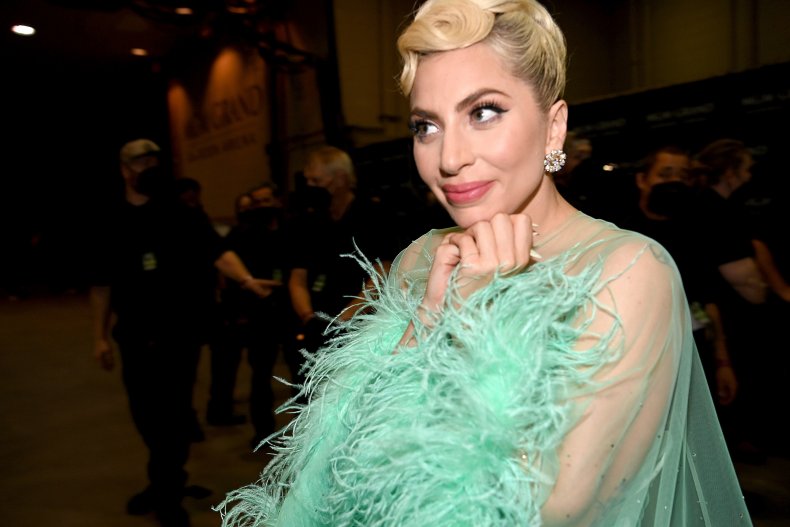 Enter Lady Gaga—the pop star and Oscar-winning actress has proven herself to be the Miss Congeniality of the 2022 awards season with her gestures of goodwill towards others.
At the Grammys on Sunday night, the star—whose real name is Stefani Germanotta—went viral when she helped SZA, who was on crutches, with the train of her dress as she made her way to the stage to accept an award.
Gaga was also part of one of the most talked-about moments from the Oscars last week when she appeared on stage with a frail Liza Minnelli to present the best picture award.
When Minnelli struggled with reading the teleprompter, Gaga helped her finish her line. She then leaned in and whispered reassuringly: "I got you."
"I know," Minnelli replied. "Thank you."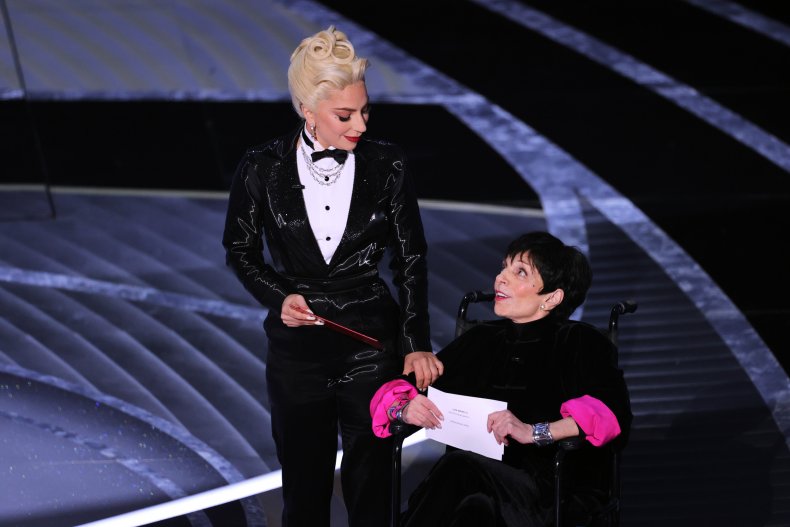 Before these moments from this awards season, Gaga was praised for how she looked after her long-time collaborator Tony Bennett, amid the musical icon's battle with Alzheimer's.
"When that music comes on... something happens to him. He knows exactly what he's doing. And what's important for me, actually, is just to make sure that I don't get in the way of that," the singer said in a 60 Minutes special last October.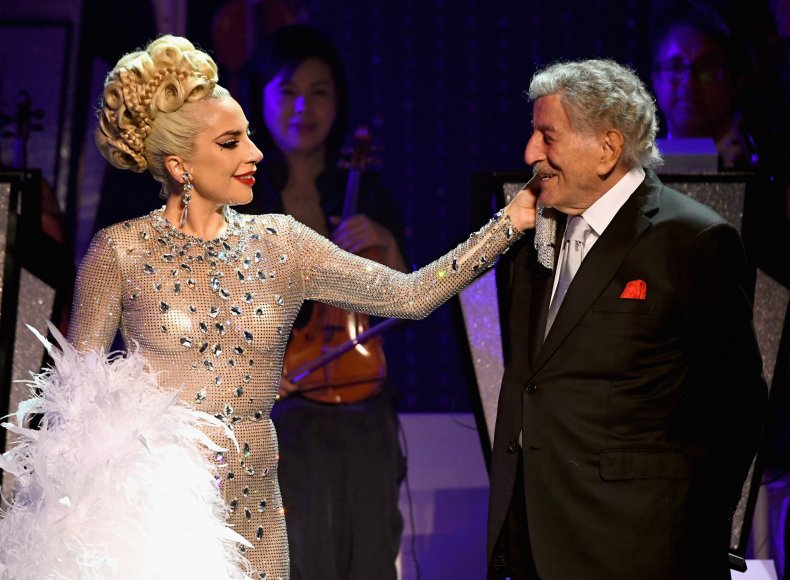 At last night's Grammys, Gaga was left in tears after she performed an emotional tribute to Bennett.
After she was introduced by Bennett in a pre-taped video, Gaga sang renditions of "Do I Love You" and "Love For Sale."
Gaga and her longtime friend and duet partner were nominated for six Grammys this year with their single "I Get a Kick Out of You" nominated for record of the year, pop duo/group performance and music video of the year.
The duo took home Grammys for Best Traditional Pop Vocal Album for their second collaboration, Love For Sale, which also won Best Engineered Album, Non-Classical, and was nominated for Album of the Year. Their 2015 jazz record Cheek to Cheek, won the Grammy for traditional pop vocal album that year.
Gaga's thoughtful gestures have not gone unnoticed by fans either, with her kindness becoming a topic of conversation on Twitter in recent weeks.
"The class, kindness and glowing #respect Lady Gaga showed toward Liza Minnelli made up for a lot about this nutty evening, and I promise you I will have a soft spot for Gaga for the rest of my life," reads one tweet with more than 11,000 likes.
While actress Yvette Nicole Brown similarly tweeted: "Did you see @ladygaga help @sza (who's on crutches) with her train just now? After that and the kindness she showed #LizaMinelli at the Oscars, WHOO! The care she shows others just FLOORS me. #GRAMMYs."
Lady Gaga also struck up an unlikely friendship with the late English soap star June Brown after they both appeared on The Graham Norton Show together back in 2018.
The late EastEnders star died on Sunday, April 3 at the age of 95, with many fans fondly remembering her and Gaga's funny moments together.