Here's Every Mask Lady Gaga Wore During the 2020 MTV VMAs
Lady Gaga was front and center for much of the 2020 MTV Video Music Awards on Sunday night, but the Chromatica singer had serious competition for the spotlight. Every time she appeared onstage for the award show, she was wearing a stylish, ostentatious and nearly show-stealing mask.
And because she was onstage so much, that meant Gaga cycled through a good number of accessories. In total, Mother Monster won five awards: Song of the Year, Best Collaboration and Best Cinematography for her team-up with Ariana Grande, "Rain On Me," as well as Artist of the Year and the "Tricon" award, the VMAs' latest version of a lifetime-achievement award. For each award, and for her medley performance, Gaga donned a different mask. The consistent costume changes were very on-brand for Gaga, but also appropriate for the era of coronavirus and social distancing.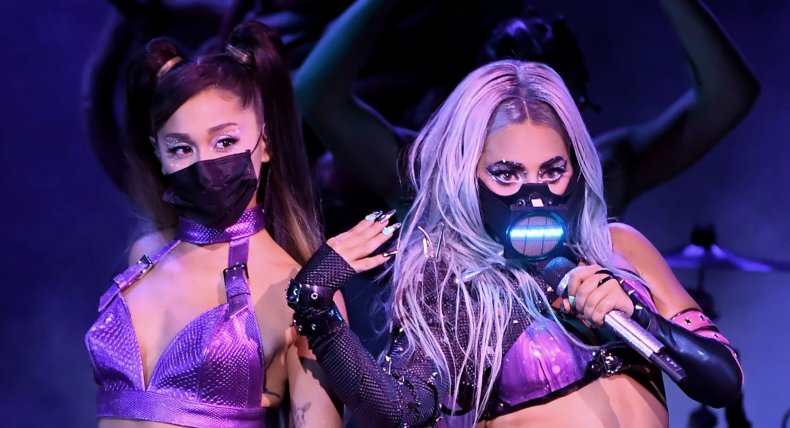 In case her message wasn't clear, the multi-hyphenate also explicitly urged people to wear masks to help curb the spread of coronavirus. At one point in her performance, she shouted "Mask up!" Later, while accepting the "Tricon" trophy, she gave an impassioned speech, insisting to her fans that the power of art would prevail after the trying times of 2020.
"This has not been an easy year for a lot of people, but what I see in the world is a massive triumph of courage," Gaga said, while wearing—you guessed it—a mask. "Just because we're separated right now and culture may feel less alive in some ways, I know a renaissance is coming, and the wrath of pop culture will inspire you, and the rage of art will empower you as it responds to hardship with its generosity and love. This is what I believe. I want nothing more than to be your artist in 2020."
Gaga closed her "Tricon" speech by saying, "I love you. Stay safe. Speak your mind, and I might sound like a broken record, but wear a mask. It's a sign of respect."
To see which masks Gaga wore during the VMAs to show all of the viewers respect, head below.
The Pink Gas Mask
While accepting the award for Best Collaboration, on her and Grande's behalf, Gaga came out in an outfit that harkened back to her Fame Monster days. (We just flashed on the infamous meat dress.) With a pink mask that looked to have protection over her eyes, it looked like a cross between a gas mask and a bug costume.
Viking Mask
Gaga's latest album, Chromatica,is pure dance-pop, but the artist brought a touch of heavy-metal and Valhalla style with the mask she wore while accepting the Song of the Year award. Wearing a green ball gown fit for Disney royalty, Gaga also donned what looked like a leather mask, complete with viking horns sticking out of both sides.
The Chromatica Mask
Reminiscent of the Daft Punk helmets, Gaga's mask during the Chromatica medley was coordinated to her performance, with lights that danced along with her performance, adding a nice bit of showmanship—though, it's not like Gaga's ever lacking in showmanship. The lighting trick did, however, make up for the fact that you couldn't actually see her singing. Believe it or not, it was even cooler looking than the brain-piano (that looked exactly like what it sounds like) that Gaga pounded on for a brief "Stupid Love" interlude.
The Sparkling Mask(s?)
Gaga seemed to double down on one sparkly mask, wearing it while making her speeches for the Artist of the Year and "Tricon" award wins. She did wear two separate outfits for each acceptance, though: For the Artist of the Year award, she draped herself in a puffy coat, and for the "Tricon" segment she walked out in a metallic dress and... silver antlers? We're doing our best here.
Bonus: Astronaut Face Shield
While this one isn't necessarily a mask, we thought it worth including: Gaga also showed up to the red carpet with a fish-bowl-looking face shield, proving that PPE can still be weird and fun.