Oscars Photographer Lady Gaga Helped Slammed for 'Touching Her Waist'
The photographer who fell and was helped up by Lady Gaga at the Academy Awards has been accused of upsetting her by touching her waist.
Videos of Gaga rushing to help a man who'd fallen down on the champagne carpet at Sunday's Academy Awards went viral as the star was praised for her compassion. However, in a video with 16.7 million views on Twitter, someone claimed the photographer unnecessarily touched her waist and "basically slapped her butt area."
The Twitter user who made the allegation received tens of thousands of likes, with some respondents sympathizing with Gaga and others calling the moment a nonstory.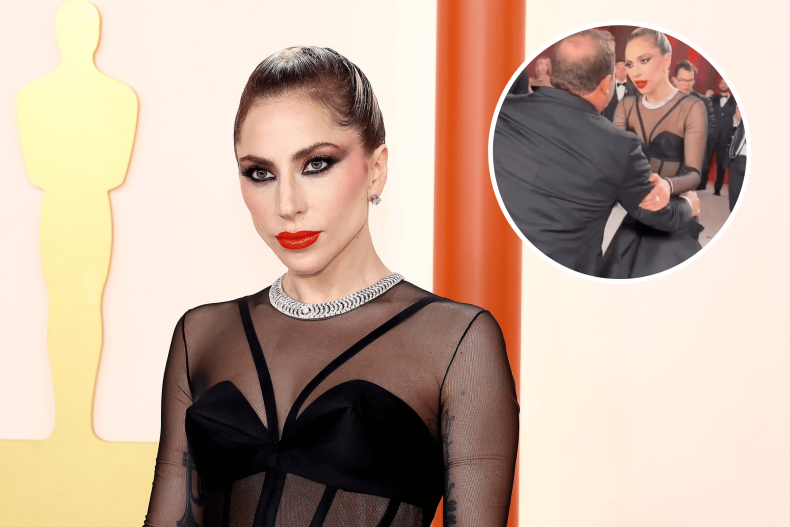 "Why is no one saying anything about him touching her waist like that and her looking VERY pissed off because of it," wrote the Twitter user, @scarzonreplay. "She ran to help that man and he basically slapped her butt area like???? she looked down in shock I feel bad."
A couple of minutes later, the Twitter user considered the event from the photographer's side: "Also yeah he might not have done that on purpose, that man just fell at the Oscars and was probs confused as hell but all I know is it definitely looks like it caught her by surprise and she didn't like."
They then said that they were putting the tweet on mute as the replies were aggravating them.
In the video, the photographer who Gaga rushed to help up can be seen patting her on the waist as he gets to his feet. The Joker: Folie à Deux star appeared to glance down at his hands, but others said she was looking at what was being picked up next to them.
YouTuber Mighty Keef praised the person who slowed down the footage to attempt to clarify the situation. "Thank god someone with actual eyes lol," he wrote. "So weird how someone can make up an entire scenario, and so many people believe it. Even when there is video that shows you what actually happened."
Twitch streamer @barelyyalex also stuck up for the photographer, dismissing @scarzonreplay's narrative. "He was literally in the middle of standing up from a fall I think he was kind of just reaching out to the person that was helping him and steadying himself. You guys do too much," she wrote.
Others weighed in and said they could relate to being put in the same uncomfortable situation Gaga allegedly was in.
"This s*** happened to me more times than I can count and it's f*****," wrote the Twitter Blue subscriber Morgs.
"Men don't realize what this is to us. And how many of us jus turn around and DEAL," wrote @lawsislaws, adding, "she didn't appreciate that tap. At All."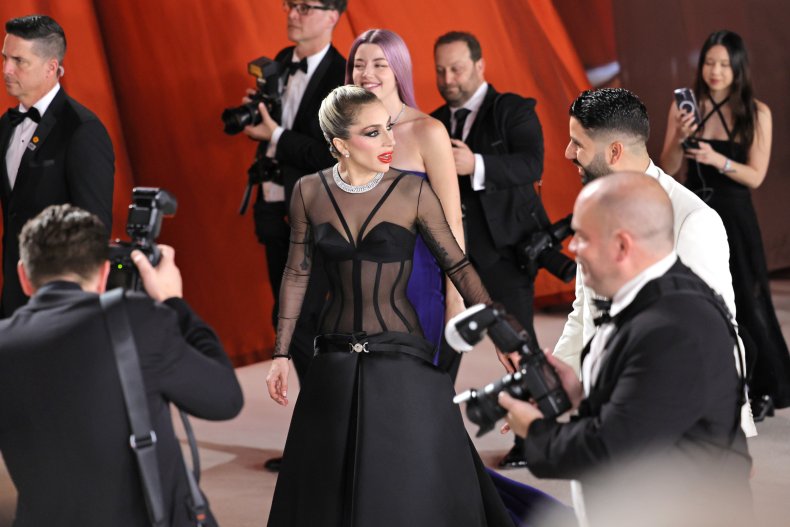 "This is why you laugh at men's failures and not help them out," @gxsellelopez wrote while retweeting the video and @scarzonreplay's take.
The incident at the Oscars earned Gaga worldwide praise and was captured from multiple angles, being shared millions of times across different social media platforms.
While Gaga was dressed glamorously as she entered the ceremony, she transformed her look when she later performed her nominated Top Gun: Maverick song "Hold My Hand." She performed on Sunday night while makeup-free and wearing a faded black T-shirt and ripped black jeans. "Hold My Hand" lost later in the night to "Naatu Naatu" from the film RRR.