Lady Gaga's Inauguration Look Sparks Princess Leia Comparisons
The inauguration of Joe Biden and Kamala Harris is taking place today at the U.S. Capitol after months of civil unrest as Donald Trump's tumultuous term comes to its end.
Lady Gaga is confirmed to be performing the national anthem at the swearing-in ceremony and arrived in Washington, D.C. on Tuesday where she has been sharing messages of hope with fans.
The performer—whose real name is Stefani Germanotta—posted a solemn photo to Twitter to say she is praying for "peace for all Americans."
Dressed in a striking all-white outfit, the singer wrote: "I pray tomorrow will be a day of peace for all Americans. A day for love, not hatred. A day for acceptance not fear. A day for dreaming of our future joy as a country. A dream that is non-violent, a dream that provides safety for our souls. Love, from the Capitol Flag of United States."
Gaga's all-white outfit and her plaited bun hairstyle has drawn multiple comparisons to Princess Leia.
Legions of Twitter users have noticed similarities between Gaga's sartorial choice for the inauguration and the white hooded gown worn by the iconic Star Wars character (played by the late Carrie Fisher) in Star Wars: A New Hope (Episode IV).
The simple but elegant costume is instantly recognizable and many are wondering if Gaga took inspiration from the 1977 sci-fi blockbuster.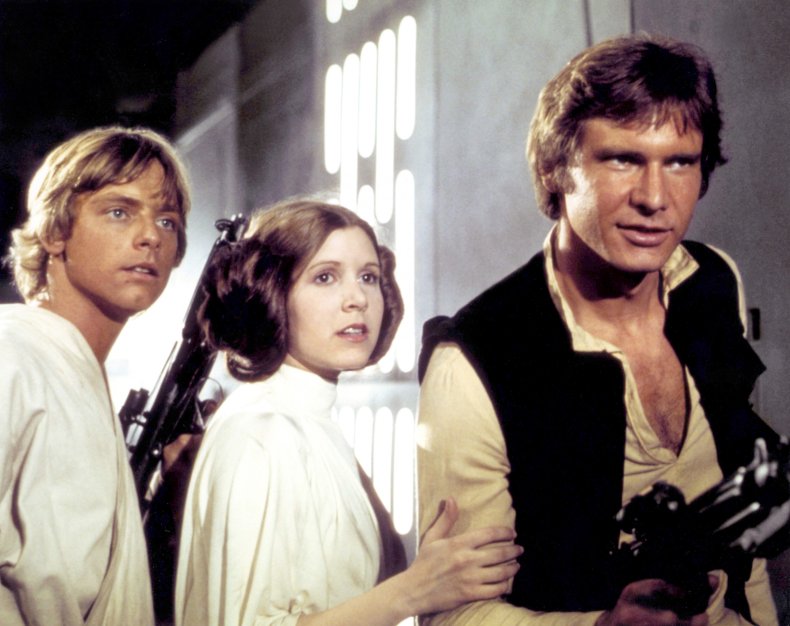 The film's title, A New Hope, is certainly a fitting symbol for the beginning of a new presidency and Princess Leia is, of course, one of the Galaxy's greatest heroes committed to ending the tyranny of the Empire.
One tweet, with more than 4,000 likes, compared side-by-side photos of Gaga with a still from A New Hope captioned: "Life imitating art (2021)."
"PRINCESS LEIA, IS THAT YOU COMING TO END THE EMPEROR?" said another Twitter user.
Another tweeted: "Lady Gaga is going full Princess Leia, and I am 100% here for it. A New Hope, indeed."
While another added: "Why does Lady Gaga talking to the National Guard give me strong Star Wars energy?"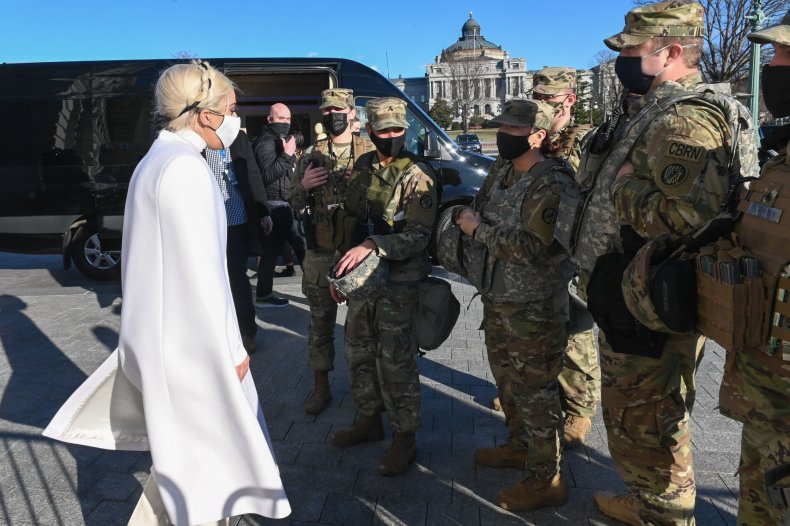 The "Chromatica" singer has been a vocal supporter of the Democrats and campaigned for a Biden-Harris victory.
Meanwhile, a number of people joked that Gaga's look was so presidential, she might accidentally get sworn in as commander-in-chief herself.
"Lady Gaga accidentally being sworn in as president tomorrow," joked one Twitter user.
While another added: "plot twist: lady gaga will be sworn in as president."