Lady Gaga Talks Madonna, Trump, Physical Pain and Music in Netflix Documentary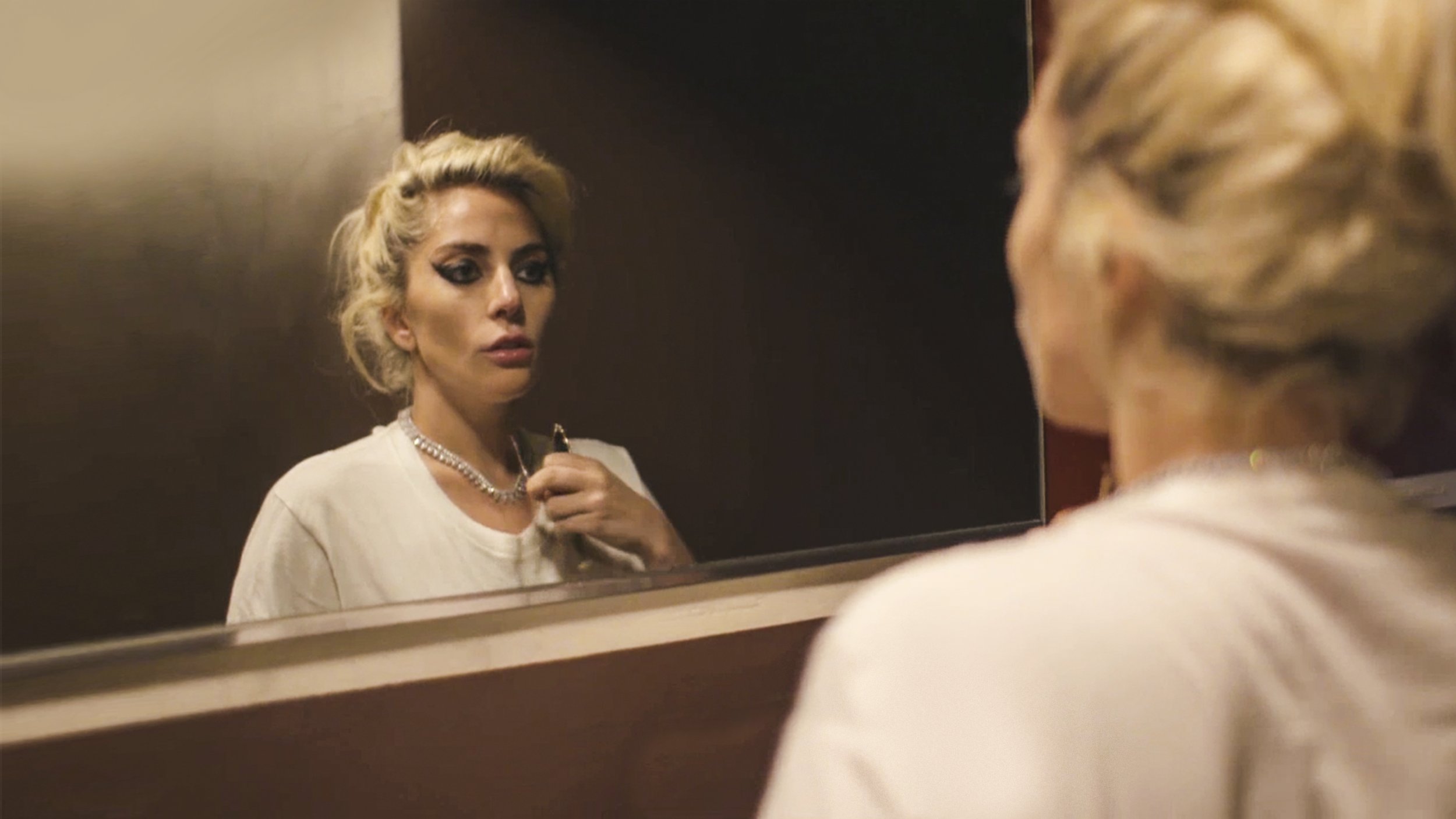 When Lady Gaga became one of the biggest names in music, she was known for her elaborate, daring costumes and over-the-top makeup. But for her last album—Joanne, released in October 2016—she stripped off all the wigs and adopted a much simpler uniform.
"I've never been that personal with my fans," she says of the transformation in Gaga: Five Foot Two, a new Netflix documentary about her life and work that premieres Friday. "I don't think that the world was ready to see who I really am because i wasn't ready to be myself," she adds. But with Joanne, "I'm saying this is me with nothing."
The film traces the recording of her most personal album and parallels it; it's a close-up, behind-the-scenes, vérité look at the mega-star's life and work over the course of eight months. She undresses not only literally (ditching her bikini top in one scene), but also figuratively.
Here are a few things we learned:
She has some beef with Madonna: Early on in the documentary, Gaga launches into an explanation of what pisses her off about Madonna.
I admired her always, and I still admire her, no matter what she might think of me. No I do! The only thing that really bothers me about her is that I'm Italian and from New York, you know? So if I've got a problem with somebody, I'm going to fuckin' tell you to your face.

But no matter how much respect I have for her as a performer, I could never wrap my head around the fact that she wouldn't look me in the eye and tell me that I was reductive or whatever.

I saw it on fuckin TV. Telling me you think I'm a piece of shit through the media is like—it's like a guy passing me like a note through his friend. 'My buddy thinks you're hot here's his…' Like fuck you. Like where's your buddy fucking throwing me against the wall and kissing me? I just want Madonna to fuckin' push me up against the wall and kiss me and tell me I'm a piece of shit.
She's a fan of dogs: From the opening minutes of the documentary, when she steps outside to feed two large and fluffy canine buddies, it's clear Gaga likes dogs. That first pair doesn't make a repeat appearance but a couple of smaller dogs do.
It's hard to be a woman in the music industry, and in life: Gaga comes back again and again to gender, and how it weighs on women not only in their business endeavors, but also in their lives and relationships. "Whenever you become powerful in a relationship or in business, there's always opposition," she says while preparing for a shoot. "Being a woman was like you were owned. Women I think still are owned in a lot of ways."
She's not too pleased with most producers in the industry: "When producers start to act like you're nothing without me, for women especially—those men have so much power that they can have women in a way that no other men can," she says. "Whatever they want, the cocaine, the money, the hottest girls you've ever seen," she adds. "And then i walk in the room and it's like eight times out of 10 I'm put in that category. And they expect from me what those girls have to offer… That's not why I'm here."
And she has a specific methodology for dealing with that: "When they've wanted me to be sexy or they wanted me to be pop, I always fuckin' put some absurd spin on it that made me feel like I was still in control," she explains. "So you know what if I'm going to be sexy on the VMAs [Video Music Awards] and sing about the paparazzi, I'm going to do it while bleeding to death and reminding you what fame did to Marilyn Monroe... and Anna Nicole Smith."
She loves working with Mark Ronson (and she once hit his car): "So many men in my life, in business and also that I've dated over the years—I just started to feel like what I was on my own wasn't good enough. And I don't feel that way working with Mark," she explains. The rapport between the two is a throughline of the documentary, as they rehearse and record Joanne.
Once, on her way in to meet Ronson, Gaga bumps his parked car. When she confesses, he jokes that "I wish if you have a problem with me, you'd tell it to my face not to my bumper." And later: "At least you dented it with style."
She's been in pain for years: Gaga is strong. When she's working off the adrenaline of her music, she can get through a performance, she says, but it doesn't mean she isn't in pain. One of the film's main threads is the lasting impact of the broken hip she suffered while on her "Born This Way" tour, which forced her to cancel the remaining dates. Even years later, when the documentary is being filmed, she sometimes gets spasms that she says originate from that injury. At one point, she is on a couch, consumed with pain. "It's like the whole right side of my body is in a spasm," she says. "It feels like there's a rope that's pulling from my first toe, right up my leg and then around my first rib and to my shoulder and then my neck, head, jaw. My fuckin' face hurts."
She's a family girl: If the press and stories around Gaga's 2016 album Joanne —which she made in memory of her father's sister, who died at age 19—didn't make clear how close she is with her family, the film does. She's often hugging her parents and visits her grandmother (Joanne's mother) to share the song she wrote about the aunt she never met. "Seeing what that did to him [Gaga's father] and to my family was the most powerful thing I experienced growing up," she says. "My family is the most important thing in my life."
She's not a fan of Donald Trump: Gaga doesn't get super political, but a few offhand comments are enough to make it abundantly clear how she felt about the turmoil of the 2016 presidential election, which was in progress as the documentary was being shot. At one point, she's lying on a couch in pain and grabs the remote so she can flip to the Republican National Convention. "Here let's put Trump on. That'll knock me out. That'll traumatize me. All you need to knock you out of your trauma is to be further traumatized." Later, right before the halftime show (and therefore after Trump had been elected and inaugurated), she adds that "the country is in peril, and it's most important to be an artist and shine. The government doesn't have the power to change music."
What the Super Bowl halftime show meant to her: The documentary begins and ends with Gaga's halftime performance—an enormous milestone for her—and it traces the whole process, from her hopes of being chosen to do the show to the big night.
"This is like a dream come true," she says at an early planning meeting. "I want to do the opposite of what everyone thinks I'm going to do. Everybody thinks I'm going to go out there on a fucking throne, in a meat dress, with 90 shirtless men and unicorns. Am I right? Am I right?" she asks the group gathered around her. "And that at the end I'm going to do something shocking and it's going to freak everybody out. But it's not even in the neighborhood of what we're going to do."
The day of the show, she reflects on the magnitude of the moment. "I've never done a performance that was meant to celebrate my career," she says in her dressing room. "The truth is that there really isn't anything bigger than this, so I better enjoy it today. Because it isn't going to happen again." She adds later that "it's almost like a little bit sad. It doesn't get bigger than this. So what do I do after this?"