'Lady and the Tramp' Live-action Remake 2019: Why Disney Cut 'The Siamese Cat Song'
With the release of Disney+ and the spate of Disney live-action remakes, many questions have been asked about what the House of Mouse would do about the more questionable moments from its library of films. For some releases, like Song of the South, Disney has simply chosen not to release them, while the remakes have generally chosen to cut songs seen as problematic modern audiences.
The latest live-action remake, Lady and the Tramp (streaming now on Disney+), for example, gets rid of "The Siamese Cat Song" and replaces it with a new song that the cats formerly known as Si and Am sing as they destroy the lounge of Aunt Sarah (Yvette Nicole Brown).
To understand why Disney did this, we must look at the history of "The Siamese Cat Song". Performed in the 1955 film by "Is That All There Is?" singer Peggy Lee, the song sees the white singer put on a stereotypical "Asian" accent.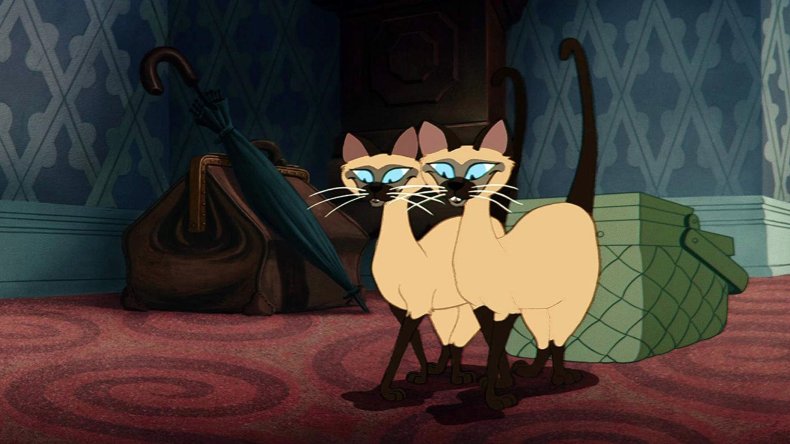 However, this is not the only problem viewers have had with the two characters. A Flavorwire article sums up many people's problem with the two cats: "Si and Am of Lady and the Tramp, which premiered just a decade after the war's end, were undoubtedly conjured by the remaining prejudices of this milieu, emblems of an era when anything categorically or characteristically "Asian" was met with misplaced fear and intemperate hostility used to create a dehumanized image of the "Other" and frame it as a direct affront to Western hegemony, justifying the prejudice against it."
Slate also wrote about another problem with the two characters, who they say are: "Presented...as sneaky and sly—adding to their problematic animated rendering with slanting eyes and buck teeth—" a racist trope that is now unacceptable but was fairly common in the era, as seen in films like Breakfast at Tiffany's.
In the 2019 version of the story, the two cats in the basket are given a blues/ragtime-style song titled "What a Shame," written by Janelle Monae, who also voices Peg in the remake, and her collaborators Nate "Rocket" Wonder, and Roman GianArthur. However, the cats themselves still appear to be Wedge Head Siamese cats as in the original movie and, like in the 1955 animation, they are still introduced by their sinister shining eyes in a callback to the Disney classic.
Speaking to ABC7 about the new songs, Monae said: "We've collaborated before on a lot of projects, but to get to play in our inner child and revisit a film that's meant so much to us, come up with original songs for it, was really a dream come true."
Lady and the Tramp is streaming now on Disney+.
The below graph, provided by Statista, shows the major properties owned by Disney and how they could chip away at Netflix's customer base.