'Lady Trump' Governor Candidate Shoots 'CRT,' 'Vaccine Mandate' Bottles in Over-the-Top Ad
Michele Fiore, a GOP candidate for governor of Nevada, released a new campaign ad Tuesday that emphasizes her love of guns and former President Donald Trump while attacking progressive ideals.
"I've spent my whole life fighting the establishment," Fiore declares in the ad after she steps out of a pickup truck—featuring a prominently placed Trump 2024 bumper sticker—that's she has driven out into the middle of a desert.
She then claims she has a "three-shot plan" if she gets elected in next year's gubernatorial election. Pulling a pistol from her hip, she fires at three beer bottles labeled "vaccine mandates," "critical race theory" and "voter fraud," which all explode into showers of glass in the process. The faux beer company's name on the bottle: "Socialism."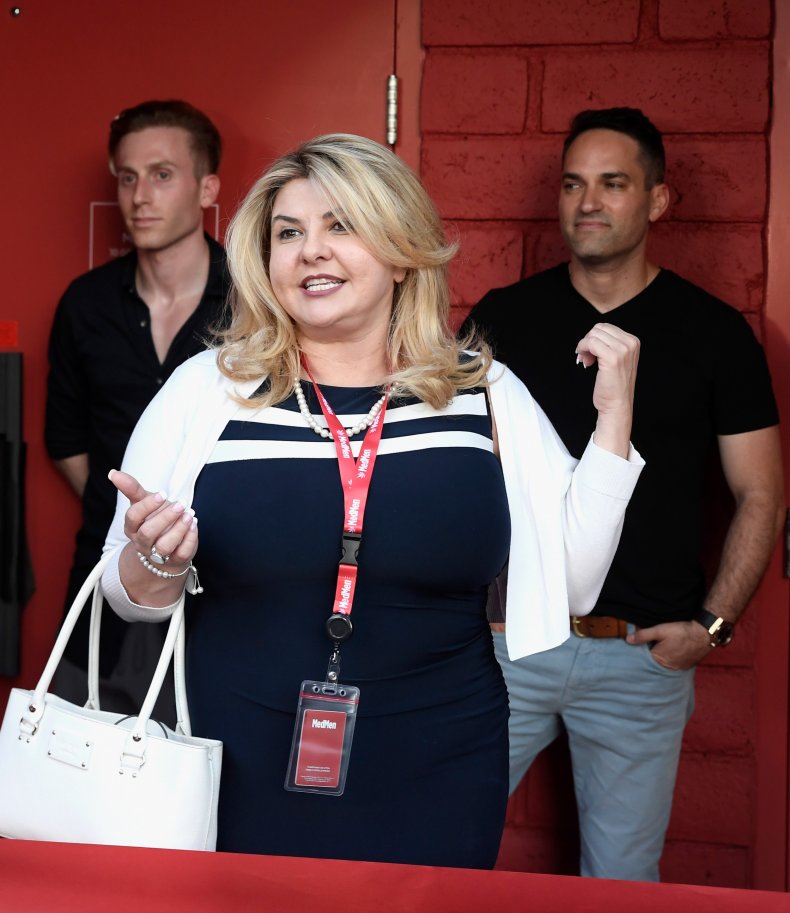 Fiore is a current Las Vegas city councilwoman and is no stranger to controversy. In the ad, the New York-born Republican proudly touts that she's been called "Lady Trump" by Politico and a "gun-toting, calendar-posing politician" by The Washington Post.
"We need outsiders, fighters, not the same old boring, moderate, compromised blue-blazer politicians," Fiore declares in her ad, which she shared on her official Twitter account no Tuesday. The ad has been viewed more than 2.3 million times as of press time.
Fiore received widespread press coverage for publicly supporting rancher Cliven Bundy during an armed standoff between Bundy supporters and federal agents in Nevada in 2014. In 2015, a photo went viral from a calendar Fiore sent her constituents during the holidays. The photo depicted her family all holding guns, including a young child who appeared to be holding a handgun.
According to reports, the IRS filed dozens of tax liens totaling about $1 million against Fiore and her home healthcare businesses in 2014 over unpaid employee payroll taxes. Though she proclaimed her innocence, she was removed as leader and chair of the Assembly Taxation Committee, only to be reinstated less than 24 hours later.
During the Clark County Republican Convention on June 6, 2020, Fiore was accused of making "racially charged remarks," which led to her being rebuked by the Clark County Republican Party.
As the election for governor heats up in Nevada, critical race theory and vaccine mandates are seen as hot topic issues in the state. School districts throughout Nevada have seen heated parent protests against critical race theory at school board meetings.
Meanwhile, Nevada's Democratic Governor Steve Sisolak has ordered all state employees to get vaccinated against COVID-19, which has also caused protests.
"Conservatives are tired of weak Republicans who compromise on our Constitutional Rights, that's why 2.4 million people have watched our video, and we've raised $150,000 all in the 48 hours," Fiore told Newsweek in a statement. "We've been attacked by the Lincoln Project, MSNBC and all I've got to say is bring it on."
Update (10/21/21, 6:30 p.m. ET): This story has been updated to include comment from Fiore which was obtained after the story was originally published.