Is Lagerfeld's Reign at Chanel Coming to an End?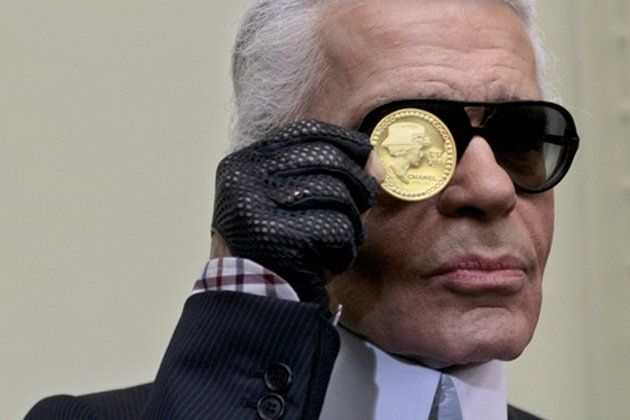 Karl Lagerfeld presented his 55th ready-to-wear collection for Chanel in March in typical over-the-top fashion. Staged at the mammoth Grand Palais in Paris, the show featured models dressed in fur-trimmed tweed minidresses and fur moon boots, sloshing around a giant iceberg that Chanel had shipped in from Sweden. The fashion press howled that Chanel was tone-deaf when it came to the environment—especially after Lagerfeld told reporters backstage that global warming might be "nonsense." If the controversy was a planned exercise in media hype, it worked.
But some wondered if the stunt wasn't also Lagerfeld's commentary on the instability at Chanel, one of fashion's oldest and most venerable houses. The obvious issue is who will helm the brand once Lagerfeld ends his long reign (now at 27 years and counting)? The unseen: industry talk that Lagerfeld and Maureen Chiquet, Chanel's American-born global CEO since 2007 and former head of Banana Republic, are at odds. Rumors of Lagerfeld's looming departure even aired during the March show. The Australian edition of Grazia magazine posted on its Web site, "Karl Lagerfeld's tenure at Chanel is coming to an end." Chanel immediately denied it. "Karl Lagerfeld has a long-term contract with the company," an official statement said. "Replacing him is not an issue."
But it likely will be sooner rather than later. Lagerfeld is not young—he admits to 73, but his biographer Alicia Drake contends that he's actually 77—and he's been at Chanel since 1983, an eternity in fashion. For now he shows no signs of slowing down. In May, he exhibited his Chanel resort collection in Saint-Tropez, followed by a lavish party at the VIP Room nightclub. In July he presented his Chanel couture collection at the Grand Palais. On Sept. 10—his birthday—Lagerfeld received the Couture Council Fashion Visionary Award from the Fashion Institute of Technology in New York, an award FIT created exclusively for him. "Retirement is not one of the topics with which I deal," he said last fall.
Even so, Chiquet and Chanel's owners, the Wertheimer family, must at least be contemplating a succession plan. They'd rather not let the brand stagnate while they search for a new designer, as happened when the house's founder, Gabrielle "Coco" Chanel, died at 87 in 1971. "Karl has been the greatest steward for the Chanel brand and has kept it up-to-date," says Rita Clifton, chairman of Interbrand, a global brand consultancy in London. "But this is a hypercompetitive marketplace. Great brands can fade, and it can happen quickly if you are not careful."
Following Coco's death, the house burned through a series of designers who replicated the Chanel style with middling success. Then, in 1983, Lagerfeld arrived. He was the perfect fit: he had classical training in couture and experience in fashion's more commercial side, ready-to-wear. From his first show in 1983, Lagerfeld took Chanel's staples—the tweed suit, the rope of pearls, the camellias, and the cap-toe shoes—and made the silhouettes younger and sassier.
By the end of the decade, Chanel was the most popular brand in fashion. Lagerfeld kept turning out one stunning collection after another, even as his peers retired one by one. Today, Lagerfeld is the last of the old-school couturiers still working. "Karl is always exploring," says Vogue contributing editor André Leon Talley. "No one can match him. No one."
Chanel is one of the strongest companies in the business. Privately held, it doesn't reveal sales figures. But according to public documents, it racks up more than $3 billion a year in sales. Among luxury-industry executives, Chanel is known as the "secret company." When someone is fired, it is done so quietly it doesn't even make the trade papers.
This lockdown approach has allowed Chanel to deal with Lagerfeld's succession on the q.t. Any talk is strictly conjecture. In the early 2000s, editors and retailers buzzed that Marc Jacobs, the American designer and creative director for Louis Vuitton in Paris, would take over Chanel; he even did a show of Chanel-like suits for Vuitton that insiders considered an unofficial audition. But a decade later, Jacobs, 47, is still at Vuitton. Now the buzz among fashion insiders is that 49-year-old Lanvin designer Alber Elbaz has been tapped and will shift over to Chanel as soon as his contract is up.
The move would make sense. The Moroccan-born, Israeli-raised Elbaz has the talent and the formal training, having spent several years working for the late American couturier Geoffrey Beene. Elbaz could handle Chanel's couture line, pleasing the wealthy women who still regularly order its $100,000 made-to-measure frocks. And, as he has proved in his nine years at Lanvin, he can make stylish ready-to-wear that sends editors into rapture and customers to the cash register.
Of course, no one is officially talking: Chanel, Jacobs, and Elbaz all declined interviews for this story. And Lagerfeld just keeps on going. "He shows no sign of lacking energy," says Valerie Steele, director of The Museum at FIT. "It would be grossly premature for anyone to try to step into his shoes." But when the time comes, Steele says, "it will be a nightmare to replace him." Unless, of course, it's already a done deal.