Lagging in the Polls, Trump Team Predicts Win Based on 'Enthusiasm'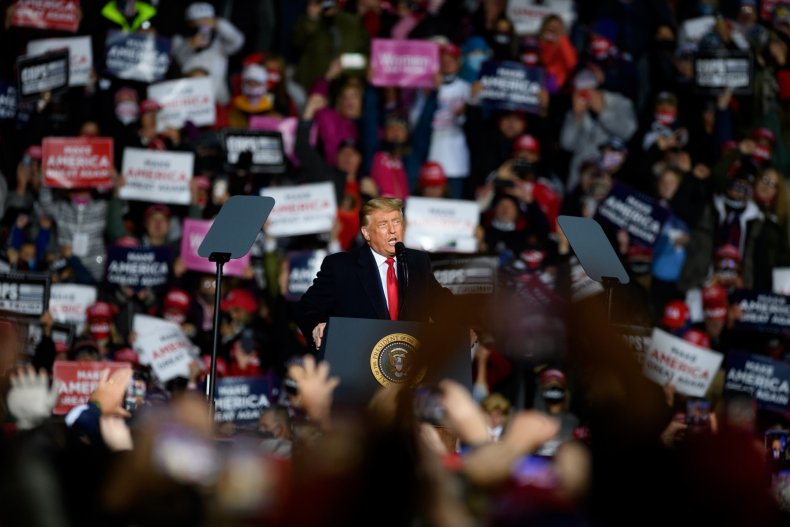 Trailing Democratic rival Joe Biden in most major national polls, President Donald Trump and his supporters say a different metric—enthusiasm—is all that matters, and they point to massive crowds at his rallies in key swing states as evidence that he'll pull off a win on November 3.
"We're going to win," Trump said Monday in a call his campaign invited reporters to join. "I wouldn't have told you that maybe two or three weeks ago."
But experts aren't so sure and say enthusiasm may not be enough to treat Trump's campaign wounds.
Ben Berger, a political science professor at Swarthmore College in Pennsylvania, said it makes sense that Trump wants to portray his supporters being more enthusiastic for his candidacy than Biden's supporters are for the former vice president.
"The ultimate question, of course, is not just how enthusiastic but whether someone is likely to turn out to vote," Berger told Newsweek. "On that measure, there is a lot of uncertainty."
Trump and his top surrogates, including Vice President Mike Pence and Trump's three eldest children, have been on aggressive campaign travel schedules with less than two weeks until Election Day.
In recent days, Trump and his campaign team have fixated on the crowd sizes at his mass rallies.
"I don't think people are showing, in terms of the media, the enthusiasm," Trump told reporters Monday before a campaign stop in Arizona. "But the main thing is the people know. One thing I've found out: The public is very smart. They get it."
Eric Trump told a rally crowd in Michigan the following day that he predicts a bigger win for his father than in 2016 based on "enthusiasm."
"The enthusiasm is unlike anything that we've seen before," he told a crowd of hundreds of people. "I'm telling you the polls are wrong. I am telling you they're going to get it wrong again."
It's unclear how much of that turnout at rallies, or the number of boat parades and vehicle parades his supporters hold, will translate to election results.
"[Trump's] been great at inspiring dedication among the already dedicated," Berger said. "The question is the overall base of [undecided] voters available."
While Trump has held mass rallies, Biden has tended to hold small-scale, socially-distanced events, citing the novel coronavirus pandemic. Biden has also passed on in-person campaign events on several days, choosing instead to take part in virtual fundraisers and other meetings online with supporters.
But Berger said smaller crowd sizes won't necessarily mean fewer votes, because opposition to a candidate can also be a major motivator for voters, even if they aren't enthusiastic about the candidates for whom they cast their ballots. He pointed to the 2018 midterm elections when Democrats took control of the U.S. House.
"(Voters) were high in motivation, but it wasn't necessarily for their candidate," Berger said. "It's not infrequently the case that anger, desire for revenge, sometimes fear can be stronger motivators than hope and love."
Newsweek's analysis of polling before and after Trump's recent mass rallies paint a mixed picture, and it's impossible to know how direct an impact the rallies had.
On September 21, Trump held two rallies in Ohio—one in Toledo and one in Dayton. Two weeks before those appearances, RealClearPolitics' polling analysis for the state showed Biden led Trump by 47% to 44.7%. Two weeks after the back-to-back events, Biden's lead had narrowed to 47.6% to Trump's 46.4%. The latest polling in Ohio shows Trump and Biden neck-and-neck at just under 47% each.
But it's difficult to say whether the shift was due to the rally push, and the trend doesn't hold up in similar snapshots of some key battlegrounds.
Trump held a rally in Pittsburgh, Pennsylvania on September 23, followed by one in Harrisburg three days later. Two weeks before the rallies, Biden led 49% to 44.7%, according to the RealClearPolitics average of credible polling in the state. Two weeks later, Biden's lead had grown to 51% over Trump's 43.9%.
Trump has since made some gains according to the latest polling in Pennsylvania, where the Trump campaign is making a major push with multiple events featuring Trump, Pence and other top campaign surrogates in the final two week stretch, that shows Biden at 48.7% to Trump's 45%.
RealClearPolitics' tracking of polls in top battleground states show Biden with moderate or narrow leads in each, though Trump has gained some ground since August, when Trump kicked off his aggressive in-person campaign schedule with events in Arizona, Minnesota, Wisconsin and Pennsylvania in four straight days.
For the cash-strapped Trump campaign, the rallies can also translate to TV time that doesn't cost money—referred to as "earned media"—like a traditional paid ad would.
Campaign finance records out this week show Biden started October with $177 million in the bank—nearly three times the $63 million the Trump campaign reported having left in its campaign coffers.
Earned media, led by Trump's then-novel mass rallies and unconventional television appearances, was seen as a major advantage for his campaign four years ago.
Fewer networks have been carrying long stretches of Trump's rallies un-interrupted this year, but his remarks at them usually make headlines. Trump, whose approval rating is 44%, according to FiveThirtyEight's favorability tracker, also starts with a smaller base to court.
John Couvillon, a Louisiana-based pollster and political strategist who has been tracking polls and early voting trends, noted there were many more undecided voters to capture late in the 2016 cycle while fewer exist this time.
"Obviously, you'll have people who are enthusiastic show up to rallies," Couvillon told Newsweek.
Couvillon said he doesn't see evidence in early voting and voter registration stats that would indicate a hidden surge for Trump.
Not every state has party voter registration, but in those that do, Republicans and Democrats are taking advantage of in-person early voting in relatively equal numbers.
But vote-by-mail, which the GOP and Trump have frequently attacked as a less legitimate voting method, has so far been to the Democrats' advantage.
Couvillon cited Florida, where Democrats have a 19% lead in vote-by-mail but Democrats and Republicans are even in early voting tallies.
"Comparatively it's better for the Republicans, but they really need to be offsetting the Democrats' advantage among mail-in voters," he said.