Lake Hughes Fire 'Tornado' Video Shows Whirlwind Tearing Through California
A "fire tornado" video was captured during the enormous Lake Hughes blaze, in Los Angeles County, which saw some 10,000 acres ignited.
"I have never seen anything like this. The #LakeFire is moving fast toward Lake Hughes. It created a fire tornado on this hill and it's sucking everything inside," said ABC7 anchor Veronica Miracle.
The towering inferno can be see from across Los Angeles county, as the wildfire continues to grow into the night. At 9 p.m. local time the City of Los Angeles Fire Department said the fire was not contained.
Mass evacuations, of more than 500 homes, are ordered around the areas of Lake Hughes Road, Lake Elizabeth Road and West Trail Mountain View Road, plus areas south of Highway 138, including Pine Canyon.
The brush fire started on the afternoon of August 12, and quickly increased in size in the Angeles National Forest area, which covers an area of more 700,000 acres, and is described as being in "L.A.'s backyard." The exact location can be pinpointed here.
Excessive heat, with temperature in the 90s, and gusty winds have fueled the blaze.
A time lapse from Southern California Edison shows the amount of smoke pluming from the a distance.
An enormous plume of bellowing smoke can be seen from Venice Beach, Los Angeles Lifeguards provided the following image.
Firefighters are working through the night to contain the fire.
The Red Cross has set up a disaster shelter for displaced residents at Highland High School in Palmdale, plus there's one at the Castaic Sports Complex.
Animal shelters have been set up at Antelope Valley Fairgrounds and Castaic Fairgrounds.
"We are ready to provide shelter to anyone affected by the #LakeFire. Because of #covid19, we are taking extra precautions to make sure everyone is safe & secure. Once people arrive at the evacuation point, we will assess their needs & make sure everyone has a safe place to stay," said the Red Cross on Twitter.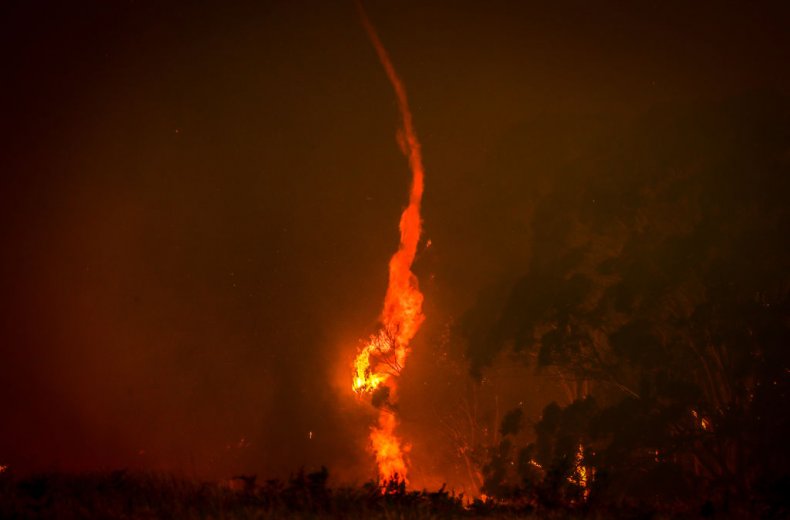 Local climate activist Edgar McGregor expressed concerned on Twitter at how serious this fire is, and said it could be an "ecological disaster."
"Not enough attention is being given to the major #LakeFire in California. It's only 4 hours old, and 11,000+ acres are gone," McGregor said. "This could be a real ecological disaster for the Angeles Nat. Forest. This is an incredibly hot, climate change helped, leave-nothing-behind type inferno."
The cause of the fire has not been determined.