Lake Mead water levels remain at a critically low level despite a wet year in the southwestern U.S. And experts are warning it could result in a "multibillion-dollar deficit" as the situation worsens.
Lake Mead borders Arizona and Nevada, and is the largest man-made lake in the U.S. It provides water for around 25 million people living in the Colorado River Basin and when full, holds around 31 million acre-feet of water . But this has not been the case for a long time.
The lake has been in the spotlight recently due to its rapidly declining water levels. As of now, the lake is only around 30 percent full.
"Lake Mead's water is worth billions of dollars, so we're currently facing a multibillion-dollar deficit," Tom Corringham, a research economist at the Scripps Institution of Oceanography at UC San Diego told Newsweek. "This is unlikely to improve in the long term as we expect to see fewer big snow years and more dry years. We can hope for more snow in years to come, or we can reduce our consumption. Reducing water use is a proactive step we can take, and one we should continue to take in the coming years."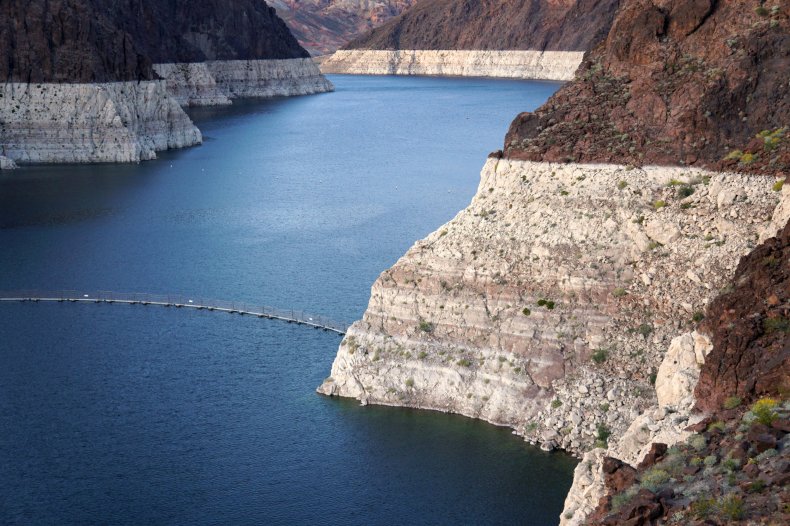 Fears are that if water is not conserved immediately, the lake could continue declining to the point where it reaches dead-pool levels, which is at around 895 feet. Dead pool is when the water above the dam is so low that no water passes through it. This could be catastrophic for the southwestern U.S as we know it, as the Hoover Dam, which forms the lake, is also integral to irrigating water throughout the region.
Lake Mead's water is not just used for consumption, but for agriculture, and hydropower.
If water runs out, the Hoover Dam could stop functioning. If this happened, the electrical grid would be severely affected. The income the electricity produces also funds its upkeep. The dam is completely self-supporting, meaning if it broke, income for repairs would be difficult to come by.
The low water levels are mainly a result of the ongoing megadrought gripping the Southwest, paired with an overuse of water.
This year however, has been a particularly wet one. The western U.S. was battered with rain and snow storms at the beginning of 2023, and at intervals during this summer.
"Lake Mead levels are up since March, which is a good thing. We've seen recent monsoonal rain in southern Nevada and rain in the Southwest from Hurricane Hilary but the real driver of gains in Lake Mead storage has been the above average snowmelt in the upper Colorado basin," Corringham said. "Most of the water in the Colorado River is from the upper basin. This has led to more water being released from Lake Powell which refills Lake Mead."
The wet weather brought a sigh of relief for many, as the lake's levels rose slightly.
Last year in July, the reservoir reached record low levels of 1,040 feet. Following the wet weather, and the emergence of spring, the snowpack began to melt and feed into the lake. This is when water levels shot up. Since then, water levels have continued to gradually increase. As of now, (September 13) levels stand at 1,066.28 feet.
This contrasts greatly with last year, which was a bone dry year in the southwest. At this same point last year, the reservoir stood at 1,043 feet.
But, despite this year's slight rise in water levels, Lake Mead is not out of the woods yet.
This region has been plagued by dry weather for years, and weather patterns remain unpredictable, which experts are largely putting down to climate change.
It remains to be seen what the next year will bring for Lake Mead, and whether the surrounding mountains will maintain snowpack levels high enough to replenish the lake.
"Although we've seen an increase to 8.9 million acre-feet of water from a recent low of 7.5 million, this is still critically below the historical average of over 20 million. To visualize, an acre-foot can almost cover a football field with a foot of water, and it's enough to serve two households for a year," Corringham said. "We have enough water in the reservoir for several million households. But we're still at critically low levels, less than half the historical average. This boost in winter snowpack buys us a year of time, but the long-term outlook remains concerning. The chances of being in shortage conditions a year from now have fallen, but not by much (from 100 percent to 93 percent) so the situation is better, but still not good."
Lake Mead is far from alone in its predicament. Its neighbor, Lake Powell, which lies on the border between Arizona and Utah, has also reached record low levels in recent years.
Similarly to Lake Mead, it has received an influx of water following the high accumulation of snowpack, but the situation remains concerning.
Do you have a tip on a science story that Newsweek should be covering? Do you have a question about Lake Mead? Let us know via science@newsweek.com.