Lake Mead Water Levels: Could California Speed Up Recovery?
As Lake Mead and Lake Powell levels inch closer to dead pool, states in the lower Colorado River basin are proposing more solutions that could lend to the reservoirs' recoveries.
Required water cuts have already been implemented and increased in severity this year for Arizona and Nevada. Western states are scrambling to come up with a solution that preserves their access to Colorado River water but aids the reservoirs in recovery amid a 20-year drought.
Increased water use and water evaporation from global warming also has contributed to the declining levels. A torrent of rain in California and a higher-than-normal snowpack melt improved the reservoir levels slightly, but experts said it's not enough long term and water use must be cut for the reservoirs to recover.
Recently, six of the states in the Colorado River basin united to propose a plan for water conservation. A day later, California came out with its own plan.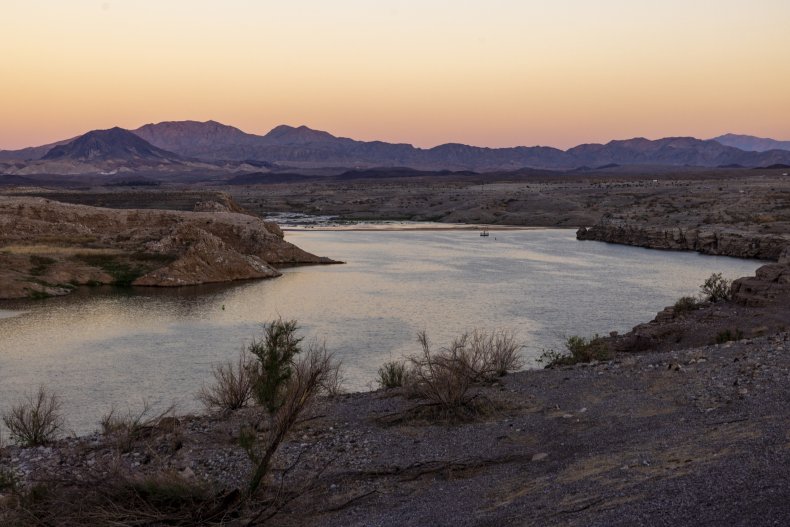 California's plan didn't account for water loss during evaporation or transportation, according to the Associated Press. The other plan did account for that it, proposing bigger water cuts for California.
In California's proposal, Arizona would bear the brunt of the water cuts. However, due to water seniority levels, Arizona has already been impacted by federal cuts—by more than 500,000 acre feet per year. According to AP, one acre foot of water is enough for two or three households' annual use.
The other six states haven't been able to agree with California on proposals in the past. California's proposal suggests further cuts for states with lower priority, but those states have already cut their use substantially.
However, California water officials argue that their senior rights should be taken into consideration with the cuts and that ignoring California's rights isn't fair.
"The best way to avoid conflict and ensure that we can put water in the river right away is through a voluntary approach, not putting proposals that sidestep the Law of the River and ignore California's senior right and give no respect to that," Colorado River Board of California Chairman JB Hamby told AP.
Hamby said that California could pursue legal action if the government decides to pursue proposals that account for the water loss through evaporation—an increasing issue as global warming takes hold. If water loss through evaporation is cut, California would see a larger negative impact to their water use than if its own plan isn't accepted, which doesn't take the evaporation into consideration.
In the lower basin, up to 80 percent of water from the Colorado River is used for agricultural purposes, including in California. As cuts continue to be implemented, University of California – Davis professor Jay Lund previously told Newsweek that humans must reduce their water use, even if it means fallowing agricultural fields.
"We might get lucky with the weather, but the idea of the system recovering is really hard unless you reduce water use in that basin," Lund said.
States negotiated Colorado River water use in 1922, according to a blog written by Lund and associate professor Josué Medellin-Azuara. At that time, river inflows were much higher, and the Colorado River basin contained more water than was being used for agricultural and municipal purposes. In the last 100 years, that has changed. Demand for water now surpasses supply.
Lund wrote that a new negotiation that takes current shortages into consideration will be much more difficult considering the scarcity of water, the "sizeable water over-use in the lower basin," climate change and other factors, according to the blog.
He previously told Newsweek that the only way to restore the reservoirs' levels is to reduce human consumption, primarily in the agricultural sector.
Newsweek reached out to the Metropolitan Water District of Southern California and Arizona Department of Water Resources for comment.