Is Lake Mead Filling Back Up?
Lake Mead's water levels, despite having increased in the wake of massive rainfall across the western states, are still much lower than they were this time last year.
On December 1, 2022, the lake's water levels were 1,042.97 feet above sea level, while as of February 1, 2023, they measured 1,046.99 feet. On February 1 in 2022 and 2021, respectively, the water levels were at 1,067.14 and 1,086.1 feet above sea level.
Lake Mead is the largest reservoir in the U.S., formed by the Hoover Dam on the Colorado River. The lake has a surface area of 247.1 square miles and spans the Nevada-Arizona border, providing 25 million people across Arizona, California, Nevada, New Mexico and Utah with water.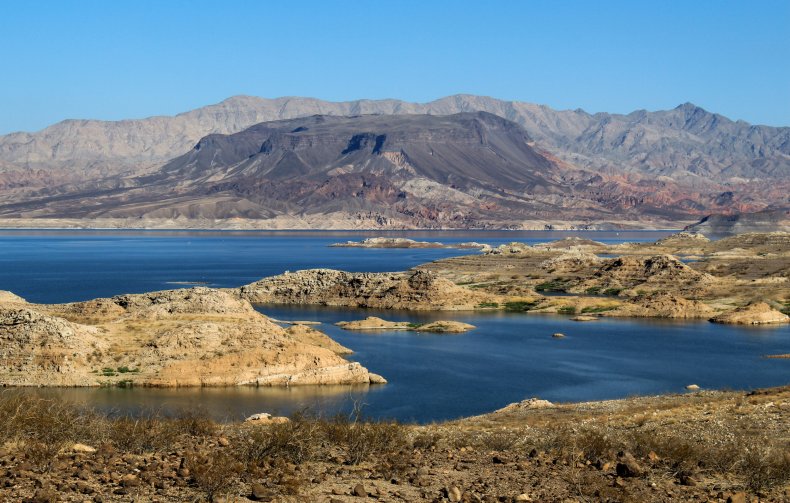 The megadrought that has gripped large areas of the western states has caused the lake to get drier and drier every year: In July 2022, Lake Mead reached its lowest water level since it was constructed in the 1930s at 1,040.8 feet.
"Lake Mead's water levels have been declining since 2000," Jennifer Pitt, director of the Audubon Colorado River Program, previously told Newsweek. "It has gotten warmer and drier, and the rules haven't changed fast enough to stop the decline. The legal framework is really complicated, but it's urgent to change it right now before the risk increases and there's no water for everyone and everything dependent on water from Lake Mead—farms, birds, major cities, really all life in the Southwest."
The lake is predicted to reach an even lower level in the coming months: projections from the Bureau of Reclamation show that Lake Mead could drop as low as 1,024.47 feet by November 2023. Its dead pool levels where the water is so low that it cannot flow through the hydroelectric Hoover dam will occur at 895 feet and below.
Recent rainfall and an increase in the snowpack on the Colorado Rocky mountains has made more water available for reservoirs like Lake Mead and its neighbor Lake Powell. However, as of January 11, Lake Mead was still only at 28 percent of its full pool level.
"The water-supply forecasts look to be above average," Haley Paul, Arizona policy director for the National Audubon Society, previously told Newsweek. "But, remember, because our reservoirs—particularly Powell and Mead—are so low from 23-plus years of drought, it would take many years of above-average snow and runoff to refill the reservoirs."
The drought that has scorched the region containing Lake Mead has meant that the reservoir has not refilled as quickly as the water is being used.
"Long periods of low rainfall not only dry up the moisture supply for plants (risking fires and large-scale tree mortality events, etc.), they also limit the amount of groundwater that is stored within the landscape," Daniella Rempe, a hydrologist and geomorphologist at the Jackson School of Geosciences, University of Texas in Austin, previously told Newsweek.
Large amounts of water are required not only to refill surface reservoirs like Lake Mead, but to replenish the arid groundwater supplies. Additionally, if too much rain comes at once, or too much snowpack melts at once due to higher temperatures, it risks running off into the ocean rather than refilling aquifers where we need it.
"This groundwater is absolutely crucial to supplying streams in [California's] long, dry summers every year, not just during drought," Rempe said. "But what happens during drought is that the rains that would refill this groundwater end up just refilling the dry root zone and either delaying or preventing recharging of the groundwater system that supplies streams and reservoirs."
Pitt told Newsweek that we would need three average years of snowfall without any water use to fully replenish Lake Mead and Lake Powell.
"There's been a good start to the snowfall season, but it is way too early to know what runoff will look like," she said. "Today the water uses allowed by law are more than the river gets in an average year, so until the rules are changed it is unlikely the reservoirs will fill."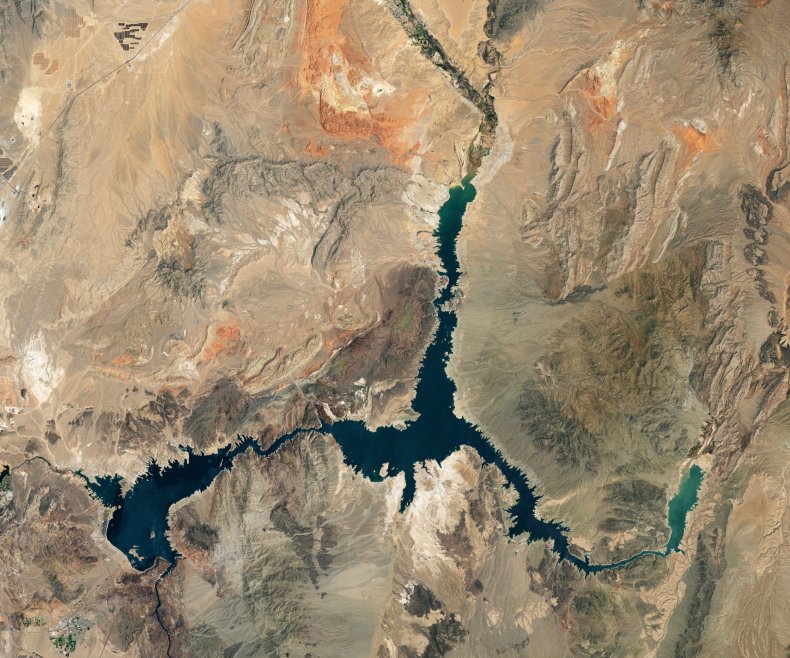 Despite the lackluster outlook for Lake Mead's water levels, the drought status of California, Nevada and Arizona has been alleviated significantly by the recent rainfall.
The U.S. Drought Monitor shows that between October last year and January 24, 2023, the percentage of Nevada suffering from Extreme Drought decreased from 44.61 to 18.53, with the rest of the state experiencing Moderate Drought and Severe Drought. Arizona saw a similar trend, with the proportion of the state suffering from Severe Drought dropping from 12.78 percent to 1.15 percent. While in October, 0 percent of Arizona was considered free of any drought category, as of January 24, 42.37 percent of the state is drought-free.
However, the section containing Lake Mead is still within the "severe drought" category.
There are several policies being put in place to mitigate the low water levels in Lake Mead, including the Drought Contingency Plan, which cuts water deliveries made to Lower Basin states.
"At the end of January 2023, the Basin States are expected to submit a new plan to the federal government, who is undertaking a Supplemental Environmental Impact Statement (SEIS) process under the National Environmental Policy Act (NEPA), for reducing water use by 2-4 million acre feet," Elizabeth Koebele, an associate professor of political science at the University of Nevada, Reno, previously told Newsweek.
"[Additionally,] many of the current policies that govern Colorado River allocations, including the DCP [drought contingency plan] and other shortage-sharing guidelines, expire in 2026, so the states and federal government are simultaneously beginning a process to develop rules for the next 20 years of Colorado River management that can help mitigate some of these issues. Managing for both short-term emergencies and long-term sustainability makes this situation particularly difficult."
Do you have a tip on a science story that Newsweek should be covering? Do you have a question about Lake Mead and water levels? Let us know via science@newsweek.com.
Correction 2/2/23: This article was updated to state that increased snowpack on the Rocky Mountains will feed Lakes Mead and Powell.