Has Rain Helped Lake Mead Water Levels?
A particularly wet season has swept across the southwestern U.S., a region that has suffered under a severe megadrought for over two decades. But what has this meant for Colorado River reservoir Lake Mead?
Storms of rain and snow have hit California particularly badly in recent months, and have spread into neighboring states like Nevada. Reservoirs like Lake Mead rely on seasonal snowmelt and rainfall.
Because of the drought, these weather patterns have been less frequent and harder to predict in recent. This means water levels at the largest man-made lake in the U.S., Lake Mead, are rapidly declining.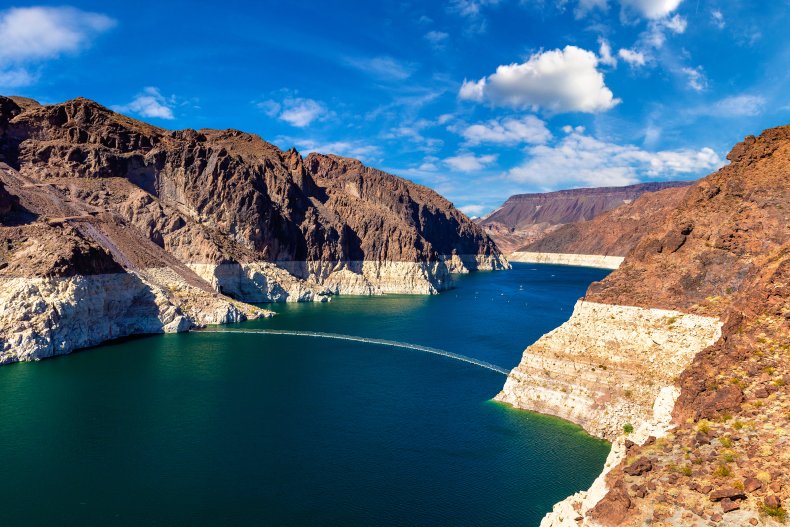 While the wet weather has had some short-term benefits, it is unlikely to help the dire situation of Lake Mead's water levels.
Tom Corringham, research economist at the Scripps Institution of Oceanography at UC San Diego, told Newsweek: "Statewide snowpack in Colorado is about 120 percent of normal this year, which is a good thing, but refilling Lake Mead and Lake Powell will take years of above-average snowfall. We're definitely hoping for a run of good years, but the long-term outlook is not good. On the basis of climate models, researchers have been predicting this disaster for decades. What's scary is that it's all happening faster than we expected."
Lake Mead lies between Nevada and Arizona, and is formed by the Hoover Dam. Around 25,000,000 people rely on water from the reservoir in the surrounding regions, meaning the low water levels are very concerning.
Lake Mead's water levels stood at 1,046.55 feet as of March 8. The water levels have risen slightly over the wet season but this is not massively above the lowest point it has ever reached. It reached this point in July 2022 at 1040 feet. This is the lowest the lake's water levels have been since it was first constructed in the 1930s.
The lake is integral to the surrounding communities, not just for water supply but for electricity. The Hoover Dam relies on Lake Mead to produce hydropower, which is able to serve 1.3 million people.
If the lake's water levels continue to decline, the lake could reach dead pool—the level at which water would no longer flow past the dam and produce electricity.
The Bureau of Reclamation, which monitors the water levels, estimates that come this spring, the lake's levels will only continue to decline. Experts predict that in a few years, the lake's water levels could be as low as 895 feet, which would be too low to flow past the dam.
Do you have a tip on a science story that Newsweek should be covering? Do you have a question about the Colorado River? Let us know via science@newsweek.com.