Video: White Woman Calls Police on Black Family's BBQ for 'Trespassing' in Oakland Park
A Sunday morning barbecue along Oakland, California's Lake Merritt was derailed after a woman called the police on them for using a charcoal grill. Several witnesses and other family members attending the cookout said it was about race.
Video recorded by Michelle Snider on April 29 shows a white woman standing in the East Bay's designated BBQ zone as she tells a group of black family and friends that they cannot hold a BBQ there using a charcoal grill. One of the men was accused of "trespassing" by the irate woman while on the phone with the police, Kenzie Smith told KRON-TV. The woman hurled several racial epithets at them and told them they'd soon be going to prison for their Sunday afternoon actions.
"I hear you have a problem with these gentlemen having a barbecue here at the lake. What's going on?" asked Snider, who recorded the now-viral video between her husband, Smith, and the unidentified white woman. The woman on the phone then reiterates that the family is not able to use a charcoal grill in that part of the park.
"Are you sure it's not because you don't want black people out here," Snider questions. The woman responds, "It has nothing to do with their race."
"It seems like a new Jim Crow going on, because for some reason, every time I see this it's black people being targeted for barbecuing at the lake," Snider snaps back. "And you're a perfect example of it right now. It's two men, sitting out here just chilling. And this whole setup is real clean. They're not even playing music."
"It's not about it being clean," the woman responds, adamantly referencing that she is currently on hold with Oakland Police over the charcoal situation.
"I got out of the car at Cleveland Cascade stairs, and when I walked across the street, she was standing there on the phone. She said, 'Oh great another [n-word],'" Smith told local outlet the Panther Times. "She said that we were trespassing, we were not welcome, and then she turned back around said, 'y'all going to jail.'"
An official Oakland Park and Rec map of the area around Lake Merritt shows six designated barbecue areas, three stationary charcoal locations and three non-charcoal portable grill locations. Smith and Snider's group of family and friends was grilling in one of the non-charcoal grilling spots—a cookout caveat which the woman calling police refused to let go.
Snider told KRON-TV that the barbecue rules are unclear and could lead to a criminal complaint; she said the laws should be reviewed by the city council. Snider and Smith said they have seen people using charcoal grills in that area for years, although they acknowledged several past problems within the park.
"I think it is really incumbent on all of us that when we call police, it is for emergency purposes," Oakland City Councilmember Lynette Gibson McElhaney wrote in a recent Facebook post, suggesting that people in the park find better ways for resolving a disagreement than calling law enforcement. "I want to encourage people to know when to call the police, when to raise a question of regulations with the city council, maybe there is a passive way to reach out to us."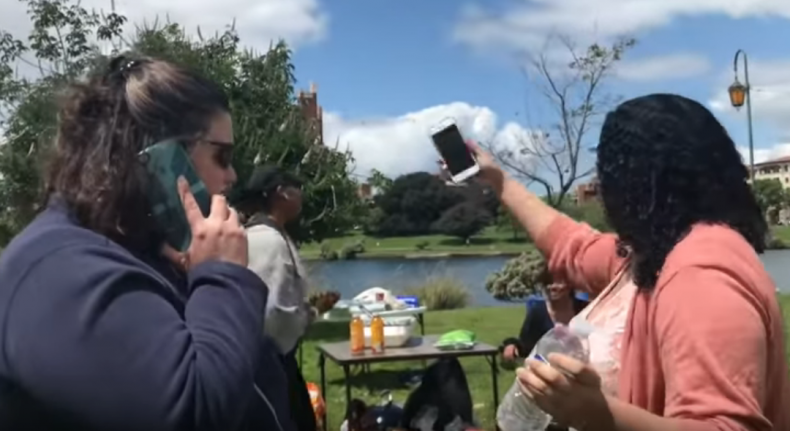 In 2015, McElhaney responded to a Facebook post about signs posted around the park threatening to issue citations to anyone barbecuing or drinking alcohol near the lake. She acknowledged the racial implications of the signs and noted a divide between white and black people in the park.
"While I'm not aware of the decision that led to the posting of the sign, I know that we've been receiving complaints from park users about the amount of trash and debris on the weekends. One recent complaint was from a parent of a toddler scorched by hot coals left in the park," the councilmember wrote. "Many of the residents at 1200 Lakeshore are Black. They are old Oakland. Some of the BBQers are white and new and often not even residents. It's just a lovely place to be."
Oakland mayoral candidate Cat Brooks told KRON-TV there is a big risk of potentially rising conflict when police are brought into an altercation of any kind. "When you engage law enforcement in these kinds of things you are opening the door for things to go very wrong, the potential for arrests like in Philadelphia with those two black men or worse physical assault or death and I don't believe in this day and age that white folks don't know that."
The woman on the phone ultimately did make contact with the Oakland Police, who arrived as both parties claimed they were being harassed by the other. As the nearly 25-minute video posted to YouTube shows, the officers took down a police report but issued no citations, made no arrests and allowed the barbecue to continue.
Oakland Parks, Recreation and Youth Development, as well as Councilmember McElhaney's office, did not immediately respond to Newsweek's requests for comment Thursday.