Hikers Find Mysterious Message on Model Boat Washed-Up on Lake Superior From 27 Years Ago
A couple discovered a model boat which had been placed on a lake 27 years ago, while they were hiking in Wisconsin last week.
Lynn BeBeau and her husband Mike were intrigued when they spotted the little boat partially buried in sand on the shore near Ashland at Apostle Islands, Lake Superior, on October 7.
Digging it out and brushing it, they were surprised to find an inscription written on the its base.
The message read: "I am traveling to the ocean. Please put me back in the water. Will you send information on your whereabouts to, Lakewood School, Room 116 & 118 5207 N. Tischer Duluth, MN 53304."
Speaking to the news channel Michigan Live, Bebeau said she took a few photographs of the inscription and then placed the boat into the water.
"My husband and I are both adventure people," she said.
"We just came back from a trip out west and we always take the road less travelled.
"We look for remote places. We were just out looking at the fall colors and checking out the sunset when we found a path that went along the lakeshore.
"It was the coolest thing ever. We were just so shocked to find [the boat]. We thought it was really cool."
She said she became determined to uncover the mystery behind the model and contacted Lakewood Elementary School in Duluth.
BeBeau was delighted to receive a reply and was told that one class had studied the classic tale Paddle to the Sea in the early 1990s.
The story charts the tale of an inscribed canoe that travels all five Great Lakes, goes over Niagara Falls and the St. Lawrence River before arriving in the Atlantic Ocean near Newfoundland where its discovery is passed on to a Native American boy from Ontario, the original owner.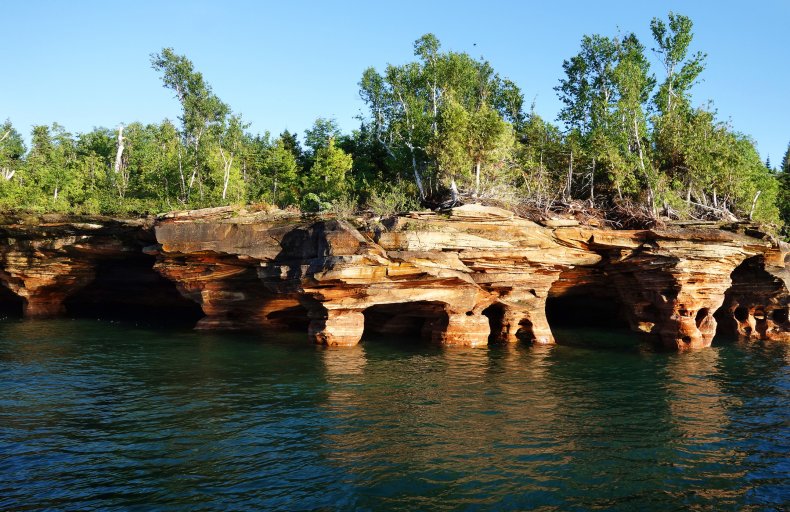 Inspired by the tale, two teachers, Bonnie Fritch and Brenda Schell, made a field trip with their classes to launch the boat in 1993 on Brighton Beach in Duluth, Minnesota.
A friend of Schell's made the boats before the students painted them, adding a message on the bottom.
BeBeau also discovered more about the boat's journey from Fritch.
In a message to her, Fritch said: "I am not sure what happened to Brenda's boat but mine was spotted a year later up near the North Shore.
"The people put a second coat of varnish on the boat and relaunched it. I thought we wouldn't hear any more about it. Amazing it is still out there."
BeBeau said she was delighted to have been able to play in part in the boat's onward journey and added: "It's just such a cool, feel good story, and we need that so bad right now. What a fun surprise."