'This is a Banana Republic': Local Commissioner Unloads on Florida Mayor, Accuses Her of Bungling COVID-19 Response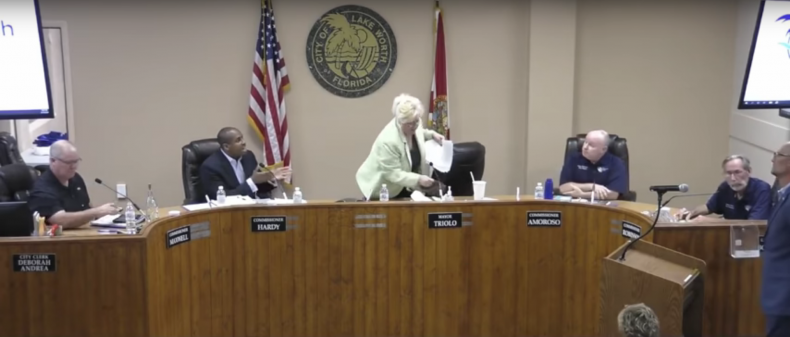 A member of the City Commission of Lake Worth Beach, Florida, excoriated the city's mayor and city manager for what he deemed was a failure to respond effectively to the COVID-19 outbreak.
"This is a banana republic, is what you're turning this place into with your so-called leadership," Commissioner Omari Hardy shouted at Mayor Pam Triolo at a meeting of the city commission on Thursday. "We should have been talking about this last week. We cut off people's utilities this week and made them pay what could have been their last check to us to turn their lights on in a global health pandemic!"
Thursday's dispute capped off a local power struggle that appears to have riven the city's government, stemming from a series of objections Hardy had raised about the delegation of powers during the COVID-19 emergency.
The Palm Beach Post earlier reported on an email that was sent to Triolo and the commissioners by City Manager Michael Bornstein, who is appointed by the commission, in order to "clarify and reaffirm" his authority to "make and implement temporary changes" to governance decisions.
"I have the authority to temporarily change and adjust operations especially during an emergency," Bornstein wrote, according to the Post.
Hardy has complained about Bornstein's managerial role during the crisis, especially because he said Lake Worth Beach, located in coastal central Palm Beach County, has not formally declared an emergency. Responding to a video address Triolo delivered laying out the city's emergency management protocol, Hardy objected, calling it "propaganda."
"Nearly everything in this video is either untrue or misleading," he wrote on Twitter. "Whatever is in that document, whatever powers it gives the City Manager over and above the powers he has already, the City must declare an emergency before the emergency management plan and its contents are relevant."
Triolo said that "in situations like this," it traditionally falls to the city manager to step in and manage the crisis while the commission and mayor play a more supportive role. However, Hardy said this assertion has no lawful basis.
Hardy said he has repeatedly asked for an emergency meeting in order to address questions about the allocation of powers during the outbreak, but that the manager rebuffed his requests. Eventually, a meeting was convened Thursday night before it was abruptly adjourned during the kerfuffle.
Neither Hardy nor Triolo responded to requests for comment. After the video of his outburst went viral, Hardy defended his behavior on Twitter, acknowledging that he "shouldn't have lost [his] cool, though."
As recently as Wednesday, the parks, beach and downtown area in Lake Worth Beach remained open to the public. A notice from the city advised residents to "take all precaution" around other people.
Hardy has been openly critical of Bornstein for keeping the beaches open and not imposing limits on capacity at bars and restaurants. He has also drawn attention to the dozens of families who had their utilities shut off during the outbreak. Many of these criticisms were redoubled at Thursday's meeting.
On Saturday, Bornstein circulated a notice about the reports of utility customers being disconnected for failure to pay their bills.
"During the COVID-19 crisis the City of Lake Worth Beach IS NOT DISCONNECTING UTILITY SERVICES for any utility accounts within the entire utility service area," Bornstein wrote.
He did acknowledge that "there were customers whose service was temporarily suspended during the transition period earlier in the week before the suspension was fully implemented." But he added that "most" of them contacted the city and were "reconnected immediately," with a refund of any fees and charges.
Only after Florida Governor Ron DeSantis issued an executive order closing the beaches and most dine-in restaurants in Palm Beach County did Lake Worth Beach announce it would begin to close off access to the beach, which Hardy said receives around 2,800 visitors daily.
Palm Beach County currently has 34 confirmed cases of COVID-19, according to Dr. Alina Alonso, the director of the county's health department.
In response to a request for comment, Bornstein told Newsweek that Lake Worth Beach's emergency authorities were already activated pursuant to the national and state disaster declarations, clarifying that a separate city-level declaration is generally reserved for incidents such as hurricanes and infrastructure disasters.
Hardy "doesn't understand this and is using it as a way to state that we are unprepared which is completely false," he added.
Bornstein described Thursday's meeting as "off the rails" and laid the blame at the feet of "one commissioner" who was "bullying the mayor."
"Everyone in the City knows that our Mayor was the victim of a brutal home invasion and the scars of this trauma greatly impacts her ability to handle relentless, aggressive behavior especially on the dais," he said. "This is a political set of issues that unfortunately is being leveraged into the national spotlight."
Updated 9:35 p.m. ET, with comment from Lake Worth Beach City Manager Michael Bornstein.