L.A. Lakers Ex-Coach Byron Scott Says Team is Still Not Good Enough, Even With Lonzo Ball
When Lonzo Ball arrived in Los Angeles at the end of June as the second pick of the NBA draft, Magic Johnson believed the Lakers were heading back toward greatness.
Step-by-step, Johnson said, the Lakers would get closer to the NBA championship, and Ball's arrival was such a big leap that he suggested the 19-year-old's jersey will eventually be retired.
New Lakers coach Luke Walton seems to have the team back on course. But Byron Scott, who coached the team from 2014 through 2016, believes the Lakers are still a long way from the championship; in fact, in his eyes the playoffs are even still out of reach.
"This year? I don't think so this year," he said in an interview with TMZ. "It depends, but I think they got a real good chance at being a whole lot better than they have been the last few years, that's for sure."
Related: LeBron James's Agent To The Lakers: 'Let's Talk'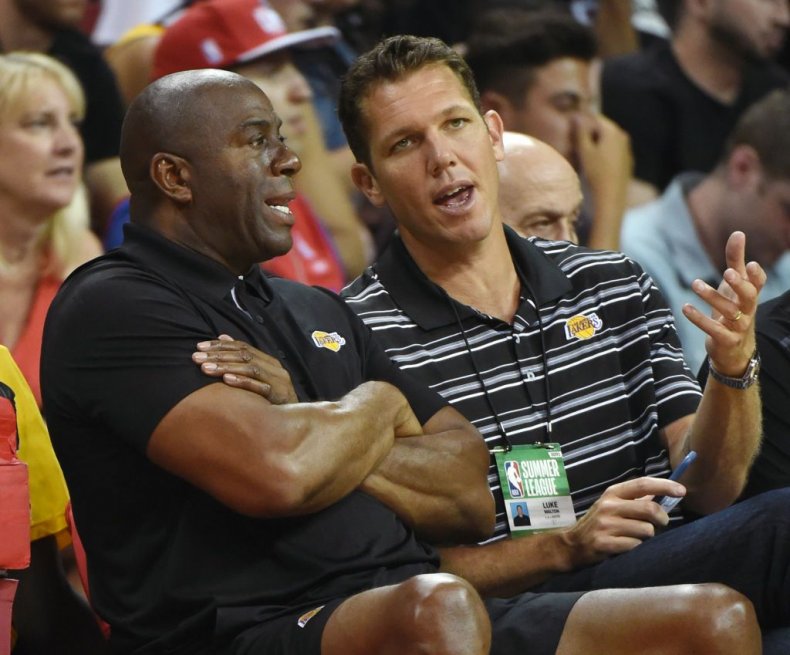 Scott was a three-time NBA champion with the Lakers, then spent time coaching the Nets, the Hornets and the Cavs before returning to L.A. in 2014.
After leaving Cleveland last year following a feud with point guard D'Angelo Russell, Scott, now an ESPN analyst, confirmed he would not return to coaching.
"I've had enough of it," he said. "I'm enjoying the retired life and working at ESPN. I love that, and I'm going to continue to do that."
The Lakers, meanwhile, would take a giant step in the winning direction next year if LeBron James decides to execute his right to opt out of his Cavs contract and join the Lakers.
Reports in July suggested the 32-year-old's agent was in touch with Rob Pelinka, the Lakers' general manager.