The Lakers Want LaVar Ball to Shut Up For Lonzo's Benefit
Three months into Lonzo Ball's rookie season in the NBA, it seems the Los Angeles Lakers have had enough of his father's hectoring.
A report from ESPN's Ramona Shelburne published on Wednesday morning claimed the Lakers front office met with LaVar "within the past few weeks" to discuss "toning down" his public criticism of head coach Luke Walton.
LaVar called the Lakers' coaching staff "soft" in November, amid his son's shooting struggles. "They're [the Lakers staff] soft. They don't know how to coach my son. I know how to coach him," Ball said in quotes reported by Bleacher Report. "I tell him to go get the victory. Stop messing around."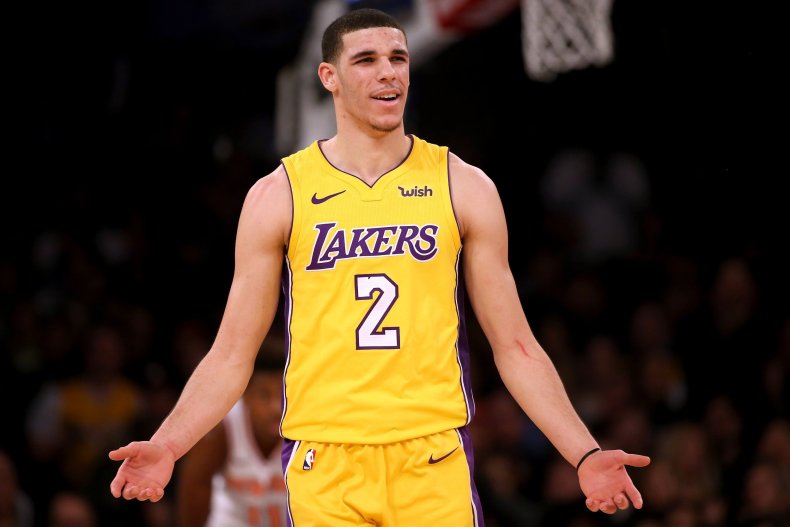 Walton responded by praising LaVar's achievements as a father. "I will say this: I think he has done a phenomenal job as a father with Lonzo because Lonzo is a special young man," Walton told Sports Illustrated on November 21. "He's selfless, he's unselfish, his teammates love him, he cares about them, he plays the right way. So he's done a great job with that, but we're not concerned with what parents think of how we're coaching the team."
LaVar's outbursts, and Lonzo's up-and-down performances, have been features of one of the most heavily scrutinized rookie seasons in history. Lonzo had one of his better nights as a Laker so far against the Knicks at Madison Square Garden on Tuesday night with 17 points, eight rebounds and six assists, although he was eventually overshadowed by a monster game from Kristaps Porzingis as the Lakers lost for the first time in three games.
And still, the story on Wednesday morning revolved around LaVar's influence. "It [the meeting with the Lakers] was the best thing, man," Ball told ESPN, confirming that a meeting had taken place. "Everybody's going to try to make it an ego thing, like I'm trying to tell them what to do or they're trying to tell me to tone it down. It's not about that. It's about coming together and to get a solution to this problem."
Ball added, "I really just want the best for Lonzo, and the best for Lonzo is going to be what's best for the organization." That, at least, appears to be hard to contradict. Whether LaVar and the Lakers are going to be good for each other—and hence good for Lonzo—remains to be seen.