It's been more than four years since an NBA team was recognized at the White House for winning a world championship. The Los Angeles Lakers hope to get back there once the transition of power from President Donald Trump to President-elect Joe Biden happens.
The next NBA team in line for a trip would be the Los Angeles Lakers, led by LeBron James. The Lakers defeated the Miami Heat in last year's NBA Finals.
The last NBA team to visit the White House was the James-led Cleveland Cavaliers in November 2016, about five months after the only NBA title in their franchise history. Barack Obama was the president at the time, and Trump was the president-elect.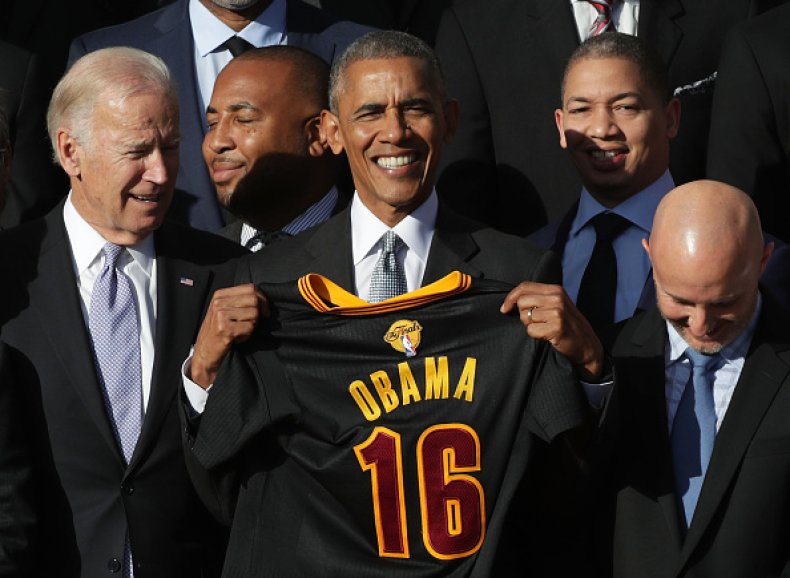 None of the NBA champions since then have visited the White House—either from declining an invitation or not getting one at all.
The Lakers told Yahoo Sports they would like to be the first team to reconvene the honor of being recognized at the White House. However, it wouldn't happen until post-inauguration of Biden on January 20, and it would have to work so that Biden's schedule coincided with the Lakers' schedule.
The ideal time for the Lakers would be during a road game to face the Washington Wizards. For the 2020-21 season, the NBA has only released the first half of the schedule, which ends March 4. The only Wizards-Lakers game during the first half is scheduled for February 22 in Los Angeles, which means there could be a visit to the Biden White House in the spring.
The NBA last season abruptly halted because of a player testing positive for the coronavirus, and play resumed in Orlando during late summer, and ended with the Lakers winning the title in the so-called "bubble" with only family in attendance.
Because of the ongoing COVID-19 pandemic, the Lakers didn't get the typical parades and fanfare that go along with major championships.
The team said it would not have a ring ceremony for the players until they were able to have fans in their home stands. The team is still playing in an empty Staples Center.
Though no NBA teams visited the Trump White House, it doesn't mean pro and college sports teams skipped the visit. Here are some of the champions in the last four years to visit the White House:
2016 Chicago Cubs
2016 New England Patriots
2016 Clemson Tigers
2016-17 Pittsburgh Penguins
2017 Houston Astros
2017 Alabama Crimson Tide
2017 NASCAR champion Martin Tuex Jr.
2018 NASCAR champion Joey Logano
2018 Boston Red Sox
2018 Clemson Tigers
2018-19 Washington Capitals
2018-19 Baylor Women's Basketball Team
2019 LSU Tigers
Uncommon Knowledge
Newsweek is committed to challenging conventional wisdom and finding connections in the search for common ground.
Newsweek is committed to challenging conventional wisdom and finding connections in the search for common ground.
About the writer
Scott McDonald is a Newsweek deputy night editor based in Cape Coral, Florida. His focus is assigning and writing stories across all topics, from news to politics, business, weather, sports and international news. Scott joined Newsweek in 2018 after a lengthy career of print journalism in Texas, including The Dallas Morning News, where he was a sportswriter, and he's a voter for the Heisman Trophy. He has been a newspaper editor-in-chief and also a newspaper publisher. He is a graduate of The University of Texas at Austin. You can get in touch with Scott by emailing s.mcdonald@newsweek.com. Languages: English