#LamarAlexanderIsACoward Trends After GOP Senator Admits Trump Did What Democrats Say But Won't Vote for Trial Witnesses
In the wake of his decision not to support additional witnesses in President Donald Trump's impeachment trial, Republican Senator Lamar Alexander is being slammed on Twitter as a "coward."
With the hashtag #LamarAlexanderIsACoward, users are expressing their frustration with the Tennessee lawmaker, who admitted in a statement that Trump's actions toward Ukraine were "inappropriate" but apparently not enough to warrant new testimony and evidence.
Alexander announced his decision to vote against witnesses in a lengthy statement on Thursday night. The Senate is expected to spend hours on Friday debating whether to call witnesses before voting on the matter. A simple majority (51 votes) is all that's needed to dismiss Democrats' calls for additional testimony, and Republicans control the chamber with a 53-47 majority.
"I worked with other senators to make sure that we have the right to ask for more documents and witnesses, but there is no need for more evidence to prove something that has already been proven and that does not meet the U.S. Constitution's high bar for an impeachable offense," Alexander wrote.
He added: "It was inappropriate for the president to ask a foreign leader to investigate his political opponent and to withhold United States aid to encourage that investigation."
That's the exact argument the Democrats have been making in Trump's impeachment trial over the past two weeks. The House impeachment managers charge that the president abused his power by pressuring the Ukrainian government to investigate former Vice President Joe Biden and his son Hunter for personal gain. Then, they say, Trump obstructed Congress when it tried to investigate his misconduct. Trump has denied the charges.
Alexander, who is retiring from Congress at the end of the year, was thought to be one of the few Republicans who could break with the party and support Democrats' demands to hear from witnesses who had firsthand knowledge of the president's dealings with Ukraine.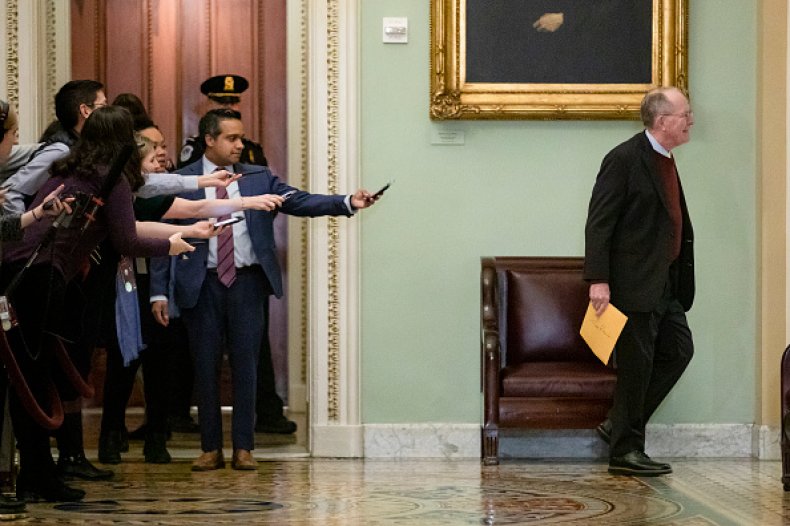 But now it appears more and more likely that Trump will be swiftly acquitted by the Senate. If the chamber votes against witnesses, lawmakers could vote as soon as Friday night on whether Trump should be convicted and removed from office. A two-thirds majority (67 votes) is needed to remove a sitting president.
During a 2020 election rally in Iowa on Thursday night, Trump insisted he wasn't worried about the impeachment trial. The president asserted that it was a "happy period" for Republicans.
"We're having probably the best years that we've ever had in our country, and I just got impeached! Can you believe these people? I got impeached. They impeached Trump," Trump told the crowd.
He added that Democrats "want to nullify your ballots, poison our democracy and overthrow the entire system of government," and that's "not happening."
#LamarAlexanderIsACoward Trends After GOP Senator Admits Trump Did What Democrats Say But Won't Vote for Trial Witnesses | U.S.