Lamar Jackson Flips Out as Ravens Beat the Chiefs, Football Fans Love It
The only thing missing from Lamar Jackson's game-winning touchdown Sunday night was a panel of Olympic judges. Jackson didn't need to flip himself into the end zone, but he did so untouched anyway.
Jackson didn't stick his landing, but it was close enough to perfect for Baltimore Ravens fans.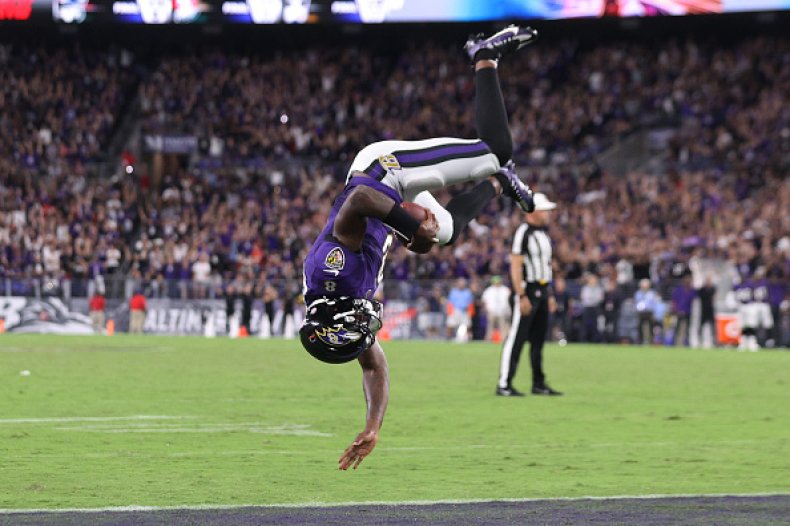 His acrobatics vaulted the Ravens to a 36-35 win over the Kansas City Chiefs in a highly-entertaining game between two former MVP quarterbacks—Jackson and Patrick Mahomes.
The Ravens improve to 1-1 while the Chiefs uncharacteristically fall to 1-1 on the young season. This game doesn't mean much right now with 15 games remaining for all teams in the league, but it could become pivotal in January if a tiebreaker is needed.
To set the stage for Jackson's highlight-reel play, the Chiefs led, 35-30, with 3:17 remaining in the game, and the Ravens had the ball with third-and-goal to go. Jackson faked a handoff to Ty'Son Williams, which faked out the entire Chiefs defense. Jackson pulled the ball and trotted a few steps to his right untouched and then flipped into the Ravens end zone, sending the home Baltimore crowd at M&T Bank Stadium into a frenzy.
Here's a clip of the play.
Jackson leapt from the 2-yard line, gently placed his hand on the goal line while in the air and then landed into the end zone for the go-ahead score.
Jackson led all players with 107 rushing yards and two touchdowns, but he looked somewhat lackluster in the passing game, completing 18-of-26 attempts for 239 yards with one touchdown and two interceptions. His other rushing touchdown also came in the fourth quarter from 2 yards out to make the score 35-30. The Ravens scored the only two touchdowns in the fourth quarter, failing on the two-point conversion both times.
Chiefs defensive back Tyrann Mathieu intercepted a Jackson pass and returned it 34 yards for the game's first score just 50 seconds into the contest.
Chiefs quarterback Patrick Mahomes was 24-of-31 for 343 yards with three touchdown passes and one interception for the game.
Jackson had a career 0-3 record against the Chiefs before Sunday night's game, but it's the end zone flip people are talking about.
"Impossible to slow down Lamar Jackson when he gets going like that," Ravens Nation tweeted.
"Superman Defeats his Kryptonite! Lamar Jackson Highlights," another wrote.
"​lamar jackson is the goat don't even speak to me on it," one wrote on Twitter.
"Lamar Jackson spotted the Chiefs 7 points, wound up being down 10 points. And still came back to win. Running, Passing, Skipping, Spinning, Hopping, Flying...whatever it took," another wrote.