Lamar Jackson Sets New NFL Record in First Ravens Game Since Recovering from COVID
Lamar Jacksons set a new NFL record as the Baltimore Ravens snapped a two-game losing streak to defeat the Dallas Cowboys 34-17 on Tuesday night.
Having completed his 10-day quarantine earlier in the week after testing positive for coronavirus on November 26, Jackson completed 12 of his 17 passes for a modest 107 passing yards, two touchdowns and one interception. He also rushed for 94 yards over 13 carries, which included a 37-yard touchdown run in the first quarter which put the Ravens ahead 7-3.
The 37-yard scamper was Jackson's longest run of the game and it came at a very opportune time as the Ravens quarterback had thrown an interception in the previous drive. The touchdown run was a major milestone for Jackson who, according to NFL Research, became the first player in NFL history to pass for at least 5,000 yards and rush for at least 2,500 yards in his first three seasons in the league.
With the 37-yard touchdown run, Jackson also became the first quarterback to have touchdown runs of at least 35 yards in three separate seasons. Jackson now has four career touchdown runs of at least 30 yards, the most of any NFL quarterback since 1950 along with Kordell Stewart.
Jackson has thrown for 6,383 yards and rushed for 2,572 yards since being drafted with the 32nd overall pick by the Ravens in the 2018 NFL Draft. The record-setting figures are even more impressive when considering the 2016 Heisman Trophy winner didn't start for the Ravens until Week 10 of his rookie season.
Last season, Jackson set a new NFL record for a quarterback when he rushed for 1,206 yards and is well on track to surpass Michael Vick's all-time record for most career rushing yards by a quarterback. The former Atlanta Falcons star rushed for 6,109 yards over 13 seasons at an average of 469.9 rushing yards per season, almost half of Jackson's current season average of 857.3.
Statistical milestones aside, there were multiple reasons for the Ravens to find comfort in Jackson's performance against the Cowboys. So far this season, the third-year quarterback had failed to reach the lofty standards he set last season when he was named MVP, but on Tuesday night he showed flashes of his 2019 form.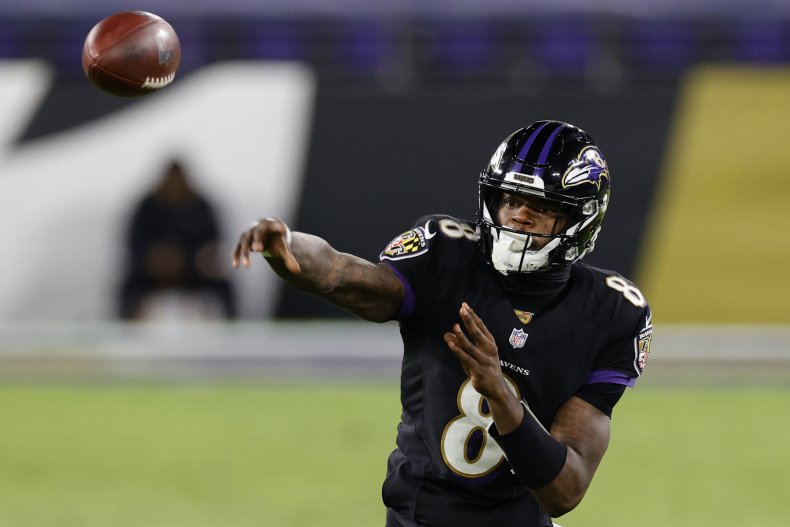 Even more importantly, after a slow start he showed no sign of rustiness despite missing one game and multiple practice sessions because of COVID-19.
"The one thing you do know about Lamar: You're going to get everything he's got," Ravens head coach John Harbaugh said after the game. "That's all you can ask for."
One of the 23 Ravens players to spend time on the reserve/COVID-19 list over the last two weeks as a major outbreak swept through the organization, Jackson said he felt he had almost completely recovered from the virus.
"I'm good now," he said. "I wouldn't wish that [coronavirus] on anybody, though. It's not good to have."
"I still can't really taste or smell, but I'm good. I feel good to be back with my guys. It was like two weeks I ain't seen them."
The Cowboys arrived into the game with the NFL's worst defense in terms of points allowed at an average of 32.7 points per game and Baltimore made the most of Dallas' frailties, scoring 30 or more points for the first time since October 18.
The win improves the Ravens to 7-5 and keeps them in the hunt for a playoff spot as they have the joint-best eighth record in the AFC along with the Las Vegas Raiders, trailing the 8-4 Indianapolis Colts.
The Cowboys, meanwhile, slipped to 3-9 and are rock bottom of the NFC East.